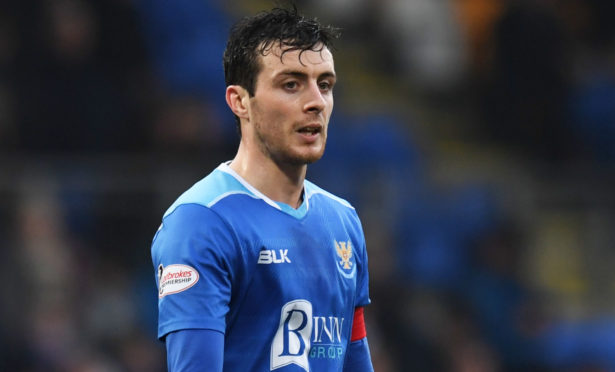 Only Joe Shaughnessy will know if contract uncertainty has impacted on his performances for St Johnstone since the turn of the year, Tommy Wright has admitted.
But the Saints boss pointed out that the Irishman is far from alone in producing his best football in the first half of the campaign.
Wright, who is now planning for life without Shaughnessy next season after their contract offer was taken off the table last week, said: "The situation is difficult.
"I thought it was important that we got it out there that we've been trying (to tie him up on a long-term contract) since November.
"It wasn't until a few weeks ago that we found out from his advisor what he was wanting.
"It was way beyond our means and I think only Rangers, Celtic or Aberdeen in Scotland could match those demands.
"It was way beyond what we could pay or have ever paid. We thought it was a good offer for this club. We couldn't wait any longer and the ball is firmly with Joe's advisor.
"As far as I know, Joe is planning not to be here. With what was asked for, that was maybe always the case."
On his captain's form in the last few months, Wright said: "It's easy to say that the contract talks have had an effect.
"Like the rest of the players, Joe has suffered since that run of games against Celtic. We lost confidence as a group a little bit.
"There have been good performances and poor performances over that time.
"Only Joe can answer the question of whether it has affected him. It might be a factor, I don't know.
"It's not as if his performances have fallen off a cliff. They've just not been at the level of pre-Christmas but that can be said of all the players."
With Jason Kerr suspended on Saturday, Liam Gordon will partner Shaughnessy against Dundee.
"It's a no-brainer that Liam will come in," said Wright.
"He's done well whenever he's played this year. He's been unfortunate to be battling with Jason and Joe, who have both had good seasons.
"He's never let us down and it's a chance for him in these last few games.
"He had opportunities last year but picked up injuries at unfortunate times. He played against Hearts at Murrayfield, for example, and was outstanding that day but got injured. Ando (Steven Anderson) got back in and played well to keep his place.
"In the long-term he's got a big future at the club, and he knows that."
Wright added: "We've Ando coming back in the summer, which we'll look at.
"That will be three centre-backs and if we're to bring one in, one would have to leave.
"We'll probably need two other defenders to cover full-back areas – at least one of them could play centre-back and full-back. We'll go with a smaller squad next year and we need value for money.
"Getting another centre-back isn't high on the priority list at the moment. I've got two really good young ones and an experienced one in Ando.
"A striker is my main target in the summer."
David Wotherspoon and Chris Kane will return to training this week but Tony Watt and Niall Keown are still sidelined.