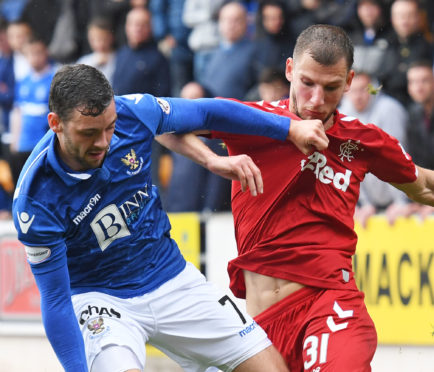 The spotlight is on St Johnstone's defenders after another mistake cost them dearly at the weekend.
But Drey Wright believes the Perth forwards need to ease the burden on the team-mates behind them by putting Saints in front for the first time this season.
Getting the opening goal at Ross County on Saturday is the best way of turning their season around, according to the comeback winger.
"Everybody knows that hasn't happened for us this season yet," said Wright.
"It does settle the nerves and gives you something to build on and hold on to. It would show a different side to us if we can get into the lead.
"We've had to come out and leave ourselves exposed but that would be different if we score first.
"We're getting into good areas but not being quite clinical enough in the final third, which has got to change.
"It's up to us attackers to take the pressure off the defence by taking the lead. We then all defend from the front.
"Hopefully that will happen on Saturday and we change show other qualities – that we can dig in and hold on to a lead."
Wright insisted that their bottom-of-the-table league position hasn't dragged the mood down in the dressing room.
"It's OK because we know our performances have warranted more than the results we've got," he said.
"We dominated the game again on Saturday but lost to one set-piece. That's kind of where we're at just now.
"Nothing drastic needs to change. It's just about cutting out the mistakes and keeping the ball out of the net because that's our problem at the minute.
"We definitely have belief in ourselves. Going back to Saturday again, we created chances. There's no need to panic. It's just a few minor tweaks.
"We do know though that we need to change things for the better sooner rather than later.
"We'll blank out talk on the TV and in the papers. We're only seven games into the season. It's still very early days and it will only take one good result to change the outlook.
"We're not isolated at the bottom.
"If we can get our first win at Ross County things will look a lot better.
"There's another international break coming up and we want to be in a good place going into it."
Even though Saints' winless away run stretches back to the end of 2018, Wright believes that recent performances on the road give cause for optimism.
He explained: "It may suit us to be the away team, be strong, be hard to beat and then nick a goal on the break.
"We played well in the draws at Aberdeen and Hibs. That's the proof we can do it. We played really well at tough grounds and probably deserved to get wins rather than draws."
Saturday's match against Motherwell was Wright's first start in the best part of a year.
"It's what I've been working towards and it's another milestone passed," he said.
"I thought I did OK in the game personally but obviously it wasn't the result we were looking for, which is the most important thing.
"I can only keep improving with the more match sharpness I get. You can't replicate first team football no matter how many reserve games you play.
"The plan is to keep impressing in training, keep getting in the team and keep building up that match fitness.
"I'll only get better from here. It's like coming off a pre-season."