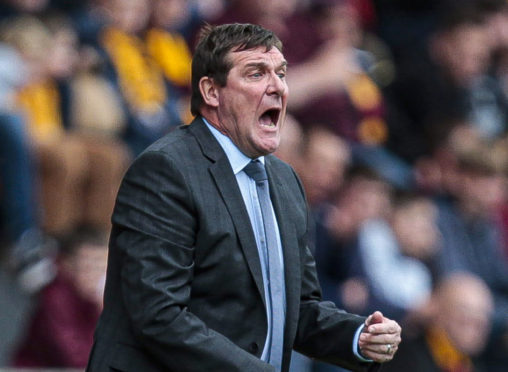 St Johnstone manager Tommy Wright hasn't ruled out asking his chairman to sanction a move for a new centre-back, with Liam Gordon sidelined for two months.
But either Wallace Duffy or Madis Vihmann will get the chance to fill the defender's boots first.
Wright won't confirm Jason Kerr's new partner against Ross County until the team-lines are submitted but he pointed out: "I know who'll play on Saturday.
"We were able to do work on Wednesday with the new back four and more today.
"One player's disappointment always opens the door for someone else to do well. That's the business we're in. Someone can claim a place in the team.
"The people who are here will have to get an opportunity but if it was the case that I felt I needed somebody then I would ask the question.
"I have to do what I feel is best for the team and the club.
"I'm never afraid to ask the question and I'll do that if I feel that I need one in."
On Gordon's second training ground injury of the season and its implications, Wright added: "He's done his medial cruciate ligament. It's a grade two, as well as other ligament damage. It will be eight weeks.
"He just twisted his knee when he turned. It's one of those freakish accidents that can happen. There was no other player involved.
"You fear the worst so it's good news that he won't be out until the end of the season but we could certainly do without it as this time and in this position.
"He's been a very unfortunate lad. It has always been a concern to me that he seems to pick up injuries. He's been such an unlucky player.
"But we just have to deal with it and hopefully we can get him back sooner than eight weeks.
"At the moment you're looking at the Kilmarnock game in December for there being any possibility of him being back and it could be longer.
"Another player will get an opportunity."
Saints have enjoyed their trips to Dingwall in recent seasons and Wright said: "Hopefully our good record continues.
"There are grounds you do well at – Easter Road is another one in recent years.
"You get runs like that and hopefully the players will go into the game feeling positive about how they trained through the week and stats like that make them feel even better.
"We know it's going to be a difficult game but we do enjoy going there.
"There's a determination to get things going.
"The good thing is that having not won in seven games, we're not detached. Normally you would expect to be five or six points behind the next team at this stage. It's only two and we're only five points off sixth.
"We need a win. There's no way to butter it up any other way."
If Saints as a team seem to thrive at the Global Energy Stadium, the same applies to striker Chris Kane as an individual.
"I've got two goals up there," he recalled. "The goal in the 2-0 (October 2016) was a finish I ran on to and slid under the keeper.
"The second goal (February 2017) was a late winner after coming on with five minutes to go.
"I'll never forget that one. It was my first goal outside the box! It might still be my only one!
"I scored a goal for the reserves the other week that was maybe even better but obviously that one was much more important.
"It was a real career highlight. It was later on in the season and it was a big result for getting us into the top six.
"If you get goals at a certain ground and play well you do get good vibes when you go back. It's one of those things for a striker. Tynecastle is another place I seem to do well at."
Kane added: "The boys know we've been playing well and training well. We just need a bit of luck at the right time. That will come.
"We know we can be better in the final third and the boys are looking to put that right. We're confident we can get the win we need.
"I might just give the manager a wee reminder of the goals I've scored up there! Hopefully that will help me get a chance."