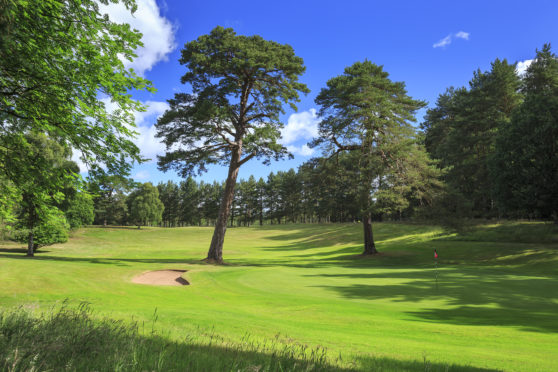 One of Scotland's top golf clubs is braced for six-figure losses triggered by the Covid-19 crisis.
Blairgowrie Golf Club members have been warned visitor income is expected to nosedive this year.
The Perthshire club, which played host to the 2014 Junior Ryder Cup, will be forced to dig deep into its reserves to balance the books.
The championship Rosemount and Lansdowne courses are magnets for golfers and the popular club had projected £400,000-plus being teed-up this year by visiting groups.
Blairgowrie is now reporting a flood of inquiries for tee-times over the summer but managing secretary Steve Morgan has cautioned that the club won't escape the financial fall-out from the pandemic.
"We have had to take some difficult decisions to ensure the club comes out of the current situation as financially sustainable as possible," he said.
"But the reality is that we are facing a six-figure financial loss, which will impair our balance sheet and have a big impact on the £250,000-plus cash reserves we had built up prudently over the last few years."
With Scotland's golf courses only recently given the green light to open-up, by the end of May visitor income had already taken a £90,000 hit.
With stay-cations on the cards for many this summer, Mr Morgan is confident visitors will continue to enjoy the Blairgowrie experience.
"I'm delighted to say visitor bookings are picking-up as the Scottish Government relaxes its guidelines for social distancing," he said.
"While we are not yet in a position to accurately forecast visiting income through to September, we anticipate a significant shortfall.
"But we are looking forward to confirmation that we can return to fourballs and we hope to resurrect a decent amount of visiting parties over the summer. They are key to the financial picture at Blairgowrie.
"If we can achieve our amended targets the committee is hopeful we will, just, manage to see us through to the end of the financial year."
The Perthshire club has taken advantage of the government's furlough scheme and rates relief.
Mr Morgan noted that Scottish golf is facing the same challenges as many other sectors of the economy.
He said members had been supportive and understanding during the lockdown and were enjoying their golf as restrictions ease.
"We are hopeful we can ride out the challenge caused by an unprecedented public health emergency and emerge with a sustainable club for us all to enjoy in the long term-term," he said.