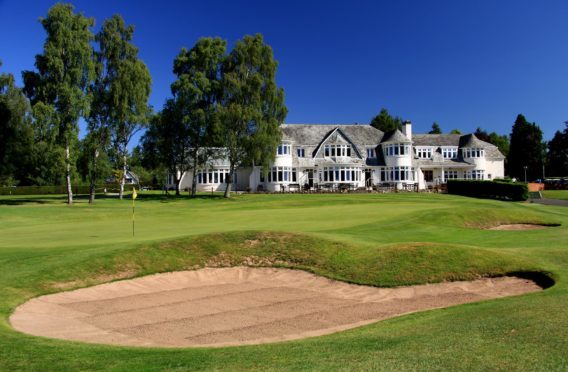 Andrew Thomson's thoughts as he hit a ball from perfect position on the fourth fairway at Rosemount during the quarter-final of the Scottish Amateur Championship were simple enough.
"I was just thinking, `don't lose 10 and 8'," he laughed after a comeback win over Scotland international Matthew Clark put him into today's semi-finals at Blairgowrie.
The 20-year-old from Lanark was already three down to the Clark, who seemed n perfect rhythm for his quick-firing style having finished off top seed Callum Bruce with five successive birdies in their morning third round game.
Thomson had a notable scalp himself in the last 16 in international cap Stuart Easton, but he looked a little out of sorts until he got himself sorted after getting a half on the fourth.
"I said to myself that I'd be playing well since the fifth in the previous matches, I was striking the ball well, so I just needed to hang in there," he recalled.
As so often happens in the swings of momentum in matchplay, just as Thomson righted himself Clark seemed to lose his rhythm and notably the pace of the greens. He three-putted eight after Thomson bravely holed for birdie at seven to stay three-down, the first of six birdies in a row that turned the game in his favour.
Once in the lead Thomson took control of the match, and Clark's last chance was at 16, where Thomson had to hack out of the trees but got his half in five when his opponent overshot the green and took three from the back ridge.
This will be Thomson's last competition as an amateur, and he's chosen a good time to have his best run in the national championship.
"I've finished two years at Junior College in California and it was a great experience, but now I'm going to go down the PGA pro route and starting at Airdrie," he said. "It's still my intention to be able to play competitively, but this is a pretty good way to bow out of amateur golf."
Having accounted for two international caps, Adrew now has to take on a third in probable championship favourite Jamie Stewart, who has not been past the 16th green in matchplay yet.
In his quarter-final against Ayr's James Johnston he got a half at the tenth from deep in the trees, hacking out, hitting a two-iron on to the green and two-putting while Johnston three-putted for his par.
Stewart, a GB&I squad member and being watched by captain Craig Watson, promptly seized control with four birdies in a row to close out the match 5 and 4.
"I didn't start the week well with a two-over round in qualifying on Lansdowne but things have been fine since we moved to the Rosemount," he said. "I've always enjoyed playing this course and I feel I've played myself into form."
The other semi-final will feature veteran Euan McIntosh, who won a real battle of the ages against Australian-based teenager Conor McKinney.
The 49-year-old former pro was three-up after 10 but three successive birdies from the Boys squad member got him level and the pair couldn't be separated until McIntosh's perfect approach to three feet at the first extra hole.
He'll face Stephen Roger, the Peebles player picking up two big scalps yesterday beating first the No 2 seed Sandy Scott from Nairn and then Euan Walker – who aced the short 15th in his third round win – in the afternoon, a birdie on the last finally securing victory having never trailed in the match.
The semi-finals are played tomorrow morning with the 36-hole final on Sunday.
Third round: M Clark (Kilmacolm) bt C Bruce (Duff House Royal) 4 and 3; A Thomson (Lanark) bt S Easton (Irvine) 3 and 1; J Stewart (Old Course Ranfurly) bt F Milne (Banchory) 4 and 3; J Johnston (Ayr Belleisle) bt N Saldarov (Craigielaw) 3 and 2; C McKinney (Joondalup) bt C Scott (Nairn) at the 19th; E McIntosh (Turnhouse) bt K Godsman (Moray) 2 and 1; E Walker (Kilmarnock Barassie) bt R Morrison (Royal Perth) 1 hole; S Roger (Peebles) bt S Scott (Nairn) 2 and 1.
Quarter-finals: Thomson bt Clark 1 hole; Stewart by Johnston 5 and 4, McIntosh bt McKinney at the 19th, Roger bt Walker 1 hole.
Semi-finals: 9 and 9.15 am, Thomson v Stewart, McIntosh v Roger.