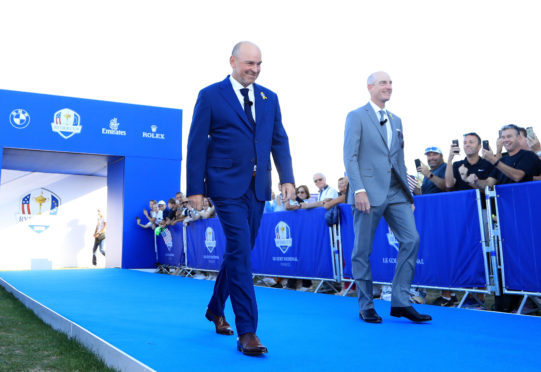 Thomas Bjorn's emotional appeal to European unity – not a comment on Brexit, he insisted – sounded the clarion call in Paris as the talking mercifully ended and the pairings lined up for the 44th Ryder Cup to finally start.
The Dane, domiciled in London for 15 years, gave a passionate summation a the opening ceremony of his vision of what Europe is, but it was not an address just to the people of his adopted home, he said.
"I'm a European, and I play on The European Tour and have done for most of my life," he said. "I've been focused solely on that tour, and I'm very proud of that, and I'm very proud of this part of the world as a continent.
"And I always feel like when I get into a Ryder Cup Team, it brings the best out in all Europeans. We are across nations. We have different cultural backgrounds. We believe in different things, but when we get on that team, we are proud of being European. It's forgotten that we have so much in common.
"I'm not addressing the people of the United Kingdom in any way, shape or form. I'm addressing what we are in that European Team room. That (flag), for us, represents the boundaries of Europe this week. It doesn't represent a European Union."
Bjorn and rival captain Jim Furyk sprang a few surprises for the opening morning, breaking up accepted pairings on both sides. The US skipper has split up Jordan Spieth and Patrick Reed, a stalwart partnership since they came together as rookies at Gleneagles, and placed Reed with Tiger Woods.
Bjorn broke up the pairing of close friends Henrik Stenson and Justin Rose, although there's every chance they will be reunited in foursomes.
The question of whether Bjorn was a strategy, data-based captain like Paul McGinley or more inclined to go with gut feeling like Darren Clarke seems to have been answered by him seeking a balance of the two.
"I've talked about all the way through my captaincy, you go with certain elements on the data and certain elements on how I feel and how people around me feel in making those decisions.
"And in the end, feeling that things are right between these players and it works, is probably the thing that comes out the most.
"But sometimes, you've also got to stand up and say, okay, you two might not know each other very good but this does fit. Every stat in the world will tell me that you two fit well together, so you need to go and play together."
That's happened over a long period, he added – "not for two days, but for two, three weeks".
"Then you assess when they get here; the stats say they should work well together; are they now gelling as a pair and you can give it a try."
Pairing Paul Casey and Tyrrell Hatton on the first session seems to be one of those, but on the other hand the pairing of Rory McIlroy and Thorbjorn Olesen was just a question of the pair wanting to play together.
Bjorn also recalls kicking his heels in frustration when Seve Ballesteros left him out of the first day on his debut in 1997, and he doesn't want that for his rookies.
"There's a new guy in every group, because they have been just itching to go, especially Thorbjørn and Jon (Rahm) and Tyrrell, they are just really desperate to get out on that golf course. And I wanted to get them out there."
Olesen is close to Bjorn but also to McIlroy, and the captain has been delighted how his protégé has taken to the team room.
"He never ceases to amaze me in the way he approaches things," said Bjorn. "He's fallen into this group, right in the middle of it; he's the only one without a girlfriend or wife this week and he's still falls into the middle of it in a great way.
"How can you not like him? He's a pretty good guy and a pretty special person. He and Rory are both really keen on it, and once they were, I started looking at it."
Furyk, meanwhile, is not scared to split his partnerships, even the best one the US has had in the last two editions.
"We had Patrick and Jordan togtether and I felt like we came out of that having our most successful pairing in The Ryder Cup," he said. "We had one very good pairing. I think we came out of it now with two very good pairings. The idea was to double up and try to get two."
Tiger worked closely with both Reed and Spieth as a vice-captain, he added, while Spieth and Thomas are a natural pairing.
"I think the closeness and the number of rounds that they have played together is surely going to help," he continued. "I think there's some other signs between their two games, different styles of games, different ball flights.
"There's a lot of reasons why I think they match up, but surely the fact that they are good friends, and they have that relationship and bond and have played a lot of golf together is always key, as well."
Woods had plenty of potential partners, of course, but Furyk thinks this is the ebst way to fit him in.
"The teams that Tiger has played on weren't successful, so none of us as an individual had good records. I don't think we're really concerned on (his) record.
"He's been in good form of late and since the PGA Championship, he's been playing amazing golf. Coming off of last week, it was more about getting him some rest and trying to regroup and get ready to go this week."
Furyk says when he sees the faces of his team in the morning, he'll know whether to be confident or nervous.
"If they showed up tomorrow with a different frame of mind, that would make me nervous," he said.
"I have seen some "Oh, s**t" faces in the Ryder Cup, I'll say that. I'm sure I've had a couple myself.
"But I don't expect that to happen."