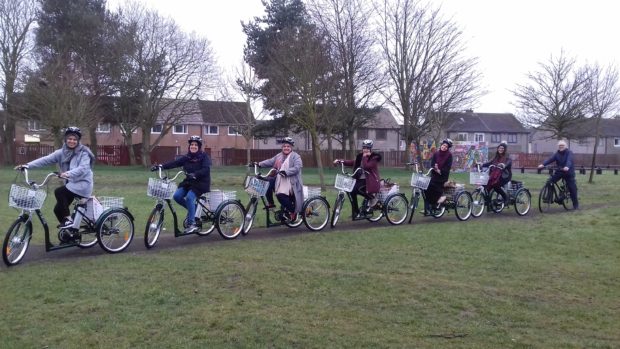 A scheme allowing Dundee doctors to prescribe fresh air and spending time in nature has been given a funding boost due to its success.
There were mixed opinions on the pilot "green health prescriptions" programme when it was launched last April but after positive feedback from patients and public health bodies, it is to be extended.
As part of the scheme, city GPs discuss with patients whether physical activity outdoors could be beneficial instead of, or as well as, other treatment.
Prescriptions can include walking, cycling, tai chi and yoga in groups.
Since its launch a green health development officer has been hired by Dundee Volunteer and Voluntary Action (DVVA) and this week the group received a £21,000 grant from the Smarter Choices, Smarter Places Open Fund to keep the role.
Lali Tudela from DVVA said: "Green health prescriptions have been developed by the Dundee Green Health Partnership in order to help connect NHS healthcare providers with local third sector nature-based interventions.
"Before the development of green health prescriptions, NHS healthcare professionals were not able to link patients easily to local activities.
"Since the launch in April 2019, 304 green health prescription referrals have been received and over 190 prescribers have signed up.
"As part of the prescriptions we do not just link people to nature-based activities but listen to what people want to do locally to get active and help make this happen, in partnership with others."
One of the most popular activities in the partnership, including DVVA, NHS Tayside and Dundee City Council, has been group led rides on ebikes and trikes.
Lali added: "It has been fantastic to see the progression in people, from being terrified because they have not been on a bike in 50 years or feeling limited by their health condition, to having a much more positive response and enjoying cycling.
"It's small changes like this that can lead to much greater, long-term change."
Despite scepticism from some at the start of the pilot, Lali said she hopes more patients will take up green prescriptions this year.
"The first year was all about testing something that had never been done before and it was amazing to forge these new relationships with the key partners within the Green Health Partnership, from medical professionals to third sector colleagues," she said.
"Now we are looking forward to using our experience in this second year to help the project reach even more people."
The success and funding has also been welcomed by NHS Tayside.
Dr Andrew Radley, consultant in public health pharmacy, said: "We are delighted to receive this award from the Smarter Choices, Smarter Places Open Fund.
"The Green Health Partnership has already made a substantial contribution to improving the health and wellbeing of the people of Dundee.
"This award means that the impressive work  can continue."
More information about green health prescriptions is available at volunteerdundee.org.uk/our-work/green-health-prescription