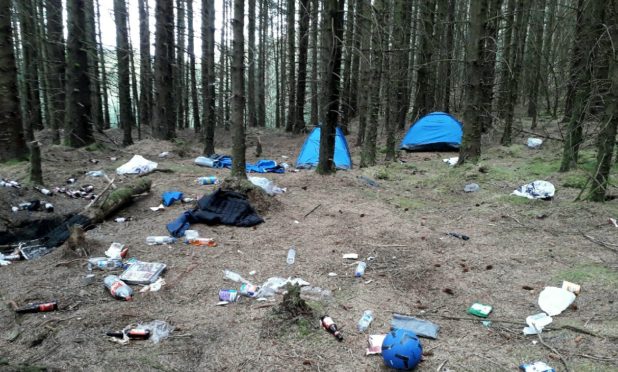 So-called "proud" Scots who trash local beauty spots have been blasted by land managers and conservationists.
Forestry and Land Scotland (FLS) has launched a new campaign to curb rampant littering across Highland Perthshire.
The plea for calm, backed by a range of organisations including the Cairngorms National Park Authority, follows weeks of problems such as the discovery earlier this week of dumped bottles and abandoned camping gear on the south shore of Loch Tay.
In a separate incident on Monday, 21 people were charged in connection with irresponsible camping and environmental damage at Loch Lomond.
Scottish Government body FLS is reminding the public that while many car parks and beauty spots are reopening, waste collection services might not yet be up and running.
Chief Executive Simon Hodgson said: "As Scotland gets re-accustomed to travelling further afield for leisure pursuits, we are appealing to the public to help avoid repeats of the selfish, irresponsible behaviour that over the past few weeks has seen many sites swamped by litter – or even despoiled by human waste."
He said: "This sort of anti-social behaviour not only creates a significant health hazard but also eats in to the limited resources that land managers have at their disposal.
"The sad thing is, many of the people responsible for the littering would say they were proud to live in Scotland, and yet as we have seen over the past few weeks, they treat our beautiful countryside in this contemptible manner. It's not acceptable."
Boulder blockades installed at Perthshire loch as landowners fight back against wild camping
Grant Moir CEO at the Cairngorms National Park Authority said: "People come to the Cairngorms for the beautiful landscapes, scenery and the peace and quiet.
"Since the Coronavirus pandemic we have seen an increase in visitors who are new to the park and we have worked hard to promote how people can enjoy the park safely and responsibly."
He said: "How visitors behave makes a huge difference to ensure everyone can enjoy the park so we ask that people are considerate towards each other, to nature and our local communities – in particular please take your litter home."
Scottish Natural Heritage has also urged people to follow the outdoor code. "Even a small piece of litter dropped can have devastating consequences for our wildlife on land, in the air and in our seas," said chief executive Francesca Osowska. "So please take it home and as well as keeping Scotland beautiful, you could also be saving a life."