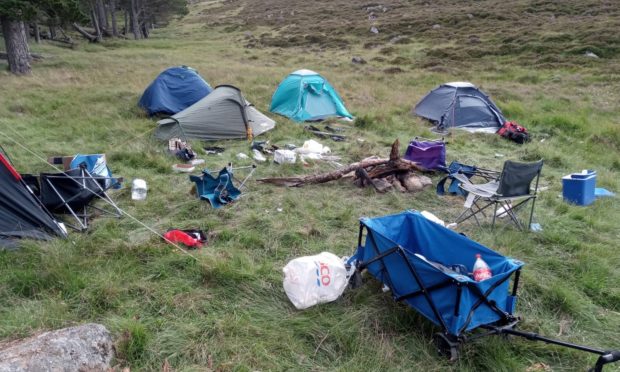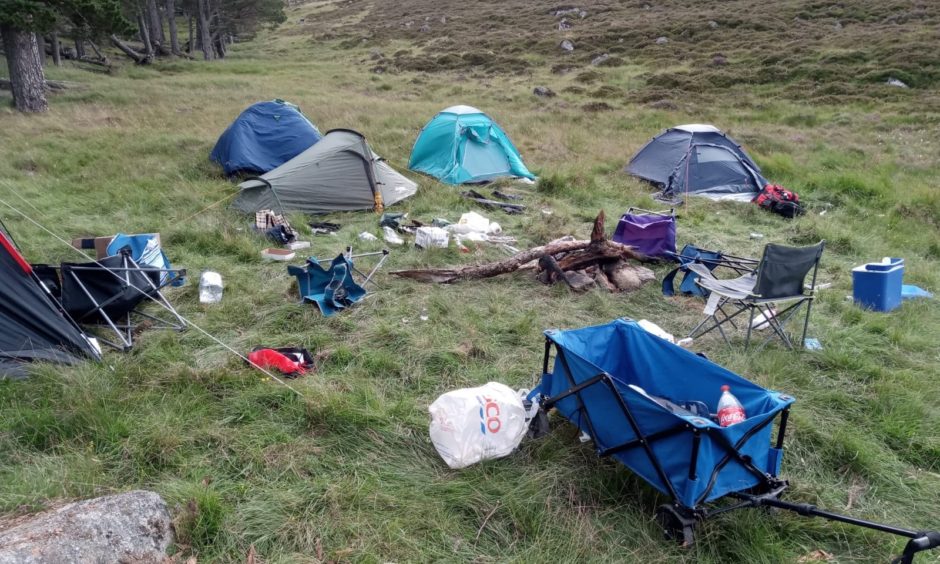 Sir, – This awful situation we find ourselves in pushes us towards a life we're not used to.
However change is said to be good and, right now, necessary.
We are by dint of trying to stay safe, changing our way of living.
Is it nature or nurture when we do what we do?
It can't have escaped anyone's notice that we are attempting to get out and get back to whatever we see as normal.
The trouble is we are behaving as was normal before.
The litter issues are well documented and, here in Forfar, we are not without this blight.
Only now we have the added public health issue as we discard our face coverings and disposable gloves.
We can blame various age groups, but this doesn't actually help.
Our community-minded volunteer picker-uppers are very wary of PP, which is discarded like chip papers.
A wider issue is one where we are made aware of the increased incidence of human waste in our rural areas in particular.
Walking the hills and disposing of such has been dealt with over decades so why is this such a problem now?
A wee collapsible hand shovel/trowel is easy to carry in a rucksack.
In our urban areas the problem is prevalent too.
Could this be that any public toilet facilities have not yet caught up with the aftermath of lockdown?
If we are all to get out more, this is something which has to be addressed.
A walk round our local loch will present a problem if you're caught short, as a much sought-after toilet is still reported missing in action. This is despite a lengthy project and some public money being allocated to create this facility.
A recent local, Travellers' encampment left its mark too and has taken a very long time to clean up.
This is disappointing.
I'm a wee bit scunnert' with the answer that 'this is due to Covid-19'.
If communities are expected to play their part, we really shouldn't be having this type of statement from local authorities or any other organisation.
I believe the vast majority of people are really trying their best to cope.
We're getting through this and with a true partnership spirit, when all sides do their best, we can and will come out the other side.
Linda Clark.
Inchgarth Street,
Forfar.
Box clever to keep amenities
Sir, – Who would have guessed that the threatened extinction of the humble phone box might be a catalyst for change.
Thank goodness for Councillor Duncan speaking up on the small matter of loss of landlines (BT 'lack of integrity' amid push to remove phone boxes, Courier, July 28).
It is a dubious exercise at a time when the boxes have been disabled since April – at least ours has been – and will not reflect normal usage for the all-important statistics.
But statistics aside, as Cllr Duncan argues, there are numerous common sense reasons for retaining public phone boxes, no matter what the usage.
Many in this small community are also against removal. We must hold on to reliable, 'organic' infrastructure, including communication systems that are not at the mercy of very frequent outages, if our communities are to be supported in maintaining resilience.
Emergencies don't tend to wait until a network is back up and running.
Here's hoping colleagues and neighbours of Cllr Duncan will support and, even better, move to have their own local phone boxes reinstated.
The deadline for response to BT from a community council or individual is September 4.
And here's hoping too that those we pay handsomely at regional and national level to strategise on our once-upon-a-time 'public services' will take a long hard look at themselves and consider, with courage, their personal relationship with the term 'integrity'.
How lucky they are to be in a position to show some to great effect, and help us in deflecting this latest threat among threats.
Joyce Nicol.
Melville Road,
Ladybank.
Indy prospectus idea ditched
Sir, – Several months ago, Derek MacKay, as finance secretary, announced that he would present, in tandem with the annual Gers figures, an annual prospectus of his own which would demonstrate the 'economic case for independence'.
This year's Gers figures show that Scotland's deficit is growing and that, therefore, any case there ever was for Scexit is diminishing.
Next year's figures will be dreadful, after the financial ravages of Covid-19, which will weaken any such case even further.
Accordingly, Mr MacKay's successor, Kate Forbes, has signalled her admission of defeat by shelving the plans for such a prospectus.
Mr MacKay's objective was to 'publish an equivalent analysis of what we could do with independence'.
'Equivalent' means 'of equal value'.
Would an SNP crystal ball produce an analysis of equal value to the Gers and the commentaries on it by authoritative experts at the Institute for Fiscal Studies and the Fraser of Allander Institute, who have shown that a separate Scotland would be significantly worse off than Scotland in the UK?
Jill Stephenson.
Glenlockhart Valley,
Edinburgh.