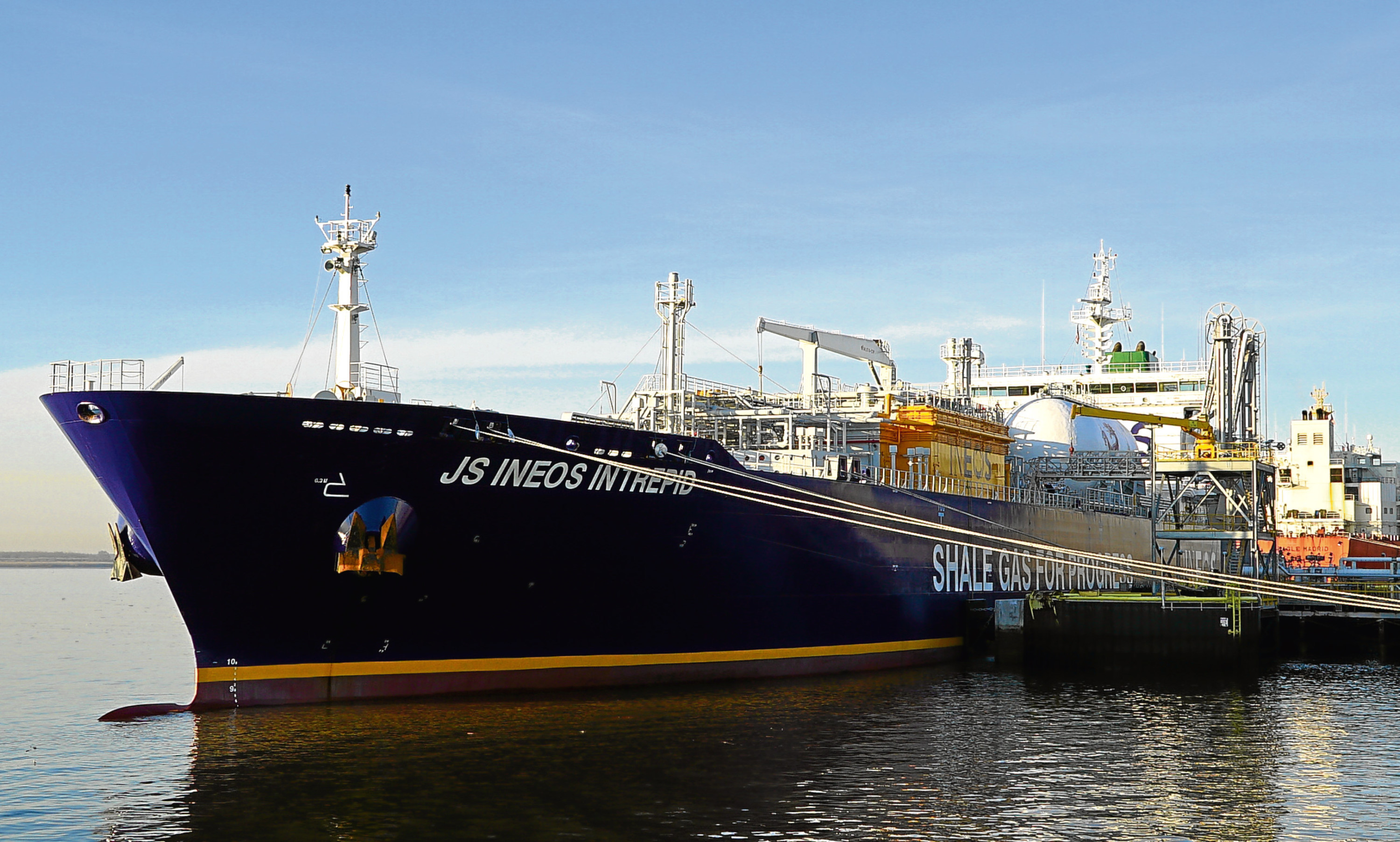 The first shipment of shale gas produced by fracking is expected to arrive in Scotland in the next few weeks, it has been reported.
One of a fleet of "Dragon-class" ships is due to arrive with the cargo at the Ineos petrochemical plant in Grangemouth in September.
Ineos Grangemoth has tweeted a picture of a large cargo ship with the statement: "Thanks to an important delivery next month, Grangemouth will once again be a #worldclass petrochemical plant."
Ineos says it has invested more than £1 billion in the Grangemouth facility since it acquired it in the site in 2005, with the company having already constructed the largest shale gas storage tank in Europe.
But with the Scottish Government having placed a moratorium on fracking, it has to import the gas to its Grangemouth plant in the Falkirk Council area.
Thanks to an important delivery next month, Grangemouth will once again be a #worldclass petrochemical plant pic.twitter.com/qpcCIVaXPD

— INEOS_Grangemouth (@INEOS_GM) August 8, 2016
The Grangemouth plant – which employs more than 1,300 people – also tweeted a link to a statement on the company's website, setting out how the success of its ethane supply project is key to the site's future.
It said: "In response to the 60% decline of North Sea gas over the last 10 years, we have no choice but to source our basic raw material (ethane) from outside the UK.
"The ethane supply project is one tangible element of the transformation programme at Grangemouth.
"Ethane from US shale gas will provide sufficient raw material to run our manufacturing site at full rates, something that has not been possible for many years.
"The successful delivery of the project is key to turning around the fortunes of the site and those companies and businesses that depend on our long-term presence in Grangemouth, together with the employees, customers and suppliers of those companies."
Ineos said the plant is "undergoing a radical transformation with significant investment that will herald a new era in petrochemical manufacture".
It added: "Long-term contracts (15 years) have been agreed with suppliers to pipe ethane from the shale fields in the US to purpose-built export facilities on the east and Gulf coasts of America.
"From here, the gas will be shipped across the Atlantic in a fleet of eight specially-designed Dragon-class ships commissioned by Ineos.
"The project will return the Grangemouth site to profitability helping to secure its long-term operation, protecting the viability of its businesses and the many direct and indirect jobs that the site provides."
In March 2016, John McNally, chief executive of Ineos Grangemouth, said: "Bringing the site back into profitability is the best way to secure our future here in Scotland.
"We know that ethane from US shale gas has transformed US manufacturing and we are now a step closer to seeing this advantage being brought to here to Grangemouth."