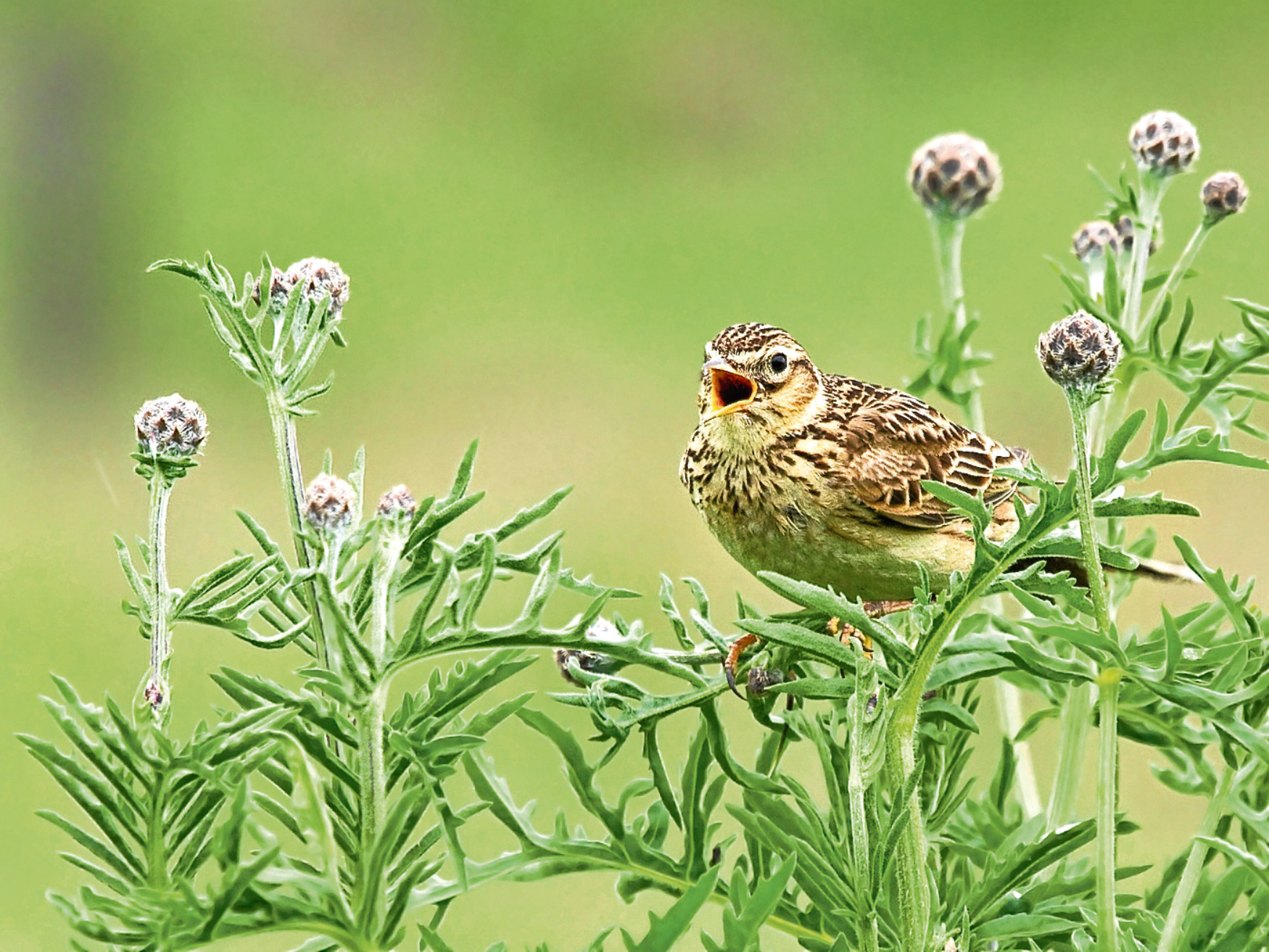 Skylark, have you anything to say to me?
The question is Hoagy Carmichael's, the opening line to one of my very favourite songs, and a jazz guitarist's dream.
As a (very) part-time jazz guitarist who leans towards it often, as well as a nature writer for whom larksong and larkflight have been stopping me in my tracks since childhood, guess what I have been doing these last few days of burgeoning spring?
Larksong and larkflight have been tools of biology and evolution for who knows how many millennia but for a handful of centuries they have also been the raw materials of a great tonnage of poetry.
Norman MacCaig for example:
"That sprinkling lark jerked upward in the blue…"
"Sprinkling" is inspired. That skylark climbing above me in the Ochils sprinkled the hillside with discarded notes. And yes, that arguably un-poetic "jerked" is a spot-on observation of the nature of the rising flight.
Splurges
George Mackay Brown for example:
"A lark splurges in Galilees of sky…"
Who but such a poet with such an ear and such an eye for nature's particular Orcadian cadences would bracket "lark" and "splurges" side by side in the same line? And:
"…what peltings of song!"
He wrote that about skylarks too, for that drenching downpour of larksong en masse when "sprinkling" is just too genteel for what falls to earth from the zenith of those tall columns of song.
And then, of course, there was this:
"Hail to thee blithe Spirit!
Bird thou never wert,
That from Heaven, or near it,
Pourest thy full heart
In profuse strains of unpremeditated art."
Percy Bysshe Shelley, the crown prince of skylark poets, certainly knew the value of a belter of an opening verse with which to beat his readers about the head.
To a Skylark layers imagery as thickly as semi-quavers in a climbing yard of larksong.
It may be a bit picky to challenge his ardour and his palette with a sliver of doubt, and so challenge posterity's acclaim of the poem, but I am pretty sure I spent longer accumulating that doubt than he did listening to his single skylark – if indeed a single skylark is what he heard.
Heard, please note, not saw:
"In the broad daylight,
Thou art, unseen, but yet I hear thy shrill delight."
Shelley cannot see the skylark he immortalised. So how sure can he be that he is hearing only one skylark?
New song
I have very good eyesight and very good binoculars but in one hillside hour of concentrated watching and listening, I realised often the song of one skylark was replaced or at least overlapped by the new song of another, closer to me or lower in the sky and therefore louder.
But Shelley gave no clue that the possibility had occurred to him.
It is possible, of course, there was only one skylark singing and he heard the song from beginning to end, but he did not even tell us that he listened to the whole song.
The skylark was still singing when his poem ended with a plea that still resonates with nature poets who were ever stopped in their wandering tracks by a singing skylark:
"Teach me half the gladness
That thy brain must know,
Such harmonious madness
From my lips would flow.
The world should listen then – as I am listening now."
The sheer weight of numbers of skylark poems puts it in a league of its own.
The roll-call also includes John Clare, Wordsworth (twice), Gerald Manley Hopkins (twice), Isaac Rosenberg, C Day Lewis, George Meredith, James Hogg, Christina Rossetti, Goethe and Ted Hughes.
Thomas Hardy also wrote a poem about one of Shelley's two skylark poems (the famous one), so technically you could say that was a skylark poem poem. Hopkins used to visit his grandfather's house in Croydon, as a result of which there is now a pub near the house called The Skylark. Talk about immortality.
Symbolic role
And then there was Shakespeare, who was forever invoking skylarks in some symbolic role or other.
Romeo and Juliet have a conversation in Juliet's bed chamber (or perhaps just her bed) about whether the bird they can hear is a nightingale or a skylark.
If it is a nightingale all is well and Romeo can linger a little longer; if it's a skylark then it's time he got his skates on, and his clothes of course.
Ted Hughes was, reliably, more unromantic. His skylark had:
"A whippet head, barbed like a hunting arrow…"
And then there was Carmichael, who fashioned something of a miracle in the way he fused his melody and the lyric written jointly with Johnny Mercer.
Richard M Sudhalter's biography of him, Stardust Melody, observes: "Its most memorable feature is the bridge, or middle section… there is not a phrase, not a moment, in which it resembles the bridge of any other popular song."
You might say the same of the skylark itself.