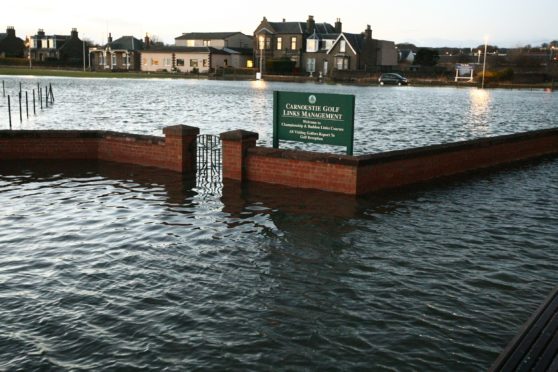 Plans are being drawn up to combat a multi-million pound flood risk to hundreds of Angus homes.
Floodwaters are already costing residents and businesses in Monifieth and Carnoustie more than a million pounds a year and Angus Council is now seeking local views on proposals being developed to protect the burghs.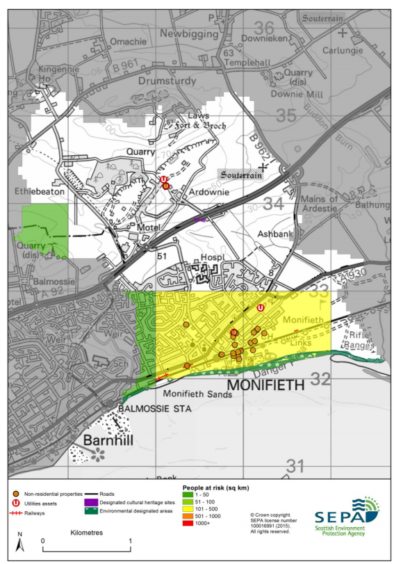 Upstream engineering works, town protection measures and an early warning scheme for local residents are under consideration.
Scottish Environment Protection Agency (Sepa) data suggests 250 homes and 20 non-residential properties in Monifieth are at flood risk, with an annual average damages bill of almost £700,000.
The Carnoustie and Barry flood risk from river, coastal and surface water flooding affects around 180 residential and 30 non-residential properties, with an annual bill running to almost £500,000.
In Carnoustie, the Barry Burn and Lochty Burn present the major flood risk and have led to the town's championship golf course and Links Parade area being flooded in the past during storm periods.
Studies have suggested the potential impacts from serious flood events in the two communities could extend beyond £20m.
The latest development is part of the Tay Estuary and Montrose Basin Flood Risk Management Plan, which identifies 19 areas potentially vulnerable to flood risk across Angus, totalling 3,490 residential and 1,210 non-residential properties.
The estimated annual average damage of those flood risks is more than £13m.
The plan covers the first implementation cycle in the period to 2022 and an Angus Council spokesperson said they hoped local residents would turn out for the upcoming consultation events.
"We and our consultant, JBA Consulting, are seeking views on our work to date."
The public drop-ins will be held in Carnoustie library on August 12  and Monifieth Library the following day, each session running from 10.30 to 4pm.
"The project has looked at the risk of flooding from the Barry Burn, Waterybutts ditch and Lochty Burn in Carnoustie, as well as the Monifieth Burn in Monifieth," the spokesperson added.
"We have considered solutions to reduce the risk to the community and lessen the impact that flood events might have.
"These options include engineering works either upstream or within the towns but they also include smaller scale measures to help reduce the size of floods and to inform the community when flood events are likely.
"Members of our flooding team and staff from JBA Consulting will be on hand to discuss the studies."