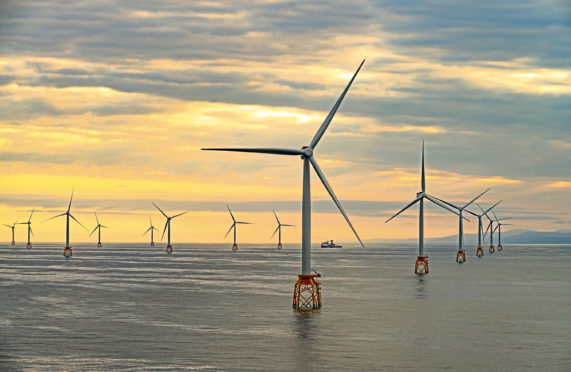 Perth-based SSE Renewables yesterday said its landmark Beatrice wind farm development has "paved the way" for more renewables developments in Scotland.
The Duke of Rothesay officially opened Beatrice, Scotland's largest offshore wind farm, in Wick yesterday.
The 84 turbine scheme, situated in the North Sea, was constructed at a cost of £2.5 billion – the largest ever single private investment in Scotland.
SSE Renewables managing director Jim Smith said the project will save millions of tonnes of carbon emissions over its lifetime.
He said: "We're incredibly proud it's been delivered on time and under budget, even when dealing with the challenges the North Sea and deep waters bring.
"The UK has the biggest offshore wind industry in the world and this world-class offshore project paves the way for future development in Scotland and the UK to help decarbonise our economy while boosting jobs and growth.
"Most importantly, Beatrice will save around 8m tonnes of harmful carbon emissions over its 25-year lifetime operation, making one of the most significant contributions across the UK in combating climate change and meeting our net zero ambitions."
SSE Renewables is the main partner in the joint venture, with a 40% stake in the project along with Copenhagen Infrastructure Partners (35%) and Red Rock Power Limited (25%).
SSE Renewables will operate the project, which will support up to 90 long-term jobs – from offshore technicians to office administrators.
Beatrice's onshore construction began in May 2016 and offshore work began in April 2017. The first wind turbine was installed in July 2018 and the final turbine installed in May. It will generate 588MW of energy – enough to power 450,000 homes every year.
Construction of the wind farm has provided a £2.4bn economic boost to the UK, of which £1bn went directly to Scotland.
GMB Scotland secretary Gary Smith said the devastating impact of the project on the Fife-based BiFab's workforce should not be forgotten.
BiFab was partly though a £100m contract to supply 26 turbine jackets when it came to loggerheads with Beatrice contractor Seaway Heavy Lifting, leading to a cash crisis and mass redundancies.
The loss in relation to the Beatrice contract was put at £35.8m within BiFab's accounts.
Mr Smith said: "Spare a thought for the communities of Burntisland and Methil and the 1,000 displaced workers whose yards were broken by this project.
"The Scottish renewables lobby and every politician that's promised a green jobs revolution should be cringing not celebrating, given that Scotland's manufacturing share of Beatrice was less than 4% of the total project value."
rmclaren@thecourier.co.uk