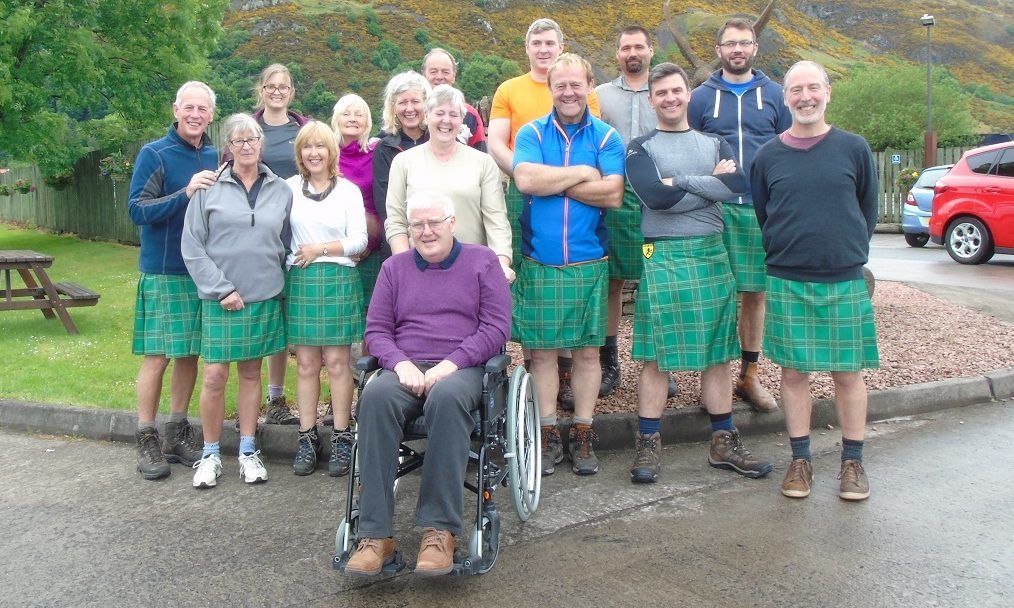 A group of farmers from Central Scotland have embarked on a gruelling 12-day trek to cross the Kalahari Desert in aid of charity.
Their self-funded challenge has been inspired by friend, colleague, team mate and well-known local farming personality Andrew Mitchell, who was diagnosed with Motor Neurone Disease (MND) in May last year.
"Andrew has been a farmer all his life and one of his greatest joys has always been walking and working the land," explained team member David Lyle, group secretary at NFU Scotland's Stirling office.
"He's always been a very active person – he worked as a farmer his whole life and played rugby alongside many of us at Stirling Rugby Club in his spare time," David added.
Early in 2015, Andrew began to notice some weakness in his hands and although he initially suspected he may have suffered a slight stroke, specialists instead confirmed a neurological diagnosis.
"We'd all like nothing more than a cure for Motor Neurone Disease, so we are raising money under Andrew's name to help with research into the disease at Edinburgh University," he said.
Alongside David, the Kalahari Challenge team includes of Kris Mitchell, Rheanne Whitham, Shona Mitchell, John Mitchell, Margaret Filshie, John Henderson, Lindy Birrell, Gordon Adam, Jamie Hay, Ken Hames, Caroline Kingsnorth, Andor Dozpoly and Tristan Aitken – a group with farming or agricultural connections at their heart.
They will be led on the mission by ex-SAS commando Major Ken Hames with the aim of walking 150 miles over the Namibian desert.
"We'll be trekking around 25km each day," David explained.
"In Britain you could cover that distance in around five hours, but in the dust and extreme 35 to 38 degrees celcius temperatures, it will take us between eight or nine hours each day.
"It certainly won't be easy," he added.
The group will face other risks too: "As we'll be camping under the stars, survival training dictates we'll have to sleep in two rows of 10, with our heads together in the middle," David said.
This practice ensures that any potential animal attack would put your feet a risk first. There will be no fences to separate the group from elephants, lions, leopards and some of the world's most deadliest snakes.
"But our expedition leaders will be armed with an elephant gun and we'll have two Jack Russell dogs to alert us of any dangers over night," David added.
Major Hames commented: "I am full of admiration for the Scottish team for taking on this brave challenge for a terrific cause.
"It's certainly one of the toughest they could have chosen; a unique and iconic journey into one of the last true wildernesses on the planet.
"The team will have to be strong willed and determined to make it."
All money raised by the group – who also intend to host a Dinner Dance at Stirling Rugby Club following their return – with be donated to the Andrew Mitchell Research Fund, part of the Euan MacDonald Centre for Motor Neurone Disease Research at the University of Edinburgh.
As the team prepared to leave ahead of their challenge, they had smashed their fundraising target – more than doubling their initial £10,000 goal, climbing above £23,000.
Charity donations can be made online in support of the team at www.justgiving.com/fundraising/andrewmitchellfund