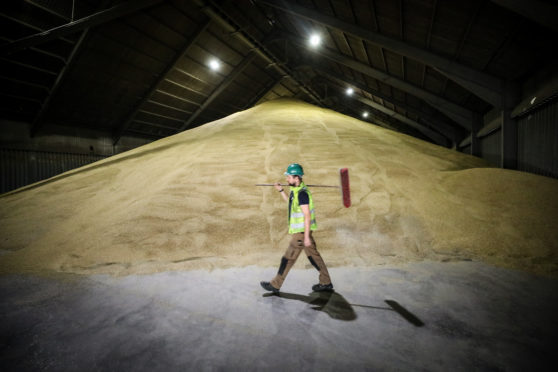 A no-deal Brexit could prove to be good news for many Scottish farmers, according to a leading rural adviser.
Contrary to widespread warnings of the devastating damage that could be inflicted on agriculture by the UK crashing out of Europe without a deal, leading SAC rural business consultant Julian Bell reminded farmers meeting in Perth that the weakening of sterling because of Brexit uncertainty had added £20 a tonne to grain prices – a boost that could be wiped out at a stroke if a deal is reached and the pound bounces back.
"The prediction comes with 101 caveats, but short-term, many sectors could do really well and for quite a few farmers – cereals growers in particular – a no-deal Brexit could be good," he said.
Mr Bell acknowledged the sheep sector would suffer, but suggested that ways were being investigated to mitigate the impact.
He said: "The issue with sheep is timing because we produce the right amount of sheep meat but not all at the right time of year, which means we have to import fresh New Zealand lamb, but already there are initiatives to have later and more consistent lamb available."
However, Mr Bell also advised farmers on how to improve their resilience in the face of such a prospect.
"Move loans from short to long term, delay investments to give you more cash in reserve, diversify your income and keep options open," he said.
"A no-deal could leave us vulnerable to disruption to trade, so maybe buy inputs such as seed, fertiliser, fuel, and agrochemicals forward.
"Get more in the shed to take the pressure off, and if you still have grain to sell, consider the risks for holding it past March."
nnicolson@thecourier.co.uk