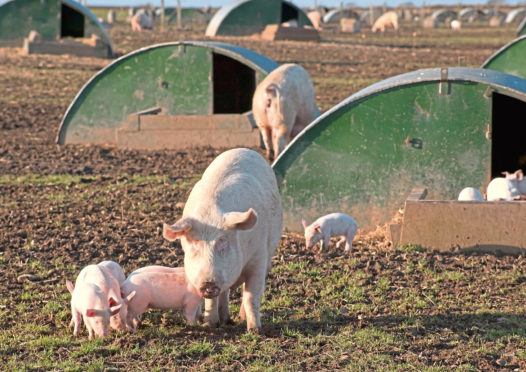 The pig industry has appealed for border surveillance to be stepped up after DNA fragments of African Swine Fever (ASF) were found in illegally imported meat in passenger luggage at a Northern Ireland airport.
More than 300kg of meat was seized by border officials and tests by the Agri-Food and Biosciences Institute in Belfast confirmed traces of the virus.
ASF poses no health risk to humans, but the disease is highly contagious and usually fatal in pigs, and it has had a devastating impact on production in China, Russia, Romania and Poland.
It can be easily transmitted in infected pork products and British producers were already on high alert, but the confirmation that infected meat is arriving in the country has sent shock waves through the industry.
Andy McGowan of Scottish Pig Producers warned the find was "the tip of the iceberg" and insisted stricter border surveillance was required.
"It's what we feared all along," he said.
"The most likely route ASF will come in to this country will not be through the pig industry, but by the public bringing in imported meat, and there are still some daft people who think it's a good idea to feed waste to pigs.
"The message to the general public is this could devastate our industry. At the moment we're ASF-free, but Belgium's pig prices were 30% below the EU average when they got ASF in their wild boar herd."
He said he had passed through Edinburgh airport recently and seen no notices warning people not to bring in meat.
"We need much more security and notices," he said.
"We're talking about a disease that's rife in a quarter of the world's pig industry, and pork is the most widely-eaten meat."
National Pig Association chief executive Zoe Davies said her organisation was pressing Defra to do more to minimise the risks from imported meat.
"Northern Ireland and Scotland have reacted more quickly than England to the dangers," she said.
"Scotland is checking on international catering waste and increasing bag inspections, but it's important the whole of the UK has equally stringent checks to minimise the risk.
She said the risks were especially high for outdoor pig producers who have rights of way passing through their land.
"They need signage telling people not to feed the pigs. Everyone has a part to play to minimise the risk."
Defra recently announced that it will be stepping up ASF controls at ports and airports, and says the risks from ASF remain at medium for the entry of contaminated or infected products into the UK.
The latest advice from Defra states anybody returning from any ASF-affected area should avoid contact with domestic pigs, whether commercial holdings or smallholdings, areas with feral pigs or wild boar, until they are confident they have no contaminated clothing, footwear or equipment.
Pig keepers and vets have also been advised to remind themselves of the clinical signs for ASF.
British Veterinary Association (BVA) president Simon Doherty praised the quick response from government vets and inspectors in Northern Ireland who detected the illegal meat in luggage and said it underlined the scale of the task ahead.
nnicolson@thecourier.co.uk