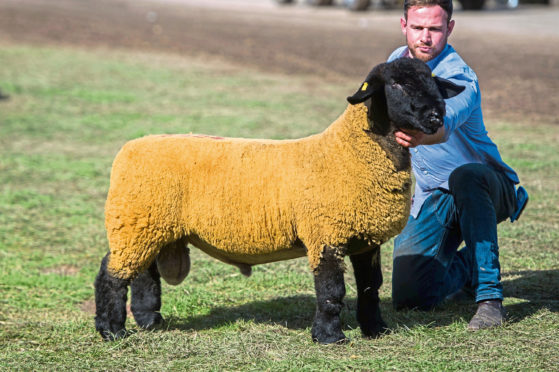 Trade held up well on the year at Kelso Ram Sales, with an 81% clearance and a total of 4,191 rams selling for an average price of £697.55, up by £16 on the 2018 sale, albeit for 200 fewer sold.
Across all the breeds, the Texel shearlings produced the best average overall, with 766 levelling at £975.20.
They were led by two £8,500 sellers, from the Greenall and Roxburgh Mains flocks.
Not far behind were the Bluefaced Leicesters, with 450 shearling rams averaging out at £968.29.
They also produced the top lamb average – £616 for 38 – and the best individual prices, at £15,000 and £12,000.
Sale leader was the No 1 from Obie Sharp's 50-strong Newbigging Walls flock from Lauder, which sold in a five-way split.
Second top was £12,000, paid for the pen leader from the Wights' Midlock flock from Crawford.
The 766 registered Texel shearlings averaged £975.20, while 164 lambs averaged £516.04. Meanwhile, 598 unregistered shearlings averaged £571.20.
Prices peaked at £6,000 among the Suffolks, with the dearest ram lamb consigned by Fife breeder Stewart Lathangie's Pyeston flock from Glenrothes.
One of the first lambs sold made £2,500 for Ronnie Black and sons Mike and Pete, Newton of Collessie, Ladybank. Their February-born ET lamb is by Limestone Legacy.
Overall, 208 registered Suffolk lambs levelled at £789.42, while 250 lambs averaged £475.80. Some 411 unregistered Suffolks averaged out at £635.52.
A total of 292 Beltex shearlings averaged £716.20, while 14 lambs levelled at £412.86.
The cross section was topped at £3,200, with 598 shearlings averaging out at £580.37 and 11 lambs levelling at £341.82.
North Country Cheviots sold to £1,500 and averaged £611.79 for 28, while Border Leicesters peaked at £1,000 and levelled out at £350 for 48. Some 69 Lleyns averaged £540.14 and sold to £1,100.