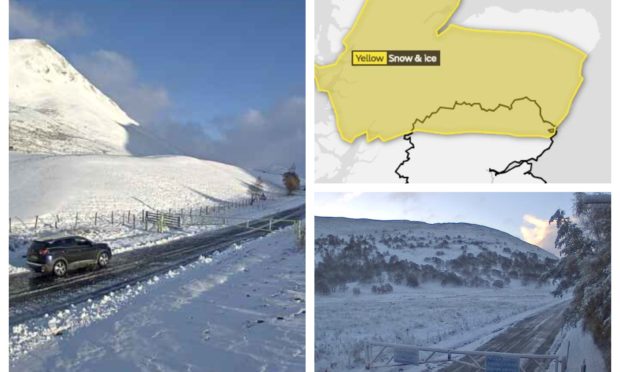 Scots have woken up to wintry scenes this morning as freezing weather brought snow to parts of the country – forcing the closure of several roads.
Heavy snowfall hit areas including Aberdeenshire, Moray and the Cairngorms on Friday night into Saturday morning.
The weather has forced the closure of the Cairn O'Mount road between Fettercairn and Strachan and the A93 Perth to Braemar road at Glenshee.
In Moray, closures are in place on parts of the A939 due to what Traffic Scotland describes as "adverse weather conditions".
Oooo! pic.twitter.com/ZZ6bvzI14J

— Ben Dolphin (@CountrysideBen) October 27, 2018
Driving home tonight!
–#cairngorms #aberdeenshire #winteriscoming pic.twitter.com/4XG69SfweX

— Brown + Brown (@Brown_Brown_Arc) October 26, 2018
Winter's first proper visit. The A93 is shut between Braemar and Glenshee. Very unusual for October. pic.twitter.com/3vDuTf8hi7

— Iain Cameron (@theiaincameron) October 27, 2018
The #A95 is affected by wintry conditions especially #Aberlour area. Drivers are advised to use extra caution on the whole route. pic.twitter.com/GpYBvT3wDd

— Traffic Scotland (@trafficscotland) October 27, 2018
An Arctic maritime air mass moved into Scotland on Friday and was expected to cause temperatures to plummet to -3C in Courier country on Saturday morning – with wintry showers due across the region.
The freezing conditions prompted the Met Office to issue a yellow warning for snow and ice effective in Tayside, Fife and Grampian until Saturday at 11am.
Some parts of Scotland, such as Aviemore, were predicted to experience lows of -5C overnight.
And the mercury is not expected to rise above 7C in the local area on Saturday, with the cold conditions due to endure into next week.
The heaviest wintry showers were predicted to hit the highest regions, with Perthshire and Angus the most likely places in Courier country to see snow lying on hilltops and roads.
However Met Office meteorologist Sarah Kent said Dundee would not be immune to the odd dusting of the white stuff on Saturday – adding that the day's weather will be accompanied by a "significant wind chill".
She added: "The weather has turned colder with northerly winds coming down. At this time of year sea temperatures are quite warm, and this can brew up some quite beefy showers and the showers have been heavier in places.
"Over higher ground in the Cairngorms and Grampians we have seen some snow. There's going to be a dusting on the hilltops by Saturday morning. There will be showers into Saturday morning and a bit of sleet.
"It will be quite a nasty mix on some roads. There will be a touch of frost combined with the showers and some snow over the highest ground, that is why we have issued this snow and ice warning.
"Over higher ground, above 200m-300m (656ft-984ft), some of the roads will become quite sleety."
Mrs Kent added: "Through Saturday morning we'll see the showers continuing, though they will become more isolated. Some places could get away dry and sunny.
"Day maxes are probably going to be around 7C. Though there is significant wind chill even to low levels.
"The sleet and wet snow is primarily on the hills above 300m (984ft). The likes of Dundee is not immune to risk but the worst conditions are on the higher grounds of the Cairngorms and the hills near Inverness.
"Certainly Sunday is going to be a chilly day. Monday there is a bit more of a breeze coming in from Scotland, bringing more showers.
"Tuesday may see spells of rain which will turn to snow on the highest ground."
Earlier this week Perth and Kinross, Angus and Dundee City councils all said their gritting teams were on standby to respond to the cold conditions.
Yesterday Fife Council roads and transportation senior manager Derek Crowe said: "We constantly monitor our roads and the weather, and take appropriate action to respond to the conditions.
"We currently have over 20,000 tonnes of salt and a fleet of nearly 50 vehicles ready to respond as and when needed."