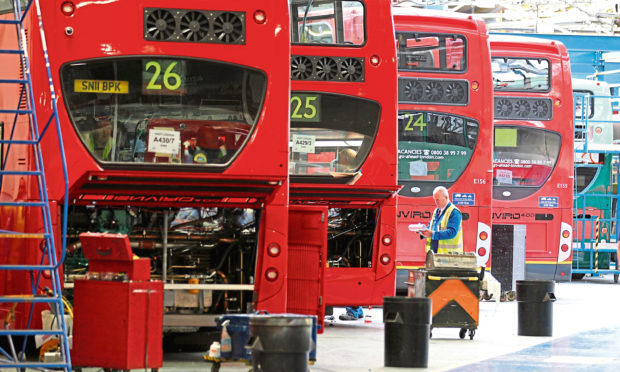 Major Scottish bus firm Alexander Dennis recorded record sales ahead of its £320 million takeover by a Canadian firm, newly published accounts show.
The Falkirk-based manufacturer, which was majority-owned by Stagecoach founders Sir Brian Souter and Dame Ann Gloag, completed its sale to NFI Group last week.
The accounts for the year ending December 31 show the firm's sales rose from £577m in 2017 to £630.8m last year.
Pre-tax profits in the group soared from £24.4m to £32.7m over the period.
In his chief executive's report, Colin Robertson – who will lead NFI's international operations – said he was delighted at the firm's strong year.
He said: "The increase in the top line was driven by our international business, benefiting in particular from a strong Asian market and further growth achieved in aftermarket sales.
"Total international revenue was £266m, up 20% on 2017 and although total UK sales increased by a more modest 3%, this was a strong performance against a backdrop of the UK market that was down more than 20% in new bus registrations."
Alexander Dennis hailed a major contract win for the city of Berlin, Germany, which has placed an order of 430 double decker buses from 2020.
The firm said it also increased its investment into new products, which are "increasingly focused on low carbon and fully electric vehicles".
"In 2019 we are significantly increasing our new product development expenditure due to a number of international growth opportunities," Mr Robertson added.
"This investment, supported by R&D funding from Scottish Enterprise, will underpin growth over the next few years."
Alexander Dennis can trace its roots back to 1895 when John Dennis set up Universal Athletic Stores in Guildford High Street, selling bicycles and other sporting goods.
The enterprise produced its first car in 1901 and its first bus and fire engine four years later.
The company, now Britain's largest bus manufacturer, employed an average of 2,566 staff last year.
rmclaren@thecourier.co.uk