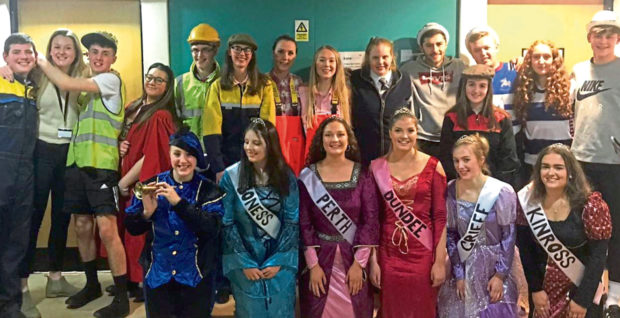 Young farmers teams from across the East of Scotland are gearing up for a showdown at Perth Concert Hall next Saturday.
The annual cabaret competition is expected to attract hundreds of supporters and spectators when talented teams from Kinross, Peeblesshire, Bathgate, Forfar, Bell Baxter and Brechin go head-to-head in the annual entertainment competition.
The final follows a series of regional heats, and last week a team from Bell Baxter ADS came first in the Fife and Kinross District competition at the Byre Theatre in St Andrews with their performance of "Fife Up Your Life" produced by Alex Jack.
The club also won best act with The Princesses – comprising Nicola Bell, Kirsty Bell, Emma Hamilton, Sam Roberts and Ailsa Roberts.
The best comedy moment at the event was won by Kinross JAC's Sumo Girls, Adam Marshall and Bruce Smith.
District chairman, David Black said: "The audience enjoyed the usual great night of entertainment from sketches to cabaret performances. The competition was hot, with Bell Baxter taking the win by the small margin of one point.
"We're very grateful for all the donations and support in our charity auction, which raised a fantastic total of £1,655 for Winston's Wish."
In addition to the individual cabaret acts at the Perth Concert Hall event, the audience will be entertained by groups including Stirling, Stathendrick & Strathkelvin YFC, Lanark 75th Anniversary Concert Cast, Udny JAC and Katrina Kennedy from Aberfeldy.
The East Cabaret starts at 7pm and tickets cost £17 for adults and £12 for concessions. They are available at www.shop.sayfc.org
Meanwhile, Young Farmers meetings in the pipeline this week include Brechin JAC's event at ScotKart, Dundee on Monday at 7.30pm (£20 per person). Contact Ashley on 07907407007.
East Fife JAC's Ready, Steady, Cook evening on Wednesday at Waid Academy, Anstruther at 7pm.
Strathmore JAC will hear from police dog handlers on Wednesday at West Adamston Farm, Dundee at 7.30pm. Contact Laura on 07712534267
East Fife's dinner dance is being held at Bowhouse on Saturday February 15 and their annual meeting is at New Gilston Hall on Monday March 11.
For more information on any of the events contact Jenny Brunton on 07816587502.
nnicolson@thecourier.co.uk