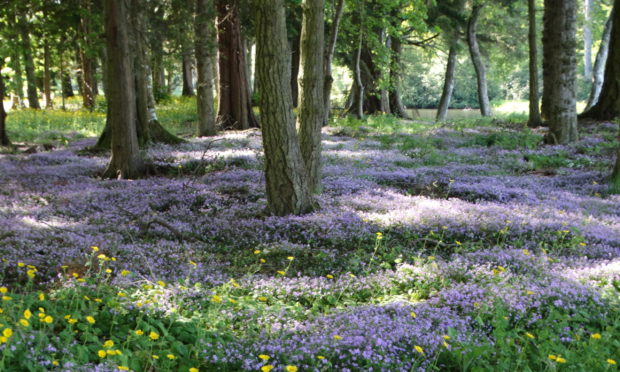 It's who you know, not what you know.
This was brought home to me last week when I wrote of my concern at the absence of swifts and swallows and their cousins, the sand martins and house martins, from our spring skies.
I'd scarcely spread a sinfully large spoonful of the Doyenne's homemade marmalade on my breakfast toast when the phone rang and old – of longstanding, you'll understand – friend George Sangster, called to put me right.
George explained that the harmattan, a season of strong, dry winds causing dust storms, which occurs in Saharan Africa usually from December to March, was late.
One of its effects is to push our hirondelles out of their winter reserves and start them on their annual migration to the UK to breed.
This year, doubtless due to climate change, the harmattan has started about two months late.
Another reader drew my attention to a newspaper article about a freak storm in the Mediterranean at the beginning of April which blew thousands of migrating birds off course as they crossed Greece, leaving them exhausted and starving.
Birds that would normally arrive here in March and April were found dead before they left the European mainland.
I'm assured we'll see our migrant birds as usual – just fewer of them and late.
Instead of the usual two broods they hatch each year we can probably expect only one, although swallows will lay as late as August, hatching a late brood in September.
But for the next couple of years it looks as though the numbers of these attractive summer visitors will be depleted.
Walking with Inka down the side of a wood I heard a sound I hadn't heard for years but which is quite unforgettable.
The panic-stricken screaming, lasting less than a minute, burst in on the still, sun-filled afternoon but I knew immediately it was a rabbit in its death throes – being killed by either a weasel or a stoat.
David Stephen, who was a wonderfully practical countryman, describes in his book Scottish Wild Life watching a family of stoat kits which were on flesh food in mid-May.  A stoat needs a quarter of its own weight in food every day, so perhaps the kill I heard was to feed a nest of hungry youngsters.
I have once seen a stoat kill a rabbit and it is ruthless and swift.  I didn't see the proverbial dance of death that the stoat is supposed to engage in to mesmerise its prey and prevent it escaping.
I popped my head round a doorway in an old walled garden in time to see the stoat make a final rush and sink its jaws into the rabbit's neck.
Very much nature red in tooth and claw and when I tell this story often there is sympathy for the rabbit.
But the natural world's most basic principle is survival of the fittest and this is how the stoat survives.
And I point out that we humans eat pork chops without a moment's concern for the pig.
I took Inka up the side of two fields of yellow flowering oilseed rape on the walk to Fasque Lake.
I should have been hearing the buzzing of bees, wasps, hoverflies and all the other pollinating insects on the rape flowers but it was disconcerting to hear practically none.  There were a few small white butterflies but I would have expected to see small tortoiseshells and, if it's not too early, ringlets.
Like the swallows, doubtless they have yet to come.
I sat on the bank of the Lake in the hot sun watching tadpoles swimming in the shallows – they'll grow into tasty snacks for hungry herons.
The woodland strip round the Lake is ablaze with the colours of yellow corn marigolds and the startling electric blue of alkanet.
And everywhere, dappled with the sun blinking through the trees, are rafts of pink purslane, which my Mary McMurtrie tells me is a Victorian introduction from America.  It spreads like wildfire – seven years ago when I first started walking round that way there was none and now it's carpeting the woodland floor.
This seems the right moment to share a recipe for a countryside cordial which is a Whitson family favourite for barbecues and long, lazy evenings at weekends watching the sun dip below the hills.  It is simple and the ingredients aren't expensive.
In a two-litre jug mix a bottle of still white wine with an equal amount of lemonade.  Add four tablespoons of Cointreau and thinly cut slices of cucumber and orange and plenty of ice.
Bruise a handful of mint leaves (spearmint if possible) between your palms to release the flavour, throw into the brew and stir.
Once the juice is finished the boozy cucumber and orange slices are delicious eaten with ice cream.