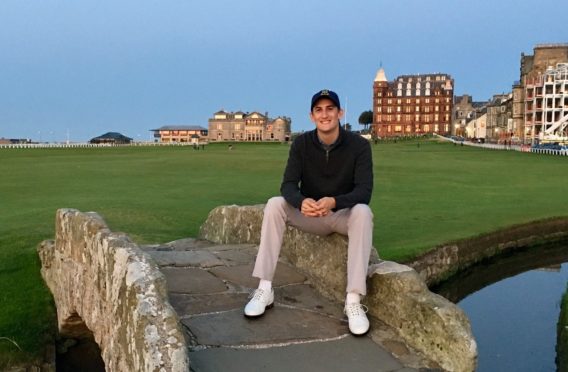 An American student at St Andrews University has written a heartfelt open letter to his fellow students urging them to follow Covid-19 guidelines as much as possible.
Jackson Lone, a postgraduate student, felt compelled to write to student paper The Saint after seeing colleges on the other side of the Atlantic face severe outbreaks as a result of inadequate respect for restrictions and insufficient self-policing.
While Jackson acknowledges the student body would love to meet new friends and enjoy everything St Andrews has to offer, he has urged people to not make the same mistakes others have made and do their bit to control the spread of the virus.
"Thousands of us arrived in this small town at roughly the same time, from all over the world, each bringing with us the environment from which we came.
"Let's make sure that we're not imposing ourselves on the community here, but instead are trying to respect the existing norms and expectations.
"During this pandemic, it has been easy to slip back into old habits — I have done that plenty since this all began.
"We are being asked to follow guidelines that none of us would ever choose for ourselves.
"However, let's show some leadership about how a group of students can come together to act responsibly, and set aside personal desires to still live a normal life in an abnormal world. We're being asked to put others before ourselves, and that is something we all know how to do."
Jackson added that while many of the restrictions may seem "excessive or unnecessary", he sees no upside to flouting the rules for personal reasons.
"If we come out of this pandemic and feel like we overreacted, I believe that actually means we've acted correctly.
"The more we take this seriously now, the less likely a harsher shutdown will be.
"Although it is an incredibly hard task not to give into the frustration this has created, we need to not get bogged down with the day-to-day inconveniences. It is in our interest to follow the guidelines and for each of us to police our own behaviour.
"We can't expect university officials or hall wardens to be the only enforcers, or to do the hard work for us.
"We are going to have to take ownership of this crisis, and push ourselves and each other to be better."