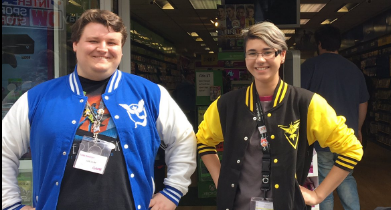 Players of Pokémon Go will be able to take part in an organised walking tour of Dundee this Friday.
Set up by Game employees Callum Paterson and Jenny Morton, the tour will take in some of Dundee's city centre landmarks and give players the chance to catch and lure some of the most coveted Pokémon.
Pokémon Go is a new craze which has taken the country by storm, utilising "augmented reality" technology which allow players the chance to catch Pokémon on their smart-phones.
The app, which uses satellite locations, graphics and camera capabilities to overlay cartoon monsters on real-world settings, has become a world-wide phenomenon.
People of all ages are encouraged to attend the event in their finest "Poke-gear", with Callum hoping the walk can be used create a wider Pokémon Go community in the city.
Presenting our #PokeWalk route! Don't forget to RSVP and share the Facebook event: https://t.co/DDfanAL8QZ pic.twitter.com/1OdbOqOSrN

— GAME Dundee (@GAMEDundee) August 4, 2016
He said: "Pokémon Go truly is a cultural phenomenon. You hear of people happily walking 10 miles at a time when playing the game, and thinking nothing of it.
"It is a great game for people of all ages to play. I've heard that parents of some of the younger players have gotten into playing it as a result of their kids' interest.
"The game is particularly good for children because it gets players walking and outside.
"Our route will cover as many pedestrian areas as possible. We didn't see the point in setting up a route if people weren't able to walk it.
"We would really like the route to engage with the wider Dundee community, not just the gaming community.
"When you are playing Pokémon, and you pass a fellow player, there is often an unspoken bond that exists.
"It would be great to create that on a larger scale, which is why we have developed the Pokewalk.
"We are hoping players of all ages will come dressed as characters from the game, and that the good folk of Dundee join us on our walk."
The route will see players traipse from the city centre, towards Dundee University, along Marketgait and back in to the city centre. It is expected to take an hour to complete.
Those who are interested in taking part in the Game Pokewalk are asked to meet at Game on the Murraygate at 3pm on Friday August 12.
The walk will be entirely free to enter, but children under the age 16 must be accompanied by an adult.
A similar event took place in Perth last Saturday, which saw players tour the Fair City looking for the cartoon characters.
Those who are interested in taking part in the Game Pokewalk can visit its Facebook or meet at Game on the Murraygate at 3pm on Friday August 12.