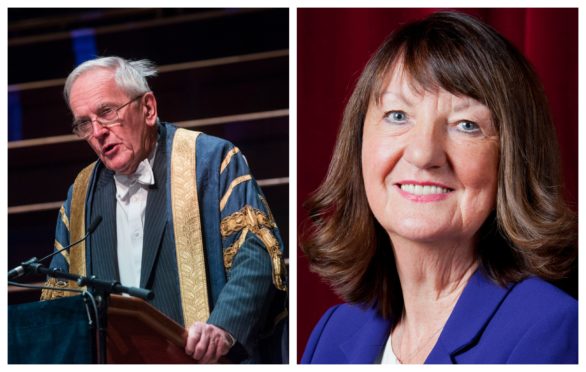 Abertay University has announced its chancellor Lord Cullen of Whitekirk — formerly Scotland's most senior judge — will step down from the role.
Lord Cullen will be replaced by Professor Alice Brown following this summer's graduation ceremonies.
After 10 years of service to Abertay, the distinguished lawyer and former senior member of the Scottish Judiciary will preside over his final graduation ceremonies at the Caird Hall on July 4.
Lord Cullen has had a distinguished career in public life, notably leading important and influential inquiries into the Dunblane massacre, the Piper Alpha tragedy and the Ladbroke Grove train crash.
In addition to officiating at graduation ceremonies, he recently, through a generous personal donation, established the Chancellor's Fund, an initiative to support the university's PhD and research Masters students.
Professor Nigel Seaton, Abertay university principal and vice-chancellor said: "Lord Cullen has been an outstanding figurehead for the university in his 10 years as chancellor, acting as a source of inspiration, guidance and wisdom to our students, alumni and staff.
"I know I speak for the university as a whole thanking him for his many years of service."
Professor Brown was a member of the committee on Standards in Public Life (Nolan Committee), advised on procedural aspects of setting up the Scottish Parliament, was Scotland's first Public Services Ombudsman and was a member of the Administrative Justice and Tribunals Council from 2008 to 2012.
Notably, Professor Brown was also the first female General Secretary of the Royal Society of Edinburgh.  She was chairwoman of the Scottish Funding Council from 2013 to 2017.
Professor Seaton added: "I am very pleased indeed that Alice Brown will be joining us as chancellor of Abertay University.
"As Lord Cullen has done, she will embody the values of the university to our staff and students, and to the public at large, and she brings with her a distinguished career in the academic world and in public service, which will be an inspiration to all. I look forward to welcoming her to Abertay."
Lord Cullen said: "I am delighted to know that Alice Brown is to succeed me.  She is a remarkable example of public service, and what can be achieved by a positive and constructive approach to life and work.  I am sure that, like me, she will receive a warm welcome and find much to enjoy in her role in the Abertay family."
Professor Alice Brown said: "I am delighted and extremely honoured to succeed Lord Cullen as chancellor of Abertay University. His contribution to the university has been outstanding and he leaves a most significant legacy.
"I very much look forward to following in his footsteps and working with the university and its students, alumni and staff in the years ahead."