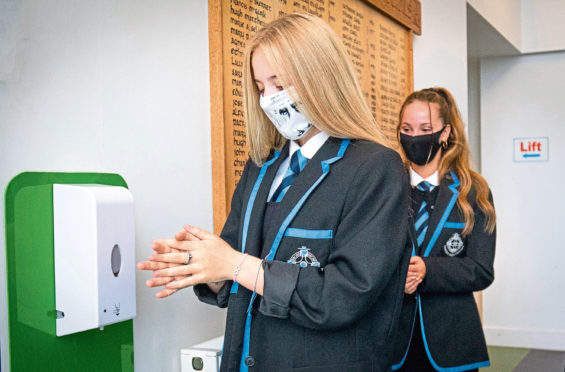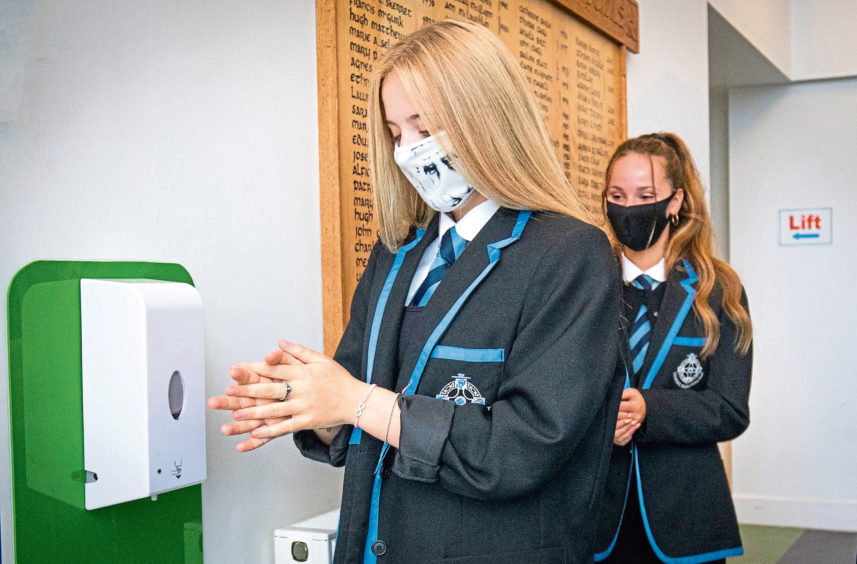 Scotland should take heed. England's chief medical adviser sees more harm in children not returning to school than from them catching the virus, Jenny Hjul says.
If there has been one clear Covid message recently amid the ongoing confusion in government advice, it is that children are almost wholly protected from the pandemic.
The chief medical adviser for England, Chris Whitty, spelled this out a week ago, saying children were more likely to be harmed by not returning to school than by catching the virus.
In fact, a joint statement – they called it a "consensus" – was put out on behalf of Whitty and his counterparts in Wales, Northern Ireland and Scotland.
As there hasn't always been a consensus between the regions of the UK over Covid, this one stood out.
'Small risk of children dying'
The language used was unequivocal: "We are confident in the extensive evidence that there is an exceptionally small risk of children of primary or secondary school age dying from Covid-19."
On the other hand, "multiple sources of evidence show that a lack of schooling increases inequalities, reduces the life chances of children and can exacerbate physical and mental health issues".
The timing of the press release was in sync with the return of English schools this week, Scottish classrooms having reopened in mid August. But it was no doubt intended for the benefit of Scottish children, too.
Panicked parents
However, the message does not seem to have got through north of the border, with panicked parents keeping their kids at home on Covid-related pretences.
On a single day last week, more than 22,000 children were absent from school for reasons related to coronavirus, according to Scottish Government figures.
As there was no spike in transmission among youngsters, this suggests that either parents or teachers, or both, have been over-reacting to childhood cold symptoms.
They need to be given every reassurance so education is not interrupted again.
After six months of school closures, not to mention the exams debacle, any further disruption to lessons could potentially damage the prospects of an entire generation.
Ramping up the fear factor
But while medical opinion appears, at last, to have coalesced around the importance of getting back to normal, Scotland's political leaders are still ramping up the fear factor.
On Monday, dishing out her daily dose of gloom, Nicola Sturgeon warned that we are heading towards a second lockdown this winter.
She blamed an increase in positive cases on people flouting the rules and said she was the most worried she had been in months at the country's "fragile state".
And yet even she had to concede that the rise in cases was partly the result of a greater number of people being tested.
A closer inspection of the figures would reveal the encouraging signs that positive test results are not leading to a surge in hospital admissions and there have been no deaths recorded in Scotland for almost a week.
Nationwide, the people getting the virus are much younger than those who succumbed at its height, and they are less affected, said Carl Heneghan, professor of evidence-based medicine at Oxford University.
The virus is circulating at a much lower level, people are less likely to get seriously ill, and there are much more effective treatments for anyone who does end up in hospital.
Leave virology to the virologists
Without down playing the risks entirely, it is clear that the job for government now is to attend to the consequences of Covid and leave the virology to the virologists.
Uppermost on the agenda should be a package of measures that restore public confidence and reboot our ailing economy.
Sturgeon, in announcing her programme for government today, outlined a futuristic "national mission" after the Covid crisis, which has seen Scotland plunge into recession with one of the worst economic performances in Europe.
However, in order to rehabilitate the nation, greater urgency is required to stimulate growth, and to do that it is necessary first to coax Scotland back to its pre-Covid life. First ministerial scaremongering won't do it.
Statistically remote chance
For all the illegal ravers and reckless Tui tourists, much of Britain remains afflicted with nerves over a disease that has a statistically remote chance of harming them.
Meanwhile, at Westminster, there is a belated attempt at redressing the balance, with Boris Johnson launching a campaign to drive the workforce back to its desks.
But in Scotland, Sturgeon calls this intimidation. Is that because she knows she can get a bailout from the treasurer if Scots stay home until the money runs out?
Or is it because prolonging the pandemic provides a diversion from other problems, such as the Salmond inquiry and its political fallout, or being sued over a care home death following one family's fury at government neglect?
While Sturgeon dwells on her own "anxiety", her less fortunate countrymen and women have more prosaic concerns, such as the loss of their jobs and the struggle to make ends meet.
She should stop her navel gazing and focus on them.