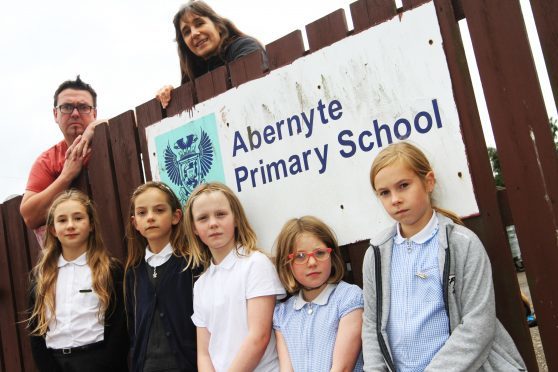 Scotland's education minister has pledged to intervene in Perth and Kinross Council's school closure consultation.
John Swinney MSP fears the review – which could decide the future of many rural schools – may be based on flawed data.
He has asked the council to investigate after hearing concerns from parents whose children go to some of the schools involved.
A series of meetings have seen parents and teachers comment on the "out of date" information being presented for school roll numbers and school capacities.
Mr Swinney, who represents Perthshire North, said he had met campaigners and been made aware of concerns about the "flawed" consultation.
"Parents have made clear to me their concerns about the data being used in this exercise and also made a powerful case for the retention of their schools," he said.
"I have agreed to make these points to Perth and Kinross Council.
"It is vital that any exercise of this kind is based on accurate information and data and I want to make sure the local authority ensures that is the case."
The future of 10 schools is currently under consideration and others will follow in the New Year as phase two of the review begins.
Closure is one option for all 10, although the council has been at pains to stress no decisions have been taken.
Parents at affected schools across the region have been highly critical of the figures being quoted at consultations by the local authority.
At St Ninian's Episcopal Primary in Perth, for example, the capacity calculations are based on the school still having classrooms that have been demolished or converted into reception space.
The parent council at Abernyte Primary has claimed its catchment area has been deliberately curtailed in an effort to engineer its closure.
At a public meeting in Perth, some parents raised concerns that simple maintenance of non-classroom areas was being overlooked to downgrade the overall condition rating.
Blairingone Primary parents have also said they believe the standard of the school building has been allowed to deteriorate deliberately.
Mr Swinney's SNP colleague, Pete Wishart MP, said he would be "watching very closely" for the council's next move in light of the concerns.
He added: "I hosted a public meeting recently and one of the concerns raised by a number of parents was surrounding the information that the local authority have provided regarding capacity and numbers of pupils at the schools in question."
A spokeswoman for Perth and Kinross Council said all of the views shared through the consultation process, including feedback on capacity and pupil rolls, would be taken into account, before being presented to a future meeting of the lifelong learning committee for a decision on the next steps.
"We would like to reiterate that no decisions have been made and we are considering every option available to us in relation to each school as part of the process," she added.