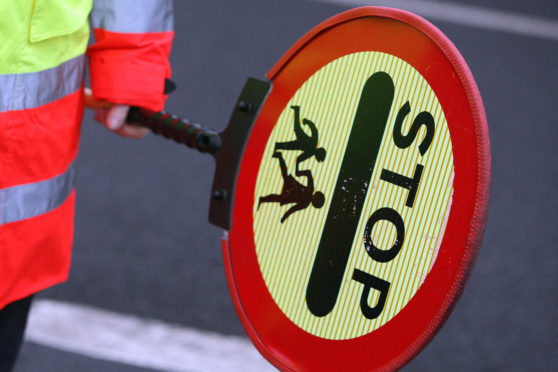 Perth and Kinross councillors have been branded "cowardly" by a trade union after signing off on plans to axe school crossing patrollers behind closed doors.
The Courier has learned the administration voted in favour of a proposal to remove school crossing patrollers at sites where there are already pedestrian crossings in place in a private session last month.
The local authority said the decision was made by the lifelong learning committee without members of the press or public present because the information was deemed too sensitive to employees whose jobs were being discussed.
Parents' groups had feared the service might be targeted after the prospect was raised — and swiftly rejected — last year.
However, the authority has now confirmed the proposed cuts will be part of the budget package put to the full council next week.
The revelation has angered GMB Scotland organiser Helen Meldrum, who said: "Yet again the livelihoods of the lowest paid in the council are under attack and the secretive manner in which this plan has been hatched is just cowardly.
"This is a council that's acting with increasing impunity. There has been no consultation with trade unions over these cuts.
"We are demanding immediate transparency from PKC over the process undertaken here."
The council also intends to slash all school crossing patroller vacancies which have been empty for more than a year until alternative options have been analysed, as it aims to meet £450,000 of savings targets set last year.
The authority said it was unable to confirm the total number of job losses until alternative traffic calming measures have been considered.
A council spokesperson said: "Before any school crossing patrols are removed, schools will ensure pupils are reminded of road safety rules around the proper use of these pedestrian crossings and will seek to involve parents in these sessions where possible."
Lifelong learning convener and Conservative councillor Caroline Shiers said: "This decision was not taken lightly by the committee. The funding received by the council is falling while demand is increasing.
"This means that we are forced to review all areas of spending with a view to making savings wherever possible."
SNP leader Dave Doogan said the move should not have been withheld from the public.
He said: "This was a very important issue which was obviously in the public interest and I am very concerned that the council leadership thought it appropriate to debate this matter in private.
"Other items on this paper were appropriate to transact in private but the school crossing patrollers should have been on a separate agenda item which allowed public scrutiny.
"Opposition councillors fought the plan to cut these elements of funding for crossing patrollers and the SNP moved an amendment to the paper.
"However, the administration managed to force this cut through. This whole process is unacceptable and I urge the council's leaders to look again at this cut to our local services and fund a safer, more appropriate solution."