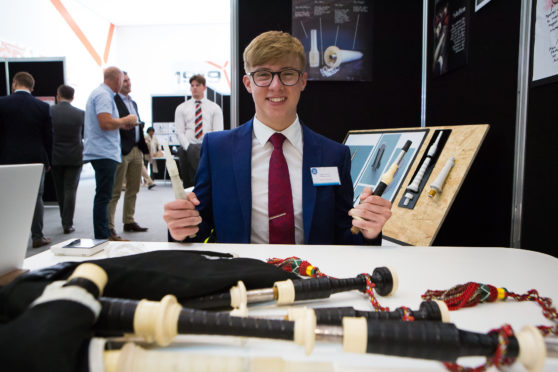 A Perthshire schoolboy has bagged a grant to start his own business selling a musical invention.
Robbie MacIsaac, who is head boy at Strathallan School, Forgandenny, won a national competition with his innovative flux blowpipe, which stops moisture getting into bagpipes.
Since winning the competition last year Robbie has been awarded more than £10,000 by the firm behind the competition, Scottish Edge.
Robbie, who lives in Falkirk, was the only Scottish pupil to make it to the final of the technology, design and innovation challenge, taking first prize at the competition run by the Manufacturing Technologies Association last summer.
His invention cools and condenses the moisture in a piper's breath through difference in pressure, and draws it out the main air way where it's then absorbed.
Microwaving restores the flux blowpipe's original capacity and it can be reused.
Strathallan, a private school for boarding and day pupils, was given £2,000 to spend on technology supplies, thanks to Robbie's victory.
The 17-year-old hopes his invention will stop moisture damaging instruments, as it causes the wood to crack and affects the sound quality.
After working on the idea for around four years, Robbie's initial blowpipe was made with a 3D printer, with the help of Angus 3D Solutions. All the prototypes for the competition were made by the firm after he made the contact through a design and technology lesson, when the company came in to give a talk to pupils.
It may also help to end bagpipe lung, a rare but fatal disease caused by a build-up of mould inside wind instruments.
Bagpipe lung is thought to be caused by a build-up of mould and fungi inside wind instruments, which can inflame lungs.
Left unchecked, it can cause progressive and irreversible scarring and Robbie hopes to research the illness now that his pipe has been patented.
Robbie is planning on attending university while running his business on the side, using the grant to get his product out to a global market.
If this is successful he hopes to apply his method to other instruments to build up is portfolio.