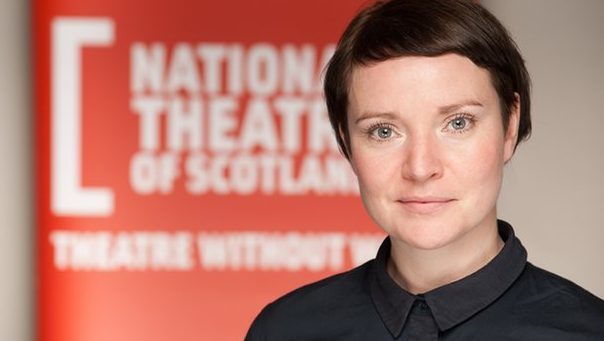 A former artistic director of Glasgow's former club and arts venue The Arches is to take over at the helm of The National Theatre of Scotland.
Jackie Wylie has been announced as the third artistic director of the company, which celebrates its 10th anniversary this year.
NTS said the search for a new leader to replace Laurie Sansom, who departed unexpectedly this year, had attracted a strong field of candidates from the UK and overseas.
Wylie, who is co-director of Glasgow's Take Me Somewhere festival, will take up the NTS post in spring 2017.
She hopes to build on the success of productions such as the award-winning Black Watch and Glasgow Girls, which recently enjoyed a successful run at Dundee Rep.
Ms Wylie said: ""It's an incredible privilege to be given the opportunity to lead the National Theatre of Scotland.
"Ten years ago it pioneered the ground-breaking model of a theatre without walls and since then it has combined world-class artistic distinction with a particular commitment to involving the entire population of Scotland.
"I look forward to continuing that spirit of innovation, building on the organisation's many existing successes and relationships whilst also bringing in new voices, seeking out exciting collaborations at home as well as looking outwards, across the world."
The announcement of the new appointment was made by the chair of the board of directors of the National Theatre of Scotland, Dame Seona Reid.
She said: "It is with very great pleasure that we welcome Jackie Wylie as the National Theatre of Scotland's artistic director.
"Jackie brings great energy and a passion for theatre-making that is far-reaching and collaborative and we look forward very much to Scotland's national theatre entering its second decade with her at the helm."
Fiona Hyslop MSP, Cabinet Secretary for Culture, Tourism and External Affairs, said: "Congratulations to Jackie Wylie in her new role as the artistic director of the National Theatre of Scotland.
"Jackie's experience and collaboration with the sector, here and internationally, will lead the National Theatre of Scotland from strength to strength as they celebrate their 10th anniversary.
"I look forward to enjoying new collaborations, creations and continued success from our theatre without walls".