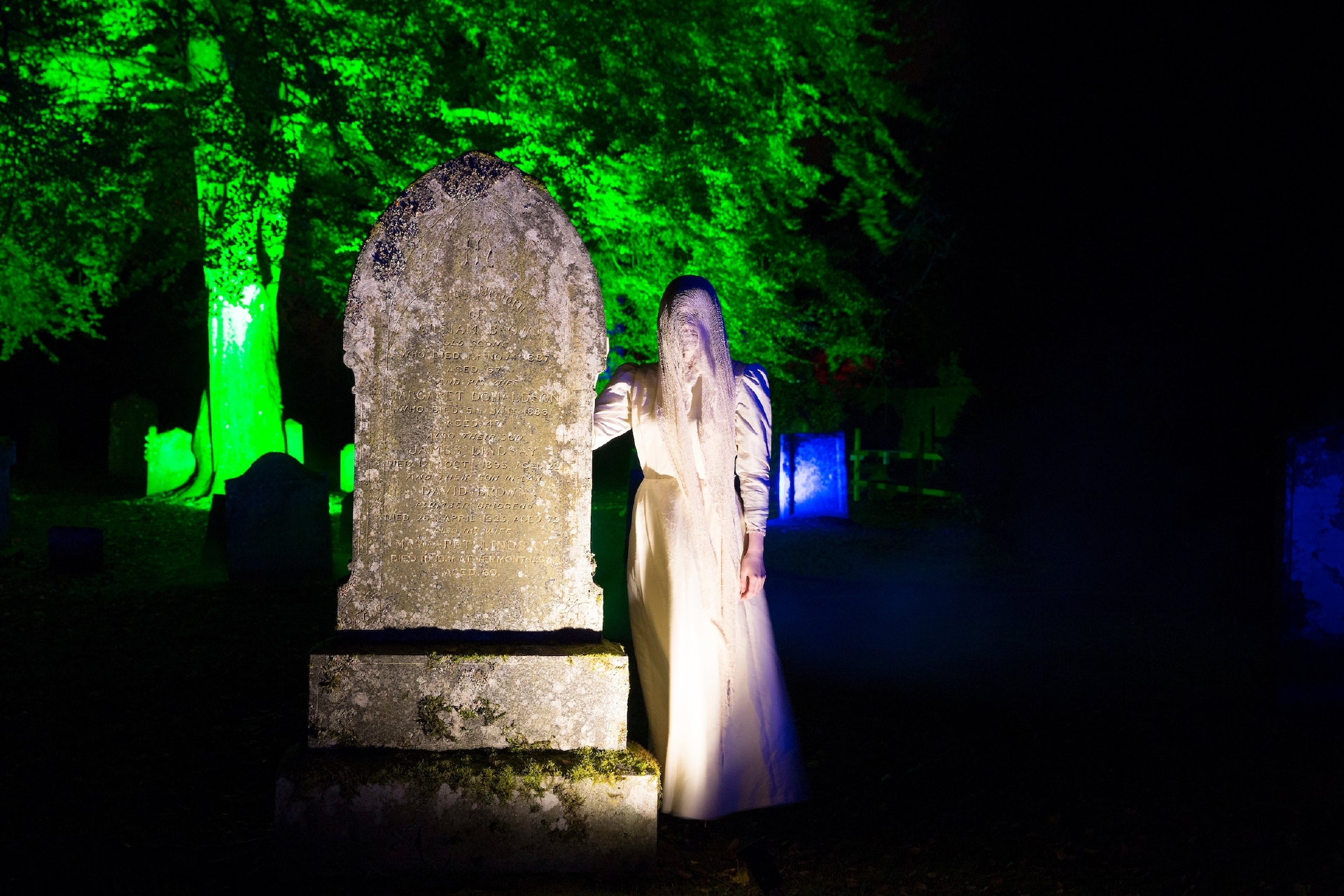 The jilted bride roaming between tombstones. The shadowy figures in the window. The pox-ridden lad who leaps out from behind a tree. The crypt…
Head along to Scone Palace – if you dare – and experience an atmospheric tour of sound and light around the garden and ancient graveyard.
Running over the course of three nights, from 5pm to 8pm on October 28 to 30 (that's tonight, Friday, until Sunday), the show will stimulate the senses and encourage creeped-out visitors to let their imaginations run wild.
At the preview night on Thursday, The Courier was spooked out of its skin from the word go.
Hairs stood up on the back of our necks as we came face-to-face with a ghostly woman in a shroud, wandering through the graveyard mourning her lost love.
Letting out a blood-curdling scream, she then floated off into the mist.
A grotesque witch-like figure burst onto the pathway, and a young boy who claimed to have the pox, leaped out from behind a tree.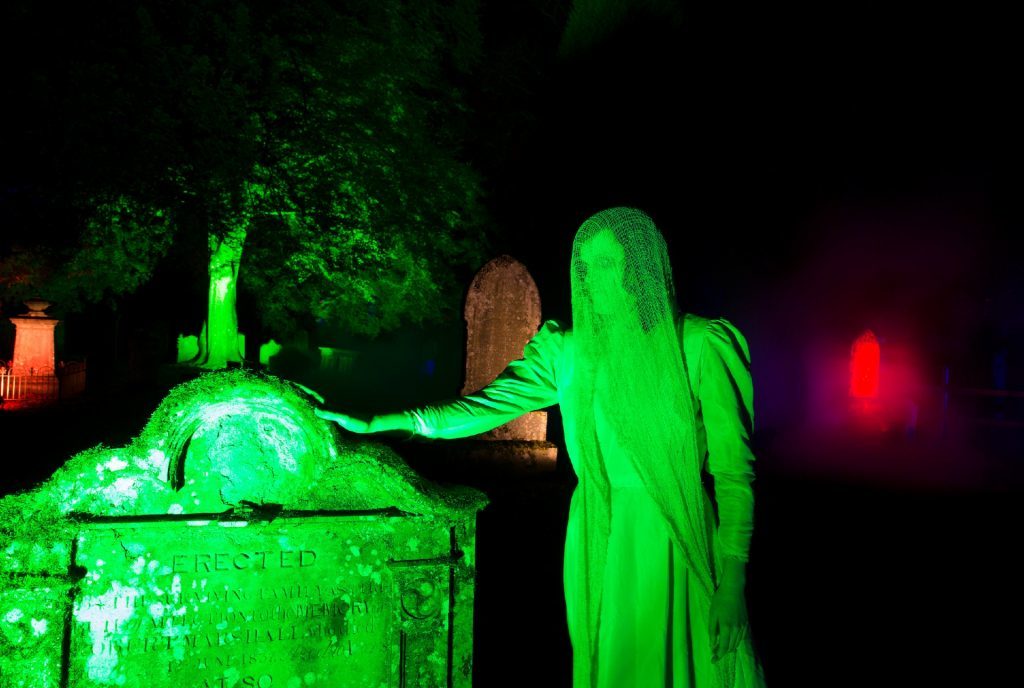 There was a visit to a crypt, a glimpse into a house with what appeared to be the spirits of dead babies, and a sinister figure peering out through a high window.
The tour, which takes around 25 minutes, is an interactive experience with the "Spirits of Scone" – actors dressed in period costumes.
The show – All Hallows' Eve with the Spirits of Scone: Twilight Illuminations – is a collaboration between Scone Palace and Derek Allan, producer of the award-winning Enchanted Forest, whose 2016 sellout show Shimmer finishes up at Pitlochry's Faskally Forest on October 30.
Derek said Scone Palace is the perfect backdrop for a Halloween event.
"It's gothic and historic – ideal for an other-worldly sound and light show," he said.
"We've had great fun working with the palace team to come up with a unique, interactive and thought-provoking tour which we're sure will be a hit for people of all ages."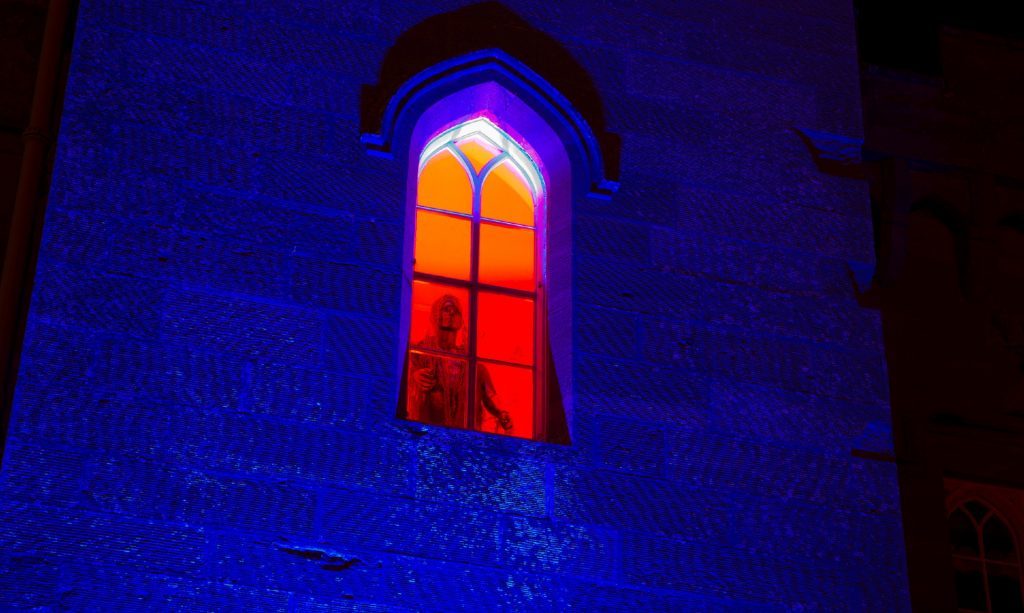 Since there are a few exceptionally scary elements on the tour, the event is not deemed suitable for children under the age of eight.
However, Scone Palace promises plenty for younger children to enjoy during Halloween weekend.
A packed Daytime Spooktacular calendar of events is planned on Saturday (October 29) and Sunday (October 30) including ghoulish puppet shows, face-painting and a competitive fancy dress competition.
A special Halloween menu will be available in the palace coffee shop from 4pm to 8pm to warm people up during the illuminated show with an array of devilish dishes to choose from, including pumpkin soup, goulish goulash and devil's chocolate cake.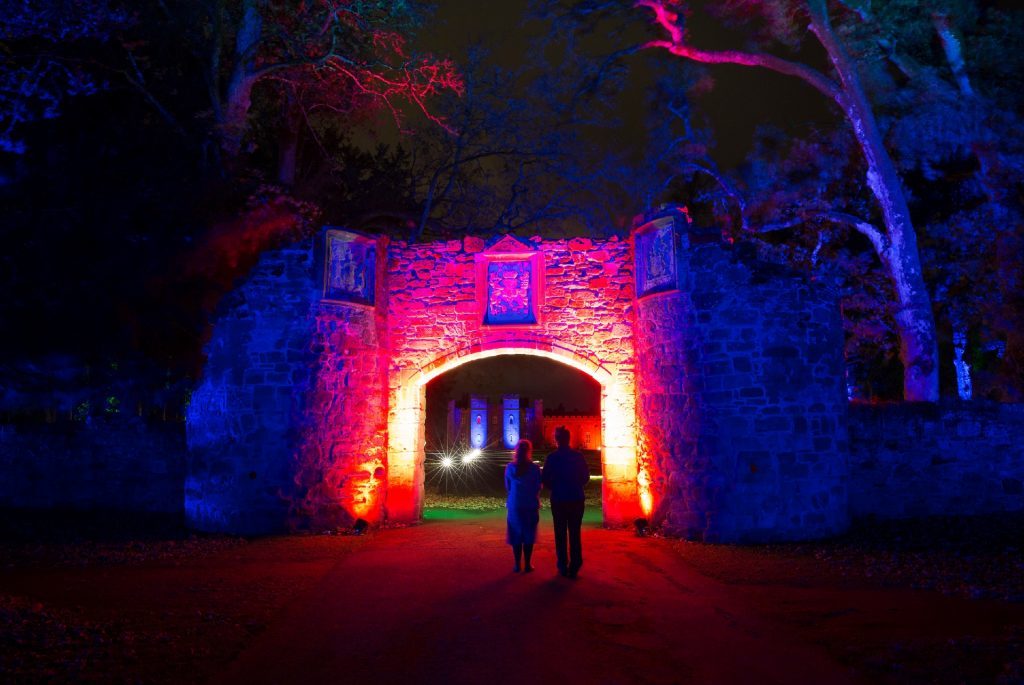 The palace is hoping this brand new taster, which was launched on Thursday to a group of press and VIPs, will lead to an annual event at one of Scotland's most historic visitor attractions.
Sarah Butler, Chief Executive of Scone Palace, said: "We thought Halloween was a perfect time for a sound and light show at the palace.
"It gives people the chance to celebrate Halloween and to experience the palace and the grounds in a unique, exciting way. We're sure the many Spirits of Scone would be proud of our spooky show!
"This year we are offering visitors a 'taster' and plan to grow this event in 2017 to produce an even bigger and better Halloween illuminated tour next year, with even more thrills."
Tickets are available at www.scone-palaceshop.co.uk/pages/tickets