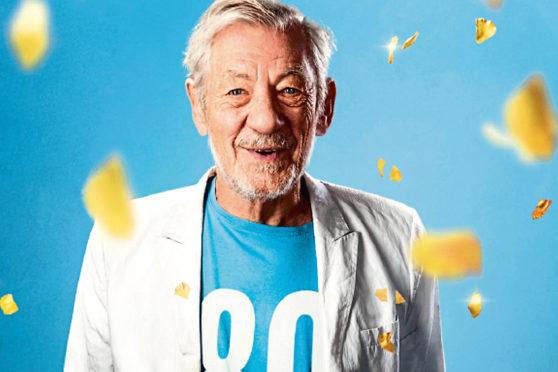 Acting legend Ian McKellen enters the home straight of an epic UK tour with a two Courier Country shows next week.
The highly-decorated thespian — who has enjoyed a late career burst of populist success in recent years thanks to roles in the X-Men, Hobbit and Lord Of The Rings blockbusters — is giving both matinee and evening solo performances at Dundee Rep, as well as appearing in Highland Perthshire.
It's all part of a fund-raising tour scheduled around Sir Ian's 80th birthday, which was in May. The Burnley-born star will have called on 80 venues across the UK by the time he reaches Orkney Arts Theatre on August 28, generating an estimated £2 million for theatre charities.
Such has been the demand for tickets he'll kick off a residency at the Harold Pinter Theatre in London's West End next month that will run until early January, with ticket prices starting from a bargain £10. Incorporating elements of his best-known work into each show — as well as inviting audience members to join him on stage — Ian, who was knighted in 1991, describes the project as "a joyful birthday present to myself".
There's little doubt that euphoria's spreading.
His evening show at Dundee Rep on August 9 sold out in a matter of minutes last November, prompting the addition of an additional earlier performance, and it'll also be a full house for his Pitlochry turn at the Festival Theatre on August 11.
The following day he will be performing at Eden Court in Inverness.
An Oscar nomination and other awards for his role as wizard Gandalf in Peter Jackson's Hobbit and Lord Of The Rings screen adaptations — along with his performances as superhero mutant Magneto in four editions of the X-Men franchise — have made Ian one of Hollywood's most bankable stars this century.
It's been a fascinating chapter in the story of one of the UK's most celebrated classical actors, who served his professional apprenticeship at Coventry's Belgrade Theatre before making his name in the West End and earning an invitation from the Prospect Theatre Company to play leads in Shakespeare's Richard II and Marlowe's Edward II in Edinburgh in 1969.
Ian became a mainstay of the Royal Shakespeare Company (RSC) and the Royal National Theatre in the 1970s, playing several leading Shakespearean roles including Macbeth and Iago in Othello.
His extensive film work led to a first Oscar nomination for his role as 1930s movie director James Whale in 1998's Gods And Monsters, with his X-Men debut following in 2000 and his first Lord Of The Rings outing a year later.
After sending himself up in Ricky Gervais sitcom Extras, Ian returned to the RSC in 2007 but says he's unlikely to take on another major Shakespearean role following recent acclaimed performances as King Lear.
www.mckellen.com