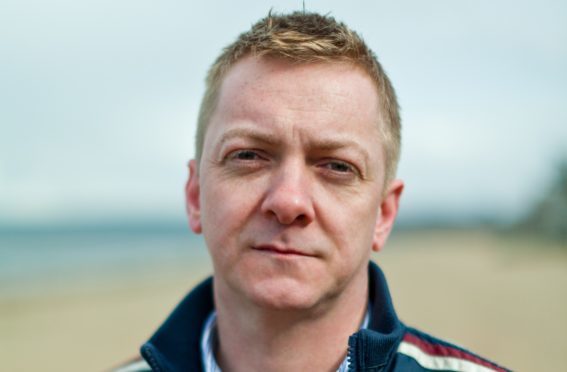 The Courier's exciting new serial Crash Land starts tomorrow and author Doug Johnstone tells Caroline Lindsay what readers can expect.
With a PhD in nuclear physics, Doug Johnstone admits that his route into writing is slightly unusual. "I worked as a radar engineer for four years before completely switching to become a music journalist," the Arbroath-born author says.
"I was still writing stories all that time, but it was only in my 30s that I started taking my fiction writing seriously, and began working on my first novel, Tombstoning, which was set in Arbroath and published in 2006."
As a small child Doug enjoyed reading graphic novels and cartoons, including Asterix and Charlie Brown.
"We had hundreds in the house, and I used to read them all the time," he recalls.
It was in his teen years that the crime bug began to bite.
"As a teenager I got into Raymond Carver, then later Iain Banks and Irvine Welsh. These days I have so many favourite writers, too many to choose from, but I love crime writers like James Sallis, Sara Gran, Megan Abbott, Chris Brookmyre and so many more," he says.
Inspiration for his own writing can come from many sources, he explains. "All sorts of things, but a lot of personal experience goes into them at the start.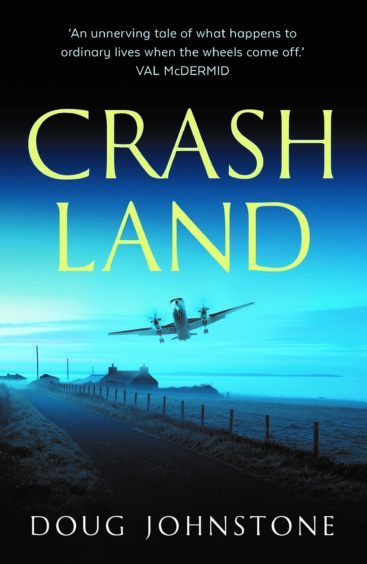 "I like to write about ordinary people thrown into extraordinary circumstances and see how they cope. T
"My books are all set in contemporary Scotland, and I like to think the situations are realistic enough that the reader will wonder what they would do in similar circumstances to the characters."
So what's Crash Land, Doug's fifth novel, about?
"It's a fast-paced white-knuckle ride of a thriller with some heart and plenty of moral dilemmas," says Doug. "Also, the central relationship is based on deception and lust, so hopefully it's a wee bit sexy too.
"It's set in Orkney in winter, and it's not giving too much away to say it starts with a plane crash and gets worse from there," he continues.
"The main character is a young man called Finn, on his way back to Dundee from a visit to his grandmother, who falls for a mysterious older woman called Maddie. There's an altercation on a plane at the start, and the rest of the book is about the aftermath of that crash, and how it affects those two main characters.
"It's a crime thriller, so there are dead bodies and a bag of money and some very dodgy behaviour, all set against the incredible backdrop of the Orcadian landscape.
Doug admits he's thrilled The Courier is serialising Crash Land.
"I'm absolutely delighted," he smiles. "I was so familiar with The Courier growing up in Arbroath, and a lot of my family still live in Dundee and the surrounding area, so it's great to have this story out there.
"The Courier has been really good to me in the past with interviews and reviews so I love that the book can be read by its readers now."
Doug's latest novel, Fault Lines has just come out, so he's been busy doing lots of events and promotion for that.
"It's set in an alternate Edinburgh which is a major earthquake and volcano zone," he explains. "I'll be at book festivals over the summer all over the place talking about it.
"Then next year I have a novel called Breakers coming out, about a family of burglars."
Doug readily admits he loves writing and that crafting a story is a little like putting a jigsaw together.
"I love most of it, to be honest, although it's hard work at times getting the pieces of the story to fit," he says.
"I find the first draft hardest, then I don't mind all the redrafting where you're shaping the material to work most effectively for the reader.
"The best bit is seeing your wee story out in the world, and engaging with readers about it."
His top tips for would-be novelists are straightforward: "It's very banal advice, but just write a lot and read a lot," he says.
"Both those things will make you a better writer. And stick at it – it can take a long time to get noticed, and you just have to keep plugging away.
"The easiest thing in the world is to not write, just get your bum on the seat every day and do it."
When he's not writing he's playing drums in the Fun Lovin' Crime Writers, a supergroup of crime writers including Val McDermid, Mark Billingham, Chris Brookmyre, Stuart Neville and Luca Veste.
"We play a set full of songs about murder, crime and death but we're a real party band," he smiles.
"Come and see us live if you can!"
Crash Land begins in The Courier tomorrow – don't miss it.
Crash Land is published by Faber, priced £7.99.