As Courier Country basks in the afterglow of high profile international movie productions such as period drama Outlander and historical epic The Outlaw King, Michael Alexander asks if the area can further benefit from the film and TV industry in future.
Retired Scottish Crime Squad detective Bob Beveridge has been no stranger to unusual experiences over the last 40 years he has spent collecting – and selling – violins from his shop in Falkland.
From the times he got to know legendary American singer-songwriter Johnny Cash and his daughter Rosanne Cash who were researching their Fife roots, to the day he found an unexploded Luftwaffe bomb during his daily run up the East Lomond and caused "panic" when he carried it down the hill to be made safe, he admits it's" never been a dull moment"!
But some of the most interesting experiences he's had in recent years have been the use of his shop front for several scenes in the British-American TV drama Outlander.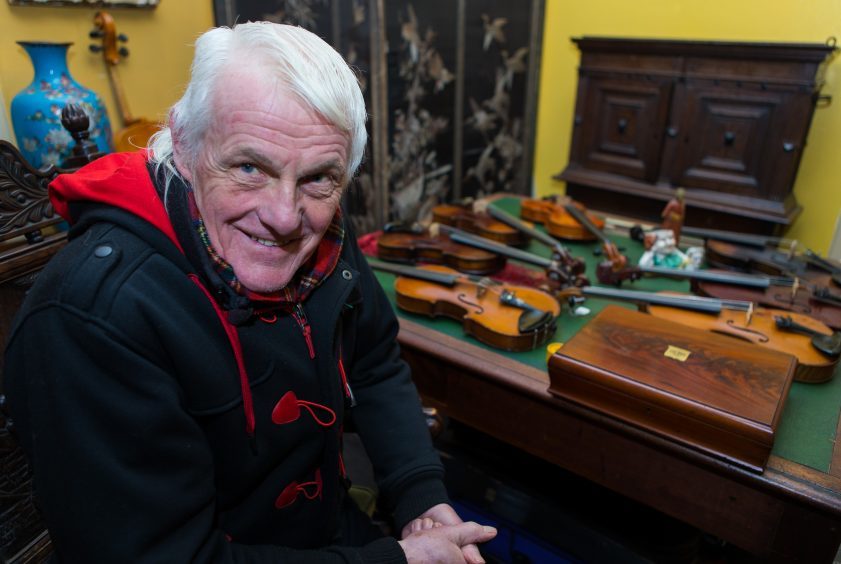 "It's been remarkable," Bob, 76, told The Courier.
"For the past three years, just about every day without fail, two tour buses turn up from Edinburgh with Outlander tourists.
"They get out, get photographs taken in front of the shops or next to the fountain, get back in and off they go. They are not the biggest of spenders, but it's great publicity for the village!"
Bob's shop has been used as the backdrop in several episodes and in the fourth Outlander series, filmed three months ago, it doubled as Allingham Music in Inverness.
From Rebus and Trainspotting in Edinburgh, to Local Hero filmed in Pennan, from Glasgow's George Square used in World War Z to Waterloo Road in Greenock, Scotland is no stranger to our screens.
Courier Country locations used for filming of TV dramas over the years include Doctor Finlay's Casebook in Callander and Victoria at Blair Castle, both in Perthshire; Broughty Ferry featured prominently in the filming of Bob Servant Independent with the Bell Rock Lighthouse featuring in Seven Wonders of the Industrial World.
According to recent figures from TayScreen – the screen office for the local authorities of Dundee, Angus, Fife and Perth and Kinross, which works to bring production crews into the region – high profile productions such as Outlander and Outlaw King have injected around £5 million into the Tayside and Fife economy.
The Outlander series and the new Netflix movie about Robert the Bruce, both partially filmed in Fife, have attracted a huge following of fans eager to visit the filming locations and some of the historic places depicted on screen.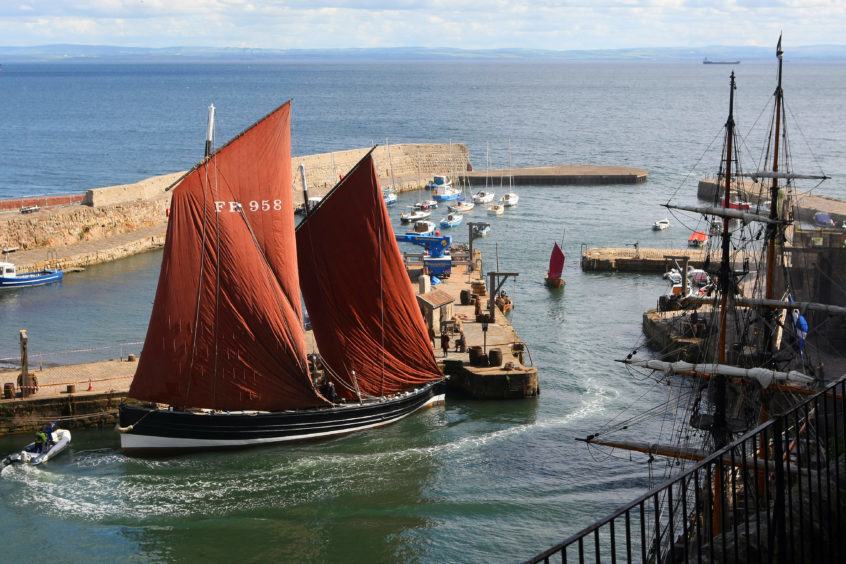 Media productions in the region have also created jobs and business opportunities in areas such as accommodation and catering, as well as promotion for local activities, services and products including golf, windsurfing, food and drink.
But with plans announced for a major Scottish film studio at Port of Leith, is there even greater potential for Scotland to benefit from the film and TV industry?
Falkland SNP Fife councillor David MacDiarmid said the "Outlander bounce" has brought tourists from all over the world to visit Falkland – and they are very welcome.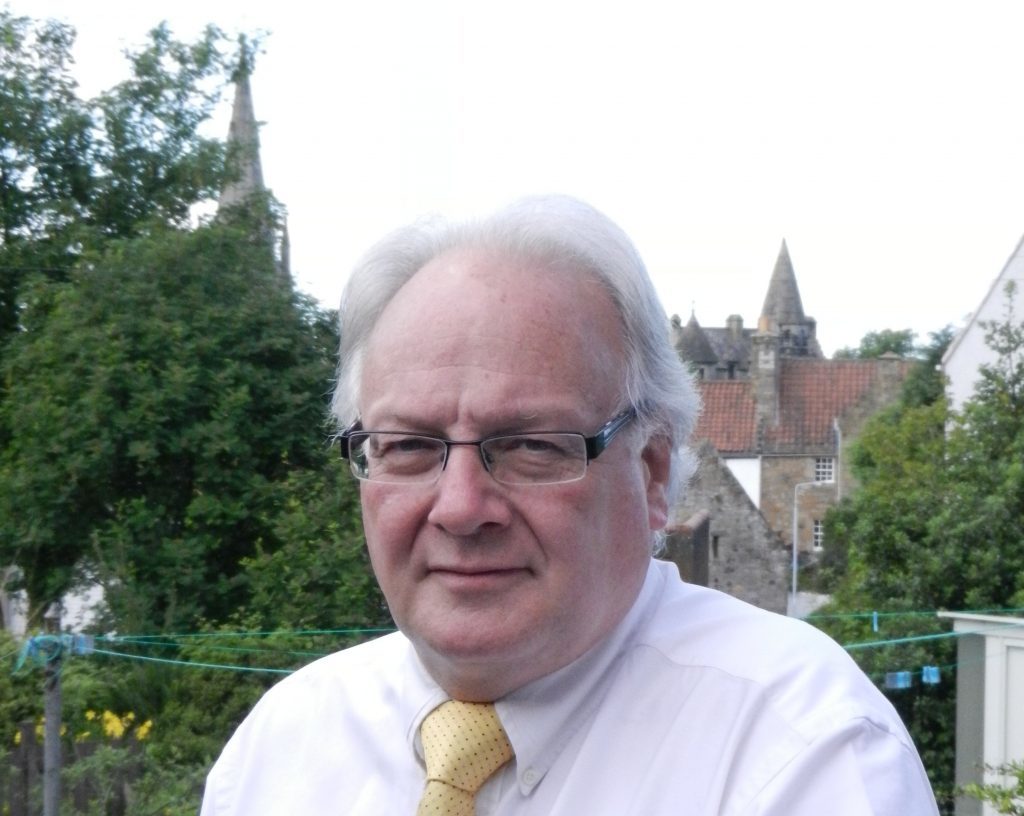 However, he thinks the area still "undersells" itself and perhaps more can be done to capitalise.
"This wonderful series seems to stir the imagination in people," he said.
"I am not sure how the filming has affected the local shops, trade wise.
"But certainty the uptake on accommodation seems to have risen. I would never be in favour of turning Falkland into Disneyland.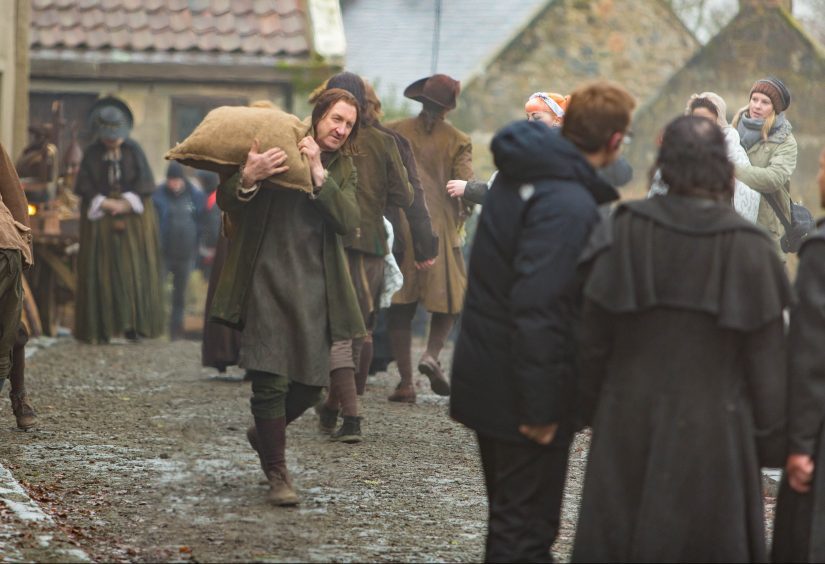 "But I think as a village we may undersell ourselves. The palace and the shops in my view should make much more of the obvious popularity of Outlander."
Dunfermline-based former St Andrews University rector Catherine Stihler, who will soon leave her post as Fife-based Member of the European Parliament to take up a new role following Brexit, has also been excited by the recent filming of Outlander at Falkland, Culross and Dysart harbour.
Filming for Outlaw King took place at Dunfermline and Tullibardine.
She is delighted that busloads of tourists – including many from cruise ships on the Forth – now visit these villages especially.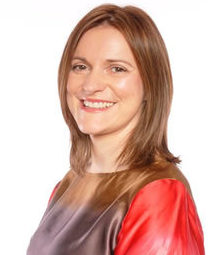 With Scotland's beautiful scenery and so much history, it should be rich pickings for film crews in future – and the new film studio will definitely help.
However, she thinks "lessons have to be learned" about maximising the benefits in future – and, if Brexit does go ahead, she says there also remains an element of uncertainty about what impact there might be attracting film crews and investment from Europe.
"In Falkland and places like Culross, Outlander tourism has certainly increased," she said.
"There's a permanent Outlander exhibition in Culross now and we've now got two coffee shops instead of one- it's great to see young entrepreneurs doing well!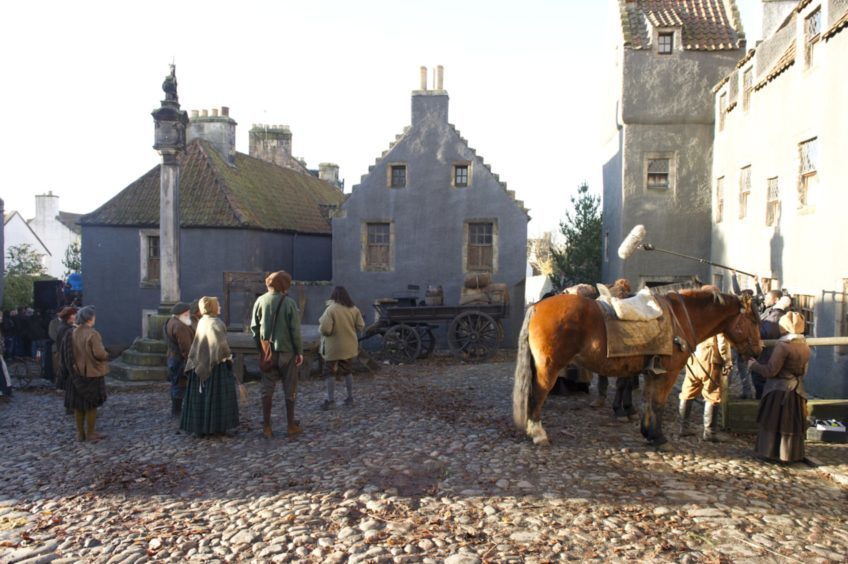 "But I think we need to learn from the Outlander experience. Tourists were turning up before people here even knew about the series because it aired in America before the UK.
"That was a learning curve for us. It needs to be much more joined up in future."
Paul Carey, projectionist at the NPH Cinema in St Andrews, was just four-years-old when Chariots of Fire was filmed on the town's West Sands in 1980.
The independent cinema has hosted a number of locally filmed premiere's in recent years including golf biopic Tommy's Honour in 2017.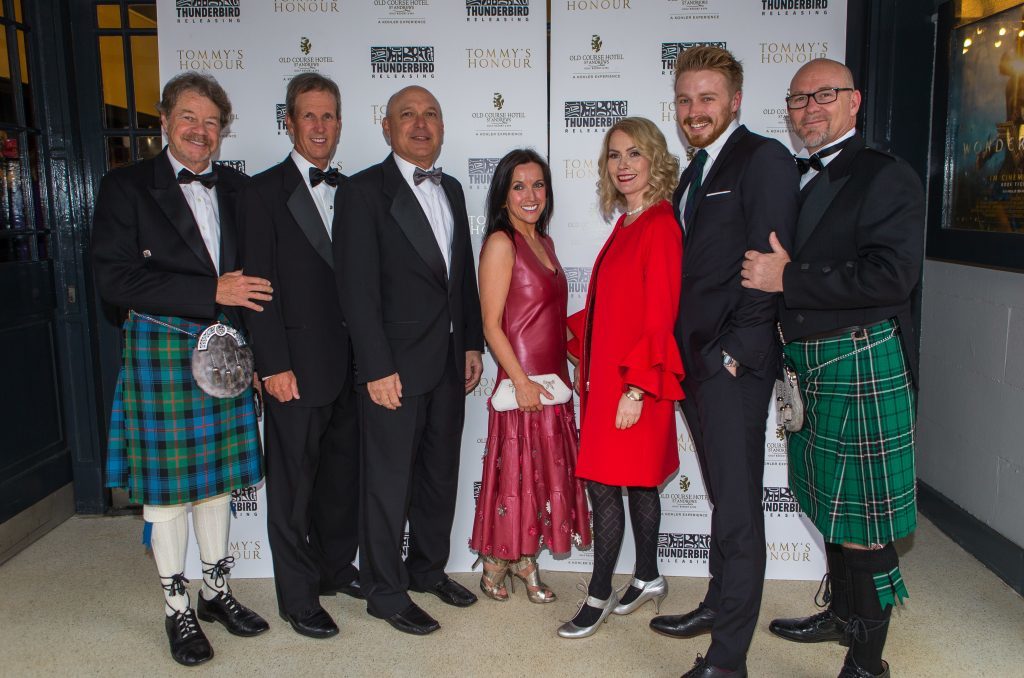 However, he has mixed views on whether St Andrews – already busy with tourists and students – truly benefits from films being made on the doorstep.
He said: "We haven't really seen much of a boost in numbers at the cinema as a direct result of all the various productions filmed in the area.
"I really do struggle to fathom where Tay Screen get that figure of £5 million from. It's not coming to us anyway.
"(However), even though it may not be affecting us directly with business, I would certainly agree that having any filming in the area is a positive thing.
"Fife and Tayside have so many diverse locations, and over the years you can see that the Hollywood system is starting to take more of an interest.
"With talk of building a new studio facility in Edinburgh to cope with the increase demand for sound stages clearly Scotland is proving to be a hit and I would hope that it would indeed bring more visitors in to 'Courier Country'."
Dunnottar Castle, near Stonehaven, was used as the dramatic setting for Franco Zeffirelli's Hamlet, starring Mel Gibson, in 1990, while the castle was also the basis for the castle on the Disney cartoon film Brave.
Deputy custodian Martin Gray said they regularly welcome visitors who ask about the films in which the castle was used and sometimes younger children come to visit dressed up as Merida from 'Brave' (or other Disney princesses!)
Martin said: "Discussions with visitors definitely uncovers an interest in the settings of programmes such as 'Outlander' and 'Game of Thrones' and although neither of these shows were filmed here, people often comment that it seems like it could have been used as a location.
"Programmes such as these definitely seem to inspire an appreciation for the Scottish castles and landscapes, especially for overseas visitors who do not have similar attractions at home."
Martin added that social media definitely benefits Dunnottar Castle. The "organic reach" from people sharing pictures is huge and this then encourages people to add the castle as a wish-list destination while in Scotland.
"This then leads to exposure to the North East of Scotland in general," he added,"and I think people are realising that it has much to offer.
"Certainly a lot of our visitors investigate our nearby hometown of Stonehaven and are impressed by the natural beauty of the setting, the warm welcome received in the hotels/bed & breakfast establishments and the quality of food available in the pubs and restaurants."
Meanwhile, the Fife-based descendants of Robert the Bruce – the Scots hero who famously secured Scottish independence from England following the Battle of Bannockburn in 1314 – have experienced a spike in interest following the recently released Netflix movie The Outlaw King.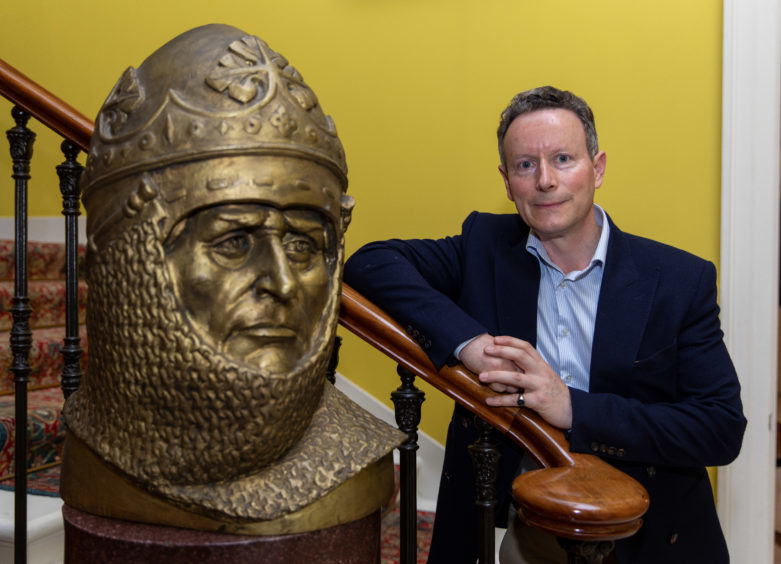 Lord Charles Bruce – the son of Lord Andrew Douglas Alexander Thomas Bruce, the 11th Earl of Elgin and 15th Early of Kincardine – said international tour companies were increasingly getting in touch to arrange tours of the Bruce family's ancestral home at Broomhall, near Dunfermline.
Lord Bruce is a direct descendent of Thomas Bruce of Clackmannan Tower, who was appointed by the Bannockburn victor as his heir.
Robert the Bruce famously sent the English king Edward II "homeward tae think again" after the two-day battle 704 years ago.
Tapping into the rich and fascinating history of the Bruce family, which dates back to the Norman Conquest of 1066, Lord Bruce recently decided to open the Grade A-listed 18th century family home to guests for the first time in its history as a high end venue like no other.
Amid concerns that Brexit could be an economic disaster for Broomhall's £100,000 per annum upkeep and the estate's 1200 acre farm, he sees it as a great way to showcase Scottish history to an international audience from the perspective of the Bruce family while bringing investment to the west Fife and wider Scottish economy.
"We've noticed several effects that clearly are a consequence of the filming of The Outlaw King last year at various locations around Scotland – such as Dunfermline Abbey," he said.
"There's definitely evidence of growing interest in the Bruce Family and Broomhall House which our sales team is picking up from inbound tour companies and destination management companies who are bringing visitors to Scotland from all over the world, principally from North America.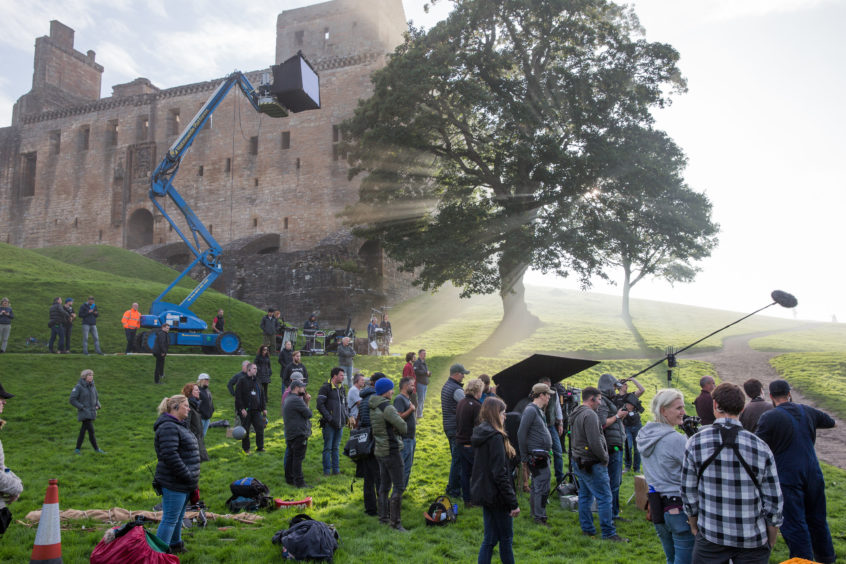 "These organisations are keen that their clients have an opportunity to experience the personal guided tours of Broomhall House and its collection which are given by members of the Bruce family.
"I've attended many tourism conferences and seminars in recent years and I find that one of the most important reasons that people give for visiting Scotland is to have a genuinely authentic encounter or experience.
"This is particularly true for people who are visiting Scotland because they may have seen an historical film such as Outlaw King or a cable TV series such as Outlander."
Lord Bruce said that having opened Broomhall House and its collection to visitors from overseas, he was increasingly aware of three aspects that emerge from this phenomenon.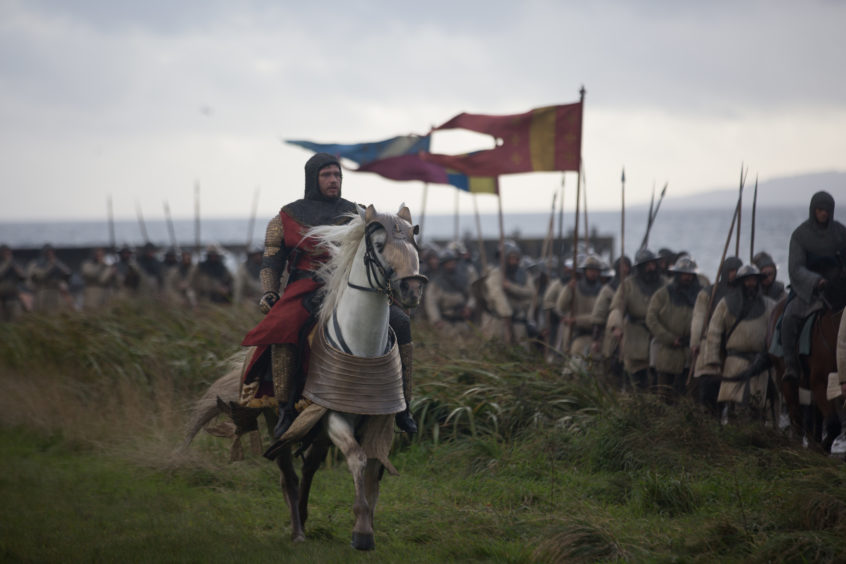 "First, our guests are interested to meet a descendant of King Robert's family," he said.
"Although his own royal line died out with his son David II, his family survived – but only just. We are descended from his only surviving brother Edward, who was High King of Ireland.
"Second, there is virtually nothing tangible –  in any public collection in Scotland  – which can connect and transport us back to the reign of King Robert.
"Fortunately we still hold his sword of state at Broomhall.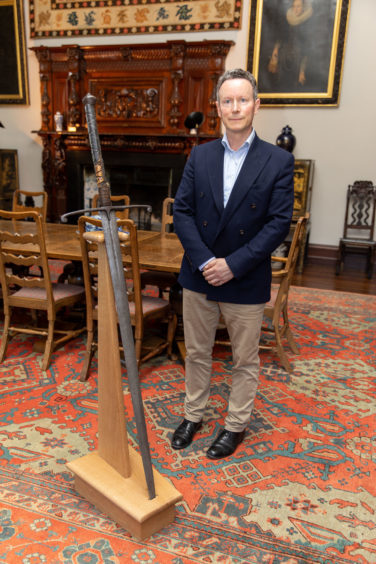 "It's a magnificent two-handed medieval weapon that's been passed from father to son through 21 generations since the mid-fourteenth century.
"And third, I'm finding that our guests want to know more about the life and times of a king who ruled Scotland for 23 years (1306-1329).
"The film The Outlaw King only focuses on two years of his reign (1306-08) and doesn't have the time or space to develop a fully rounded understanding of King Robert.
"He was a highly complex character – both a warrior and a statesman – but also capable of acts of surprising piety that betray a deeply spiritual man.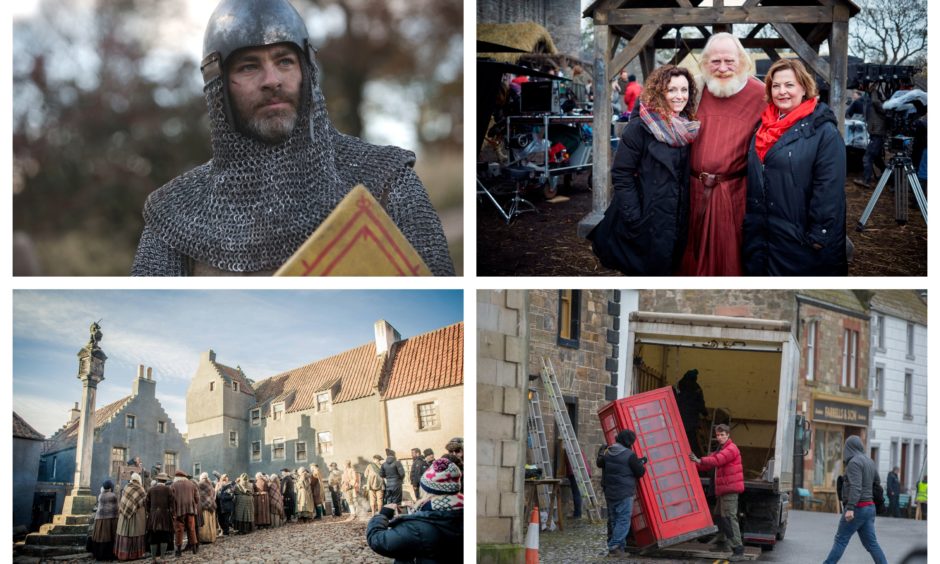 "It's not difficult to understand why he was considered to be the reincarnation of King Arthur by his contemporaries."
Lord Bruce said the other thing which is important to mention, is the fact that most people will get the chance to see The Outlaw King because they subscribe to Netflix.
He added: "I understand that Netflix has 140m subscribers across the world who will be able to watch the film over and over again if they so wish!
"Clearly this will create a deep reservoir of curiosity about Scotland and its heritage which we can all drink from for years to come."