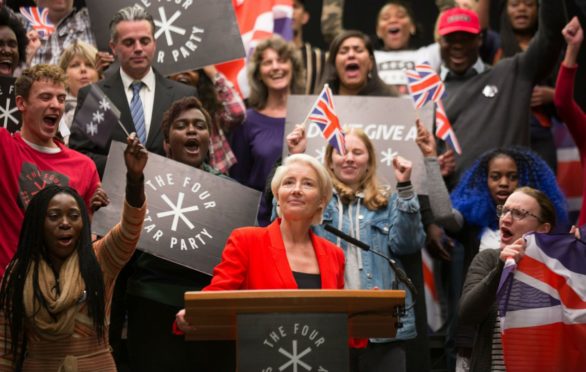 This week, Paul Whitelaw previews a new show starring Emma Thompson and looks back on the drama that had all of the UK talking.
NEXT WEEK'S TV
YEARS AND YEARS
Tuesday, BBC One, 9pm
TV titan Russell T. Davies is the brains behind this ambitious new drama following an extended Manchester family over the space of 15 years. It begins in the present day before scrolling forward to 2024. Trump has won a second term, the US and China are at loggerheads, Britain has finally left the EU and a growing influx of Ukrainian refugees are in desperate need of housing. Meanwhile, a 'straight-talking' politician (Emma Thompson) continues her terrifying rise to the top. RTD's pessimistic message is encapsulated by Russell Tovey's character: "The human race is getting more stupid right in front of our eyes." That stupidity, he warns, is leading us towards catastrophe. Urgent and unsettling, this is not to be missed.
THE VIRTUES
Wednesday, Channel 4, 9pm
Fresh from having his throat slit in Line of Duty, Stephen Graham returns to our screens in the company of writer/director Shane Meadows, who gave him his big break in This is England. It's a difficult show to preview as its tense, queasy intrigue derives from a gradual drip-feed of information about Graham's character, Joseph. All I'll say is this: it begins with Joseph saying goodbye to his son, who's about to begin life anew in Australia with his mum and stepdad. Joseph then self-destructs before deciding to confront his tragic past. In typical Meadows style it's a humane, unflinching piece of social-realism, and Graham's portrayal of a broken man is incredible.
MUM
Wednesday, BBC Two, 10pm
The end, alas, is nigh for this rightfully beloved comedy drama. The third and final series takes the bold step of leaving Cathy's suburban house for the first time. The new setting is a swanky holiday home rented by her brother and his tragically snobbish partner. Unlike before, this last hurrah takes place over the space of a week. Apart from that, it's quietly desperate business as usual as lovely, patience of a saint Cathy (Lesley Manville) and the world's nicest man, Michael (Peter Mullen), tentatively begin their romantic relationship. Unfortunately, Cathy can't admit this to her son, who regards Michael as an unfit replacement for his late father. As the theme song says, we'll miss it when it's gone.
DAVID HAREWOOD: PSYCHOSIS AND ME
Thursday, BBC Two, 9pm
30 years ago, actor David Harewood had a mental breakdown and ended up being sectioned. He now has an extracurricular career as a mental health spokesperson. In this candid documentary, he reflects upon that period of his life in an attempt to work out what happened. By talking openly about his ordeal, during which he experienced grandiose delusions, auditory hallucinations and blackouts, Harewood succeeds in challenging the stigma and lack of understanding which still surrounds this subject. He meets young people dealing with psychosis and talks to an expert who informs him that the condition doesn't suddenly emerge from nowhere, it springs from a combination of stress, anxiety, trauma and vulnerability. It's a fascinating and valuable document.
FILM of THE WEEK
CROCODILE DUNDEE
Tuesday, Film4, 7:05pm
Paul Hogan became a superstar with this irresistible culture clash comedy about a ruggedly charming Australian Outback hunter transplanted to 1980s New York. It's a sweetly traditional affair in which Mick Dundee, a laconically likeable hero, puts a fun spin on some fairly generic motions. Hogan captured lightning in a bottle here, everything works. He never repeated its success, but I doubt he loses sleep over that.
---
LAST WEEK'S TV
LINE OF DUTY
Sunday 5th, BBC One
So that's that, then. We didn't discover the identity of H in the 90-minute finale of this nation-ensnaring crime drama. I doubt we ever will. H, like Number One in The Prisoner, is probably several people – a symbolic representation of immutable and all-powerful evil. Viewers looking for a tidy answer to that mystery were probably left frustrated, but I felt fairly satisfied by the way in which series creator Jed Mercurio wrapped up the 'Is Ted Hastings corrupt?' storyline. Thankfully, he wasn't, as it wouldn't have made a shred of sense otherwise. The guessing game was fun, though. This series was basically one long tease, a spiny red herring stretched out on a rack. Fine, but Mercurio is in danger of testing our patience. The next series should be the last.
OUR DEMENTIA CHOIR WITH VICKY McCLURE
Thursday 9th, BBC One
McClure, aka DI Kate Fleming, was curiously underused in series 5 of Line of Duty. She was put to much better use in the closing instalment of this intensely moving series, which strove to illustrate how music can help people with dementia. It thrived on a sensitive combination of everyday human drama and scientific research. There was no schmaltz, no cynicism. A beautiful piece of television.