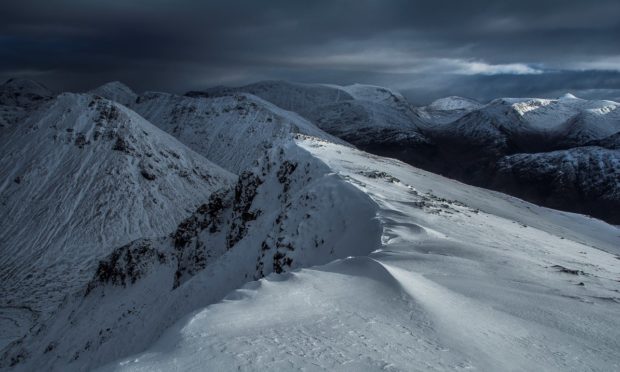 One of Dundee's newest event spaces is hosting a spectacular exhibition – Scottish Landscape Photographer of the Year.
The competition is the brainchild of respected Perthshire landscape photographer Stuart Low and is now in its fifth year. Positioned directly across from the V&A, Dock Street Studios aims to showcase the wealth of local artists, designers and makers from the city alongside ethically and consciously sourced home wares and gifts.
With 114 unique images from the lengths and breadths of Scotland, there is a diverse range of subjects and locations – some familiar scenes and iconic views along with some lesser known scenes and remote locations.
This year's overall winner was Dumbarton photographer Allan Donald with The Perfect Ridge, capturing snow-covered peaks in the Scottish Highlands, but various subcategories also include awards for landscapes, seascapes, urban, four seasons, youth, monochrome, Scottish weather, off the beaten track, living landscape, and the brand new Your Vision award.
"The competition was founded with the intention of looking for an image that captures the beauty and essence of the Scottish landscape," says Sara Campbell, who owns Dock Street Studios.
"It also aims to raise the profile of many talented photographers who capture Scotland's breathtaking scenery through their lenses, as well as encouraging people to explore and enjoy the many wonderful places that Scotland has to offer.
"The exhibition is free to attend and has images that will appeal to all ages, housed within a unique independent retail space and coffee shop," she continues.
Sara admits that choosing personal favourites is a tall order when she's surrounded by so much talent.
"Each time I look around I see a different one that appeals to me or that I hadn't fully appreciated on first view," she reveals.
"It's hard to pick one favourite but Allan Donald's winning photograph is pretty spectacular.
"All the images are available to purchase and take home to enjoy, in doing so you are supporting the individual photographers.
"I hope visitors will appreciate the magnificent surroundings of our unique country, from the pastoral expanses of the Borders to the rugged mountains of the Highlands – and everything in between."
The exhibition is hosting interactive events throughout its duration, including printing workshops with expert recommendation to ensure the best results.