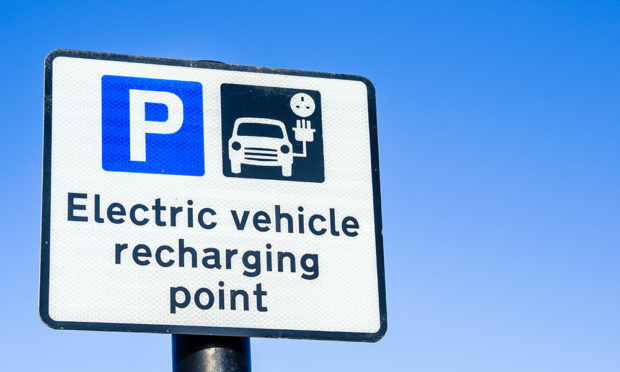 When it comes to driving electric, Dundee is simply streets ahead of most UK cities. Since beginning the switch from fossil fuels to electric power in its own fleet, the city council now has one of the largest number of electric vehicles among local authorities in the country.
The switch to electric in 2011, has seen council vehicles travel more than 1.1 million miles on pure electric, saving more than 220,000 tonnes of CO2 emissions.
Over the same period, multiple charging infrastructures have been installed at council depots and offices to support an electric car pool scheme, with additional points established at construction, waste management and social work depots for staff.
As the council continues to grow its own electric vehicle infrastructure, it has also worked with partners across the city including the University of Dundee, NHS Tayside, Dundee and Angus College and local taxi companies, with the aim of having a shared network.
Data suggests 51% of the city's residents can't access home charging due to the high number of tenement buildings so, with a target of converting 20% of all vehicles in Dundee to electric by 2027, an ambitious project has been launched to ensure enough facilities exist to support a large-scale switch. It is called Drive Dundee Electric.
It will put the city at the forefront of EV charging technology not only in the UK but also in Europe.
Among the three per cent of Dundee residents already driving electric vehicles is Morag Pacione (pictured below) who swapped her diesel van for a Nissan ENV200. In the four weeks that she has been driving it, she is already reaping the many benefits.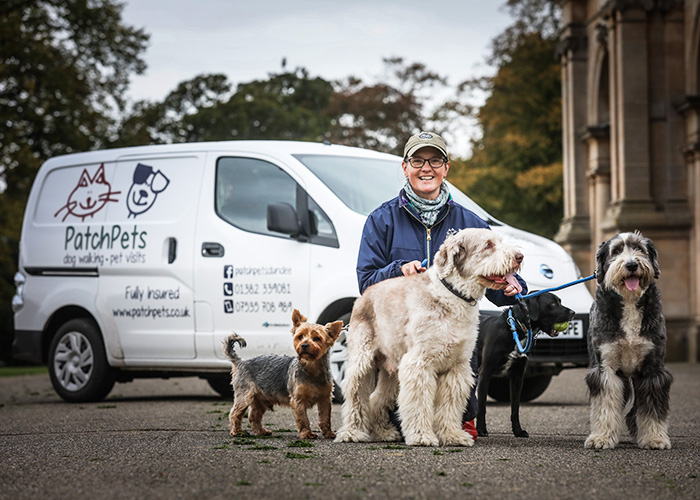 Morag, who drives 1,200 miles a month, said: "I was spending £300 a month on diesel but the repairs on that van were a disaster.
"People always said a diesel is such a reliable car but the engine was causing me so many problems and got choked up several times. I went through two turbos and one clutch – it was literally one thing after the other.
She added: "I spoke to a friend of mine about a year ago who suggested I think about an electric vehicle.
"Then a few months later, my van just died – suddenly all the warning lights came on and smoke and vapour started pouring out the back.
"That was the end of the van. I wondered, 'How on earth am I going to afford to replace it?'"
Morag then got in touch with Government-backed body the Energy Saving Trust Scotland which is encouraging and incentivising the uptake of electric vehicles with interest free loans of up to £35k for individuals and £100k for businesses.
She continued: "They were so helpful and I am now paying the balance of the loan over six years, interest free.
"I pay £350-a-month and no road tax. But the diesel was £300 a month for fuel, roughly £80-100 on repairs and on top of this I had road tax to pay. I was paying in excess of £400-a-month to keep my diesel van. This electric vehicle is much cheaper.
I charge it up at the public points around Dundee, mostly at the big charging hub on Princes Street, and I have always managed to get a space at a socket. It's grand.
"If I plug it in, it takes five-and-a-half hours to fully charge – but it depends how much charge you need.
"I typically start the day with 120 miles. I have a slow-charge van – a rapid charger is much quicker; you can do it in 45 minutes – as I am only doing short journeys.
"If you are buying an electric vehicle for your family car, you should probably go for one with a rapid charge.
"I have never run out of juice and the running costs are so low. Plus, as you go downhill, it charges it. It is like a dynamo, constantly feeding it."
In order to charge an electric vehicle in Scotland, you must buy a ChargePlace Scotland card.
From November 1, charging will cost around 15p per kilowatt hour, which will equate to around £50-a-month for Morag, as she runs a small dog-walking business, Patch Pets Dog Walking and Pet Services, so will be using her EV for business use.
"I once drove a diesel 4×4 and I was aware that it was a very dirty vehicle in terms of environmental impact.
"I thought this was the perfect opportunity to come away from that and invest in an electric vehicle.
"If you are thinking about it, speak to the Energy Saving Trust which can give you all the details and do your sums. Then download the charge map app on your phone so you can find out the nearest charging points – there are more and more appearing all the time."
EVs are also becoming more visible around the city thanks to the taxi trade. Almost 18% of the city's cab firms are now fully electric, and among those who have made the switch is Ryan Todd (pictured below), owner of Todds Taxis, who put one of Dundee's first electric taxis on the road in 2015.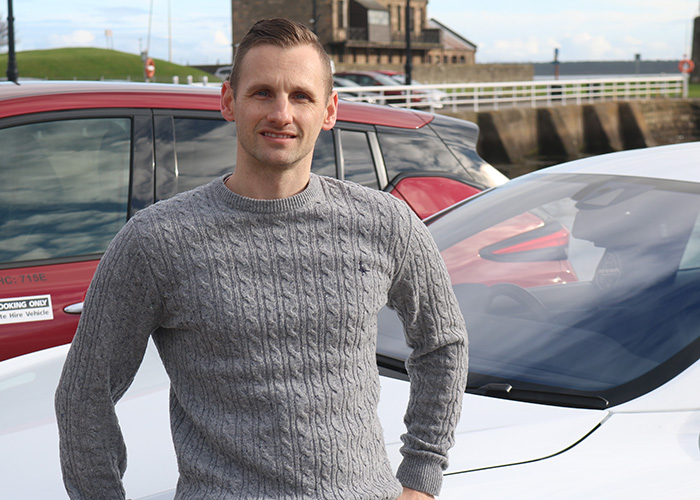 Today the businessman, who runs a private hire and taxi rental business, has a fleet of eight cars – six of which are electric – with plans to introduce another four EVs by this time next year.
He explained: "In the long run, as a driver doing 40,000 miles a year, I estimate the fuel saving at around £6,000 a year.
"My initial reason for getting into electric cars was a business decision, based upon the fuel saving, but the carbon footprint saved is vast at approximately 10Tonnes CO2 per year – the more diesels we get off the road, the better, to improve on bad air quality.
"Electric cars are also very smooth to drive – that's the thing most customers comment on – and there is no noise."
Initially, Ryan's electric cars had small batteries (24kwh) which meant more regular trips to charging points across the city.
He now drives a Tesla with a 90kw battery, and his fleet includes three 40kwh Nissan Leafs and two 30kwh first generation Nissan Leafs, which he is replacing with newer models soon.
Ryan added: "I think it is worth the investment for most people.
"With the electric cars now dropping down to around £6,000 for one of the earlier models, and if most of your driving is commuting, then it is justified.
"It's not just the direct fuel saving, you will also save on servicing and maintenance.
"As a business and a private user, there are incentives including free road tax. As a taxi driver, we save £10 at the council taxi testing facility as there is no emissions test.
"There is also an OLEV electric car charger grant available and I was able to purchase a rapid charger for my business with a grant from the Energy Saving Trust."
Going green
Driving an electric vehicle in Dundee could save you hundreds of pounds every year compared to one fuelled by petrol or diesel.
Fully electric vehicles can be parked for FREE in Dundee City Council multi-storeys by emailing details to: fleet@dundeecity.gov.uk
By 2027, the target is for 20% of all vehicles in Dundee to be electric, with most of today's EVs chargeable in under four hours.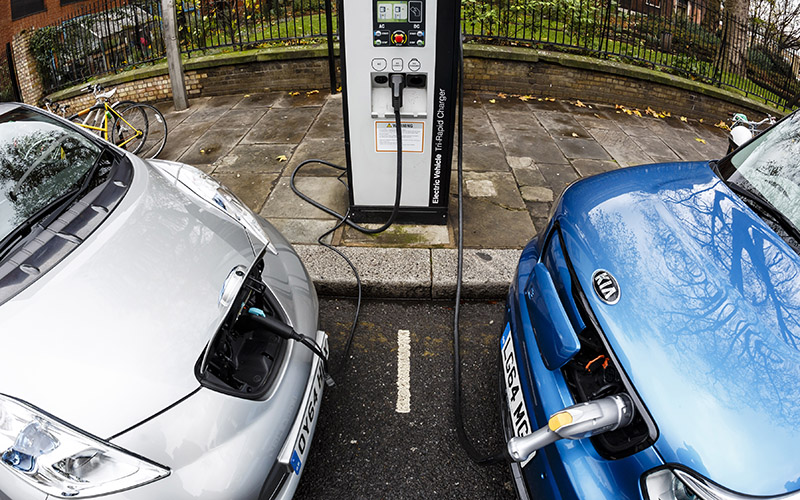 Where to charge
There are a number of charging hubs either in place or in development across the city.
The city's first multi-storey hub is situated at the top of Greenmarket car park and has 20 charging bays with 7kw chargers, as well as solar canopies across the bays which provide up to 41kw of energy.
This multi-storey project is part of the Low Carbon Travel and Transport Challenge Fund established by Transport Scotland under the ERDF funding.
The hub also has an innovative battery storage system, so power created by the solar panels can be saved and used at a later time, and uses a central system to control the charging points that is cheaper to manufacture and add to when necessary.
The sites have been chosen to encourage commuters to charge during the day and local residents to charge their EVs at night.
This is the first of three multi-storey hubs to be built in Dundee. Once all the multi-storey hubs are open, they provide an extra 60 charge point connections in the city centre.
Princes Street has six rapid chargers and three 22kwh for public use, and is the first facility of its kind in the UK, with solar panels and battery storage also available.
Aimer Square in Lochee and Queen Street car park in Broughty Ferry both now host hubs complete with six rapid chargers and four 22kw chargers at each site.
*To find out more about switching to an electric vehicle visit www.drivedundeeelectric.co.uk or click here to be taken to the website.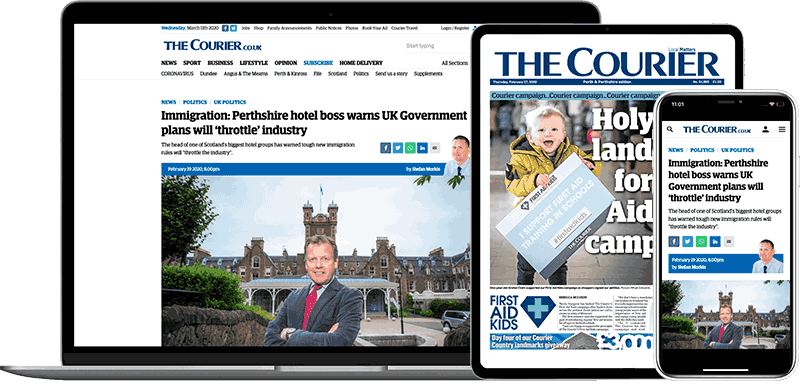 Help support quality local journalism … become a digital subscriber to The Courier
For as little as £5.99 a month you can access all of our content, including Premium articles.
Subscribe