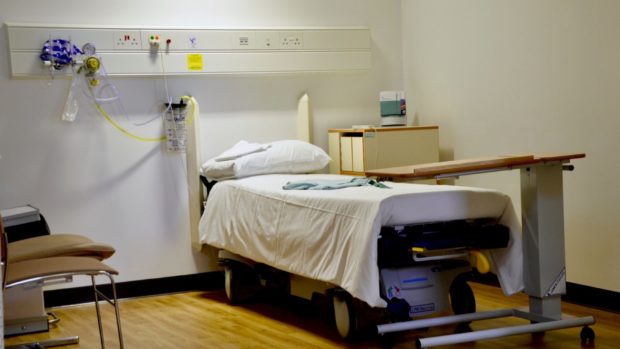 As the Covid-19 crisis intensifies, people are understandably starting to feel vulnerable and panicked.
Influenced as we are by television's depiction of medical emergencies, resuscitation is almost always a life-saving procedure, saving the stricken from death.
And, as people were becoming aware of Do Not Resuscitate forms in NHS hospitals, concern obviously grew. Would this mean nobody would intervene to save their lives in a medical emergency?
It's an understandable fear, but it's more complicated than that.
A 69-year Fife man – who is prone to serious infections as a result of renal and heart problems – contacted The Courier with his concerns about Do Not Resuscitate (DNR) forms. During a stay in hospital he was asked by a doctor "out of the blue" if he had considered signing a non-resuscitation letter.
"There had been no discussion prior to that and the first thing I thought was: 'They don't expect me to leave this place alive,' said the man, who asked to be kept anonymous.
"This caught me at my lowest and sent me into depression – it set my recovery back mentally because I lost my trust in doctors – my thinking was they'd let me die if I had a heart attack."
Because he is signed up to PatientView, he can view his test results, letters and medicines at home.
"One letter stated that 'cardiopulmonary resuscitation is not recommended in this case' – after me stating quite clearly and making my feelings plain in the hospital that I was against non-resuscitation.
"Needless to say I dread having to go into hospital. Non-resuscitation should be patient led and not advocated by doctors especially when patients are in a vulnerable situation."
In another example, a 73-year-old widow with compromised immunity from near Forfar said: "I'm very grateful to the NHS and my local GP for contacting me to talk me through all the implications of coronavirus but I was a bit startled when asked whether I wished, if I got ill, to be resuscitated.
"As I was so taken aback, I wasn't able to give them an answer over the phone so the option was to leave things as they are, which I said for them to do.
"I presume this means that everything would be done as it would pre-coronavirus – so I would be resuscitated if necessary.
"However, I feel there might have been another option saying if resuscitation was only going to mean living for another few days that you could instead choose not to be resuscitated.
"I think a lot of elderly people, more vulnerable than myself, might have been totally upset and scared by the question. We have been brought up to think that doctors will do whatever they can in their power to keep people alive.
"I do understand these are very peculiar circumstances."
However, health professionals are keen to dispel the misconceptions around DNR forms, explaining discussions about resuscitation should be part of the bigger conversation around death.
"A Do Not Resuscitate form is a piece of paperwork which is completed with an instruction that when cardiorespiratory arrest takes place – ie the cessation of breathing and a pulse – that attempts to resuscitate the patient should not be attempted," explained a local GP, who asked not to be identified due to patient sensitivities.
"By resuscitation, this means artificially ventilating a patient by forcing air into the lungs and performing chest compressions to artificially circulate blood around the body (CPR).
"This is accompanied (in specific circumstances) by passing an electric current through the heart to try to restart the heart.
"Understandably, however, it is a very sensitive issue and is not always well received. Doctors need to exercise judgement as to when it is appropriate to discuss this, and with whom.
"Resuscitation can result in painful injuries to the chest wall such as sternal and rib fractures. During resuscitation, there is also a reduction of oxygen supply to the brain which will frequently leave survivors with permanent neurological disability.
"The Covid-19 pandemic is a very real threat to our health. We know that people with underlying health problems, and the elderly, are at the greatest risk of becoming severely unwell with this.
"Like any other life limiting illness, it is good practice to talk to people about their wishes. Doctors have been encouraged to talk to patients about their wishes, should they become infected with the virus.
"Communication is key, to allow families to understand the rationale for not performing CPR. It is also vital that they trust you, and understand the vitally important fact – that their relative will still be cared for and treated as per their illness.
"Discussing death with patients is not an enjoyable part of our job, but part of our responsibility. In doing so, we are trying to practise good, realistic, patient centred medicine."
Robert Peacock, development manager for the Good Life, Good Death, Good Grief alliance, added: "Far from how it is often portrayed on TV, CPR is a distressing experience for everyone involved, with a very real physical toll on the patient.  "There is also a significant emotional burden and consequence for the family and the staff caring for the patient when CPR is attempted inappropriately. While CPR can help some people if they are otherwise fit and healthy, it will not help those who are already very ill or frail.
"Because of the Covid-19 situation, more people than usual will be calling emergency numbers, and healthcare professionals will have to make quick decisions about whether or not to attempt CPR on a person.
"It is therefore important to protect people who would not benefit from CPR from being subject to this intrusive treatment where it is clear that it would not prevent or delay death," he continued.
"Since many people don't realise that CPR doesn't always work, and that when it does work it can be a very distressing treatment, they don't understand why it would be beneficial to them to fill in a DNR form.
"Rather, some people see the form as a way to deny them a treatment that would help them. People can feel that being labelled 'not for resuscitation' means they are somehow 'not worth saving', and that their access to other treatments will also be limited.
"Please be clear – doctors want to do their best by each individual and for lots of people CPR would be the wrong course of action if their heart stopped, because they wouldn't recover and they and their family could suffer more.
"DNR is a way of making that clear and should not affect the other care that someone receive."
Robert believes that discussions about CPR should always happen as part of wider conversations about goals of care and what would really matter to the patient in an emergency situation.
"It has always been a good idea to plan ahead and let your loved ones know what you would want if you became very ill, or thought you might be dying.
"However, for many of us, worries about COVID-19 have made this kind of conversation seem even more relevant.
"In addition, it is a good idea for everyone, no matter their age or health status, to have a Power of Attorney, which allows them to nominate someone they trust to speak on their behalf if they become incapacitated.
"These things offer peace of mind for the person themselves and also help loved ones to know they are doing the right thing when the time comes."
Dr Chris McKenna, NHS Fife medical director, said: "In common with healthcare providers across UK, NHS Fife performs resuscitation in line with guidance provided by the Resuscitation Council UK.
"Our policy on resuscitation has remained unchanged despite the spread of coronavirus and there are no protocols in place preventing staff from performing resuscitation on patients with COVID-19.
"The care we provide to all patients is person-centred, with any clinical decisions made based entirely on the individual and their particular circumstances."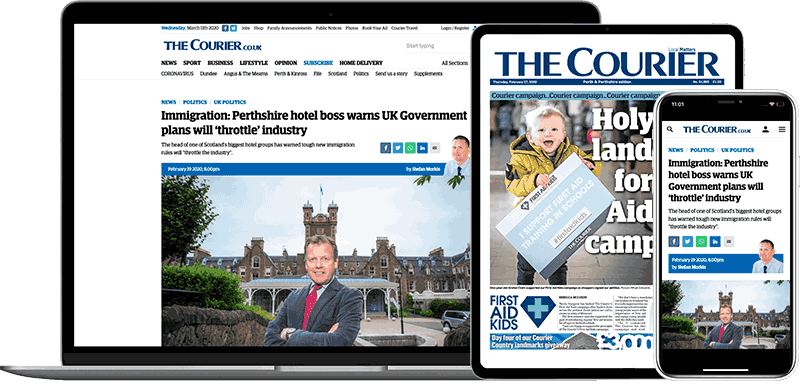 Support The Courier today.
The Courier is committed to delivering quality content to our communities and right now that's more important than ever — which is why our key content is free. However, you can support us and access premium content by subscribing to The Courier from just £5.99 a month. Because Local Matters.
Subscribe