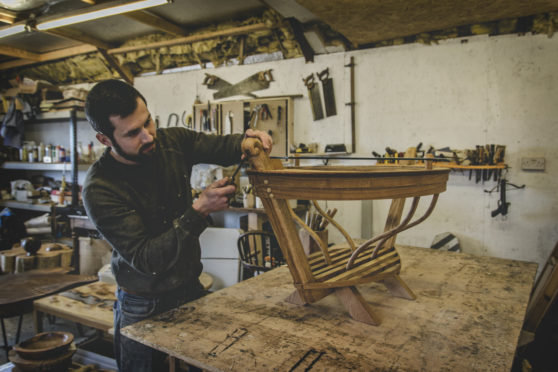 Frazer Reid's interest in woodworking began when he was at primary school and enjoyed the weekly woodwork class.
"That taste of it was where it all started," says Frazer, 29, who set up Far Cabinet Makers, based just outside Crail, seven years ago.
"In high school I made things in the shed but didn't have any woodworking classes," he recalls.
"I had applied to go to university and got into Aberdeen but decided after a few weeks it wasn't for me.
"I didn't really know what I wanted to do so I got a job at St Andrews University as a janitorial technician.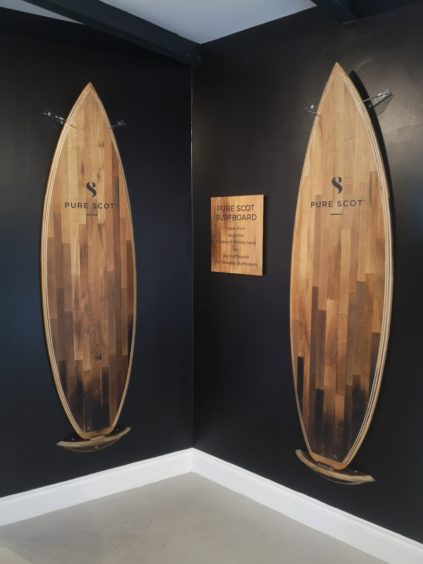 "A year later, I saw a course online for the Chippendale International School of Furniture near Edinburgh (one of the world's most renowned furniture making and design schools) and thought it looked amazing," he says.
"And after two and a half years working at the university I had saved enough money to take on the intensive one-year course!"
Frazer makes an extensive range of pieces from small salad bowls right up to dining tables and kitchens.
"The business is split into two parts – one half is making furniture and the other is making wooden surfboards," he explains.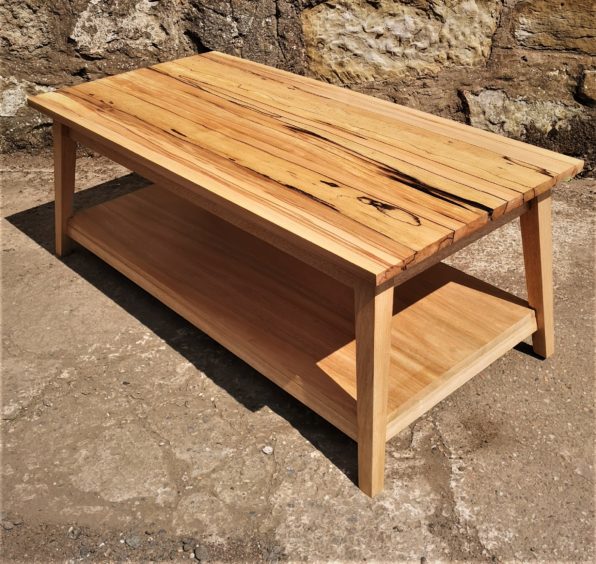 "The furniture I create is usually made to order, tailor made to the customer specifications and needs, which means I'm always creating something new," he smiles.
"I do also make some pieces when I have nice bits of timber or a design that I've been working through in my head. I hope to make lots more artistic pieces of furniture and keep developing my own designs."
Frazer mainly uses Scottish timber which he sources in Fife from Scottish Woods in Dunfermline and Scottish sawmilling services at Newburgh.
"Both have a fantastic range of timbers," he reveals. "I also use reclaimed wood l and have salvaged church pews, 200-year-old beams, worktops from school science rooms and gym floors."
He has also started processing his own timber. "I bought a chainsaw mill which allows me to slice up tree trunks up to a metre wide," he says.
"I have a stock of slabs from the past two years currently seasoning to dry the timber out, and some will be ready to use later this year.
"This allows me to be part of the full process of cutting the tree up right through to making a piece of furniture from it."
Depending on the size and complexity of the piece Frazer is creating, the process can take weeks or even months to complete.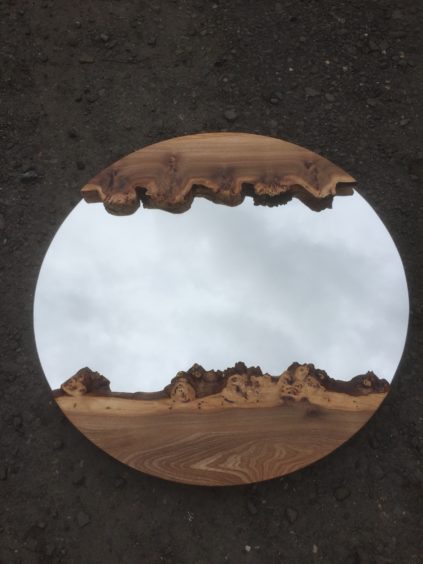 "For example, a dining table would be a few weeks' making time," he says.
"The first thing is choosing the timber – I usually spend a few hours at the sawmill picking through the boards to find the best character pieces for the table top.
"Once I have all the boards it's back to the workshop to clean up the rough sawn boards.
"I start by planing these down so they are flat and all the same thickness. I can then start cutting the boards down into the component parts," he continues.
"After this I'll cut all the joints and can then start to glue pieces up."
Once all the component pieces are together, Frazer can fully assemble the piece and then it's on to sanding, which can take up to a full day working through several grades to get it smooth ready for finishing.
"The last stage is oiling or lacquering the piece which can take a few days in between coats while it dries and, after that, it's ready for delivery," says Frazer.
One of his latest projects is a beautiful 'river table' with a glass inlay – he has set up a Just Giving page on his website to raise funds for the NHS, and one lucky person will win table when he has reached his target of £5,000.
"It was originally going to be made for an upcoming exhibition that, understandably, has been cancelled," he explains.
"I thought it would be nice to give something back and do my part – I have friends who are doctors and nurses working in very challenging conditions and thought it would be a good show of support.
"It is made from quarter sawn oak sourced here in Fife," he continues. "The blue tinted glass was custom made to fit the piece and follow the natural edge of the wood. The glass company, Glasstops UK based in Norwich, very kindly donated the glass.
"I hope to raise £5000 by raffling it off.  So far it has raised more than £2,500. Once the target is reached I will pick a person at random from the list and they will win the table."
Although the majority of Frazer's customers are based in Fife and Edinburgh, he also has some from across the UK.
"I usually do a few art shows over the summer months which people from all across the UK come to," he explains. "These really help open what I do up to a much larger audience."
The past seven years have taught Frazer a lot about running his own business and, of course, it's not without challenges.
"I think the biggest challenge is marketing and finding my target audience," he says. "Not everyone is in the market for a bespoke piece of artistic furniture.
"Marketing is a constant process, constantly trying to find new clients and gain a larger audience.
"The website and social media help with this but it's a huge amount of work and effort constantly updating all these platforms and taking and editing photos to show the pieces off in the best way possible."
The coronavirus crisis has also affected business.
"The next four months are usually the busiest of the year for me but all the markets and exhibitions I had planned have been cancelled up to September," he says.
"These are where I get a lot of my sales and orders for the year and meet potential clients.
Luckily living close to my workshop means I'm still able to get to it. I have a few jobs to finish off from before lockdown but these are coming to an end.
"It's been a challenge getting certain things ordered in as some suppliers are closed so I can't get materials in to finish some jobs," he reveals.
"I've had orders put on hold and cancelled and sales are down from the start of the year. I'm focusing on trying to sell more online but this is still difficult.
"I am trying to stay positive and use this time as best I can organising the workshop and working on online sales and social media and hoping that this pays off."
But depote the worries, Frazer loves his job.
"It's great to be able to go to work and do what I really love every day," he smiles. "I'm able to create heirloom pieces of furniture and surfboards for my customers and I think that's really special. It's always great seeing a customer's reaction when it's delivered!"
For more info or to donate to the Just Giving page for the River Table, visit farcabinetmakers.co.uk