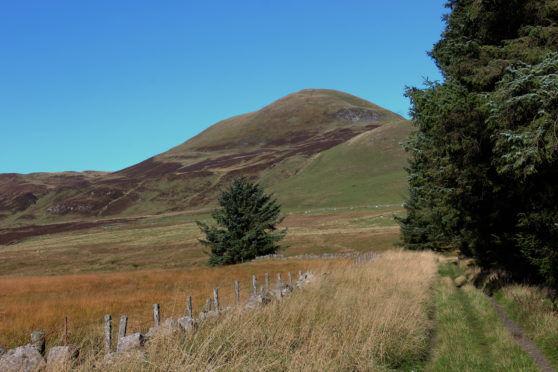 The two main summits of the Lomond Hills in Fife – East Lomond and West Lomond – are prominent landmarks, visible from across the kingdom and beyond.
West Lomond is the loftier of the pair and, on this outing, there is rarely a time when the conspicuous 522-metre high volcanic cone is not in sight, whether up ahead on the approach or glanced over the shoulder once conquered.
Lying between the two, the car park and picnic area at Craigmead, accessed by a single-track road linking the villages of Falkland and Leslie, offers the perfect starting point for an outing to either top.
On this occasion I was hiking west, a well-graded moorland track leading towards my target, a short but strenuous final pull concluding the climb. With the sky clear and the sun shining, stunning views were assured.
The path to West Lomond sets out from the rear of the car park, curving up below slender pines before rising over grassy pasture to meet the track, a rugged upland highway flanked either side by old stone walls.
Summit duly dominating my line of sight, I proceeded apace across heathery hillside, pausing occasionally to look back at East Lomond or watch a covey of red grouse take flight from the wiry heather.
Passing above reedy Miller's Loch, the way meets up with a wall at the corner of which, by an old gate, there is an historic boundary marker stone, inscribed with the letters 'WR' and the date 1818.
Until the early 19th Century most of the Lomond Hills was common grazing land. However, in 1818, by order of parliament, it was taken away from local people and divided up amongst larger land owners by commissioner William Rae, the man whose initials are etched on this stone and others like it dotted across the slopes.
Accompanying the wall for a way, the track dips to cross a wee gully before climbing through a gate and past a long-abandoned limestone quarry to a waymarked junction at the base of West Lomond's protruding dome.
A path climbs from here directly to the summit but it is one that has suffered badly from erosion over the years and a more sustainable and less strenuous route curves up round the northern and western flanks, revealing Loch Leven and neighbouring Bishop Hill as it gains height.
Catching my breath at the exposed, weather-worn trig point, panoramas abounded, East Lomond and Largo Law in focus to the east, the Howe of Fife and Norman's Law drawing my eyes northwards to the River Tay and distant Dundee.
Dropping steeply down the south-east flank of the peak, the path zig-zags past rocky outcrops before flattening out briefly, cutting through heather to a stile spanning a wall and fence perched atop an escarpment.
Plunging down the slope, following first a stream then a wall, the trail meets up with a path in the base of the valley by another stone post, this more recent addition to the landscape recalling the meeting point of the ancient parishes of Strathmiglo, Falkland and Portmoak.
Turning east along the reedy lower fringes of a field, the path leads to Harperleas Reservoir, a forest track skirting round the southside of the water to the grassy embankment dam and, once across, the track back to Craigmead, West Lomond watching over me as I wandered home.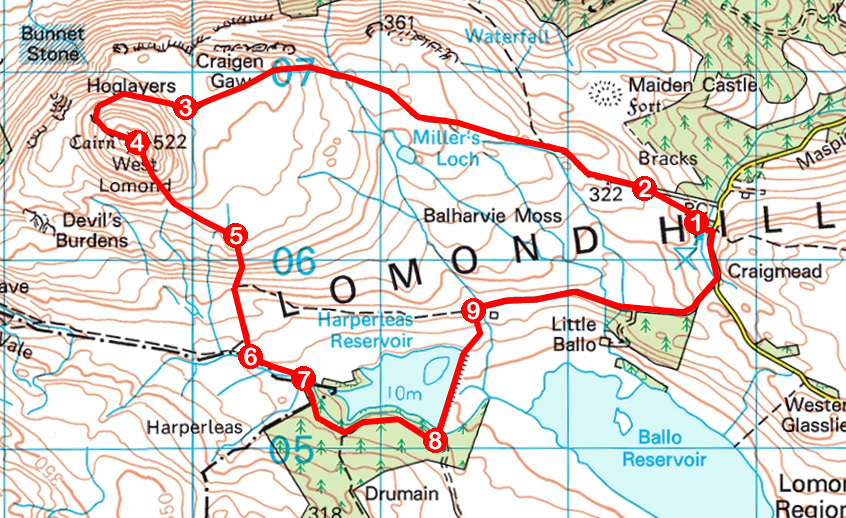 ROUTE
1. Follow path (signed West Lomond) up to pedestrian gate. Go through, bear left and ascend grassy path to pedestrian gate.
2. Join track beyond gate and follow it 2.5km west.
3. At junction at base of hill, bear right and ascend track. Ignore path branching left then, where trail forks, veer left and ascend grassy path to summit.
4. Descend south-east on initially steep path, crossing moorland below to meet wall and fence at stile.
5. Cross stile and descend south to pedestrian gate. Go through and continue south by wall to path junction.
6. Go left through pedestrian gate and follow path east.
7. Go through pedestrian gate, cross bridge and follow forest track round south side of reservoir.
8. Go left through gate, cross dam, pass through kissing gate and ascend grassy path to stile.
9. Cross stile, turn right and follow track 1.4km east to meet minor road. Go left to car park.
INFORMATION
Distance: 9km/5½ miles
Ascent: 320m/1050ft
Time: 3 hours
Grading: Moderate hill walk following tracks and paths with some steep sections of ascent and descent. Keep dogs under close control to protect livestock and wildlife
Start/finish: Craigmead car park and picnic area, two miles south-west of Falkland on minor road to Leslie (Grid ref: NO 227061)
Map: Ordnance Survey 1:50,000 Landranger sheet 58; Ordnance Survey 1:25,000 Explorer sheet 370
Tourist Information: St Andrews iCentre, 70 Market Street, St Andrews KY16 9NU (Tel 01334 472021)
Public transport: Nearest bus stop is Falkland from where a path climbs to Craigmead via Maspie Den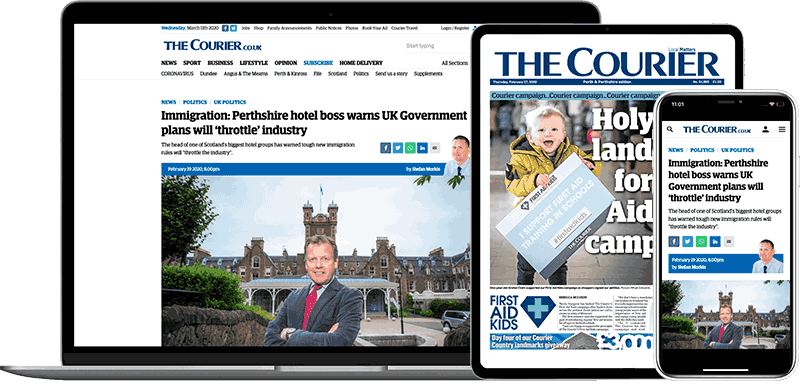 Help support quality local journalism … become a digital subscriber to The Courier
For as little as £5.99 a month you can access all of our content, including Premium articles.
Subscribe