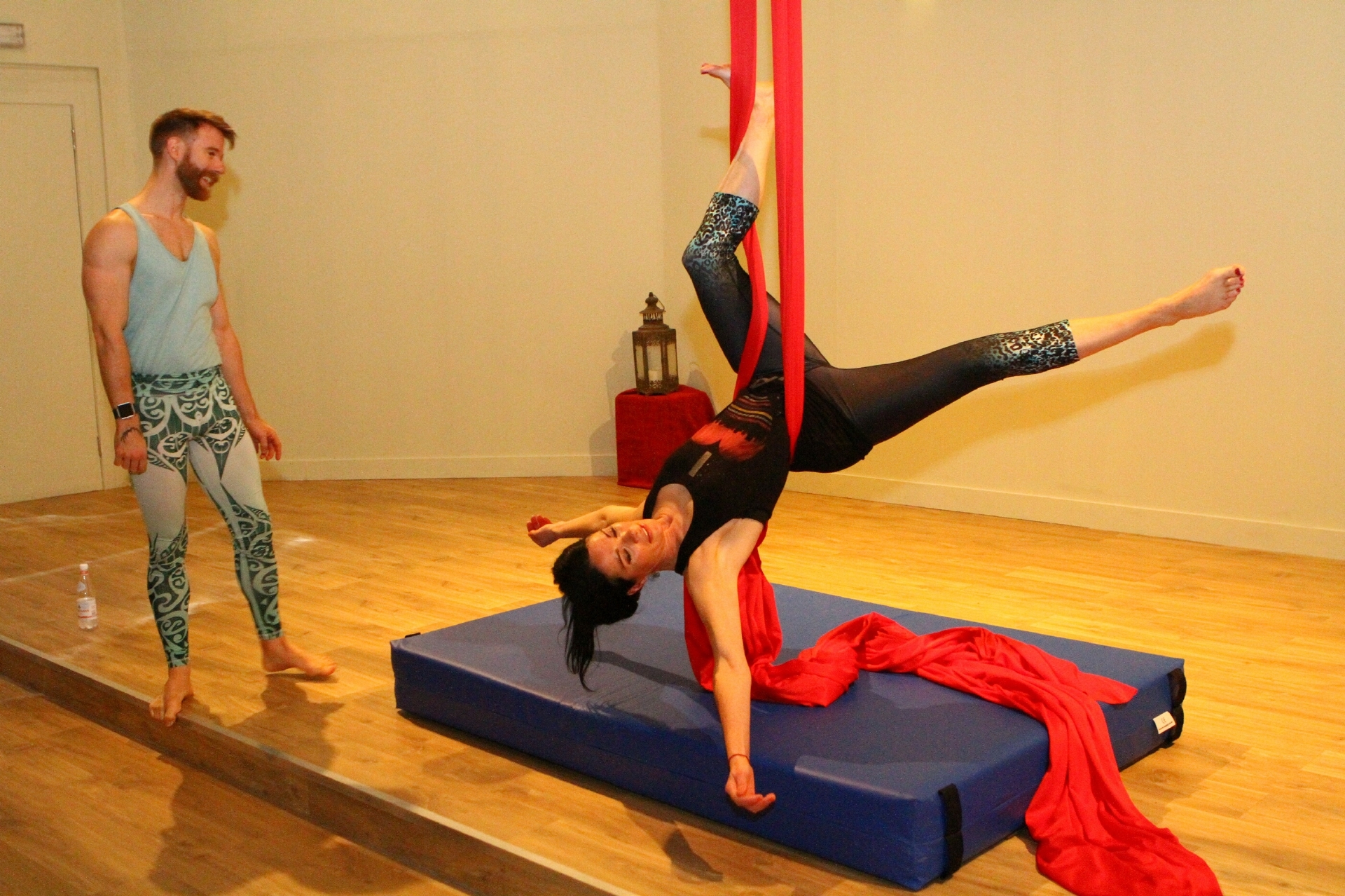 It's been described as a form of aerial acrobatics and you can do it here in Dundee. Gayle pushes aside her fear of heights and has a go at aerial silks
Lycra-clad Finlay Wilson is swinging from the rafters of a converted Dundee church – on a piece of silk.
His muscles are pumped to the max and a bead of sweat has formed on his forehead.
It's tough work, by any stretch of the imagination.
Finlay is a master of all things yoga, and he's just launched aerial silks and aerial yoga classes at his studio in the west end.
It's a stunning venue to get to grips with these challenging (but fun) performance arts, and they're available at every level – from stiff beginners like me to advanced bendy folk.
Striking a few graceful poses and climbing down from the swaying suspended fabric, Finlay wisely decides to start me on the basics.
We warm up with yoga moves and conditioning exercises on floor mats.
There's the dreaded plank (great for the abs), some twisting and lunging and what's known as Malasana, a squat that's good for the hips.
My session is focusing on aerial silks, as opposed to aerial yoga, and Finlay explains the difference.
"Aerial silks challenges your strength and flexibility in a different way to yoga, using the 7m long fabrics hanging from the centre beam of our studio," he says.
"They're made of silk that stretches and have a good cushioning. We always use crash mats and start low to the ground as we learn how to navigate the equipment."
Meanwhile, aerial yoga – also called aerial hammocks – is a full yoga class done using hammocks.
"We have 18 aerial hammocks and they can be used at hip or shin height," says Finlay.
"This allows your weight to be supported in standing poses, balance poses and certain seated poses, enabling an exploration into your own range of movement that may not be possible on the yoga mat alone. You aim for calmness, deep stretching and to move in ways you wouldn't normally."
Chat over, Finlay instructs me to stand up on one of the suspended silks. It's surprisingly robust.
With my feet in the middle of the silk, which is split up the middle, I simply stand there but I need all my strength to do so as it swings with my weight.
Next, Finlay encourages me to try something called the "folded leaf", which involves leaning back in the silk with my head upside down.
There's a bit of a rush to the head, but what's not to like?
I also try some standing back bends and I even manage an attempt, albeit a shoddy one, at a pseudo form of the splits.
The main issue for me is upper body strength, of which I seem to have very little.
The other problem is allowing myself to trust the silks (will they take my weight?) and that I won't fall out of them.
"It'll hold you no bother and in fact, one silk can hold several grown men," says Finlay.
Demonstrating this, he shimmies up it, pulls off a spectacular high-altitude pose and then beckons for me to grab onto his arms.
I do as instructed and find myself suspended in mid-air, with Finlay holding my wrists and managing to smile. But how?
"It comes with time and practice," he smiles. "I've been doing this for years and I've built up strength and flexibility." I guess it's something to aim for.
Finlay has been doing aerial silks since his Heartspace studio opened on Scott Street in 2012 "because it's got a great ceiling height", but it's only now that he's laying on classes.
"They are a blast!," he says Finlay. "Expect a lot of fun and laughs!"
info
For details of class dates and times, see yoga.heartspacedundee.co.uk
Taster workshops are also available.
Finlay, 29, took up yoga in 2007 following surgical procedures on both legs and used the discipline for his rehabilitation.
He is a widely sought-after international yoga teacher and leads classes all over the UK, features on his online yoga channel at Mat2Mat, presents at yoga conferences and performs demonstrations at events and fundraisers.
He has experience working with physical disability and complex injury needs and can tailor bespoke sessions for customers.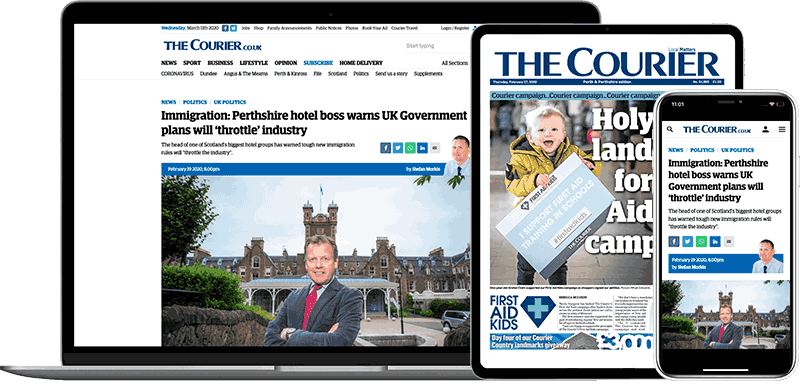 Help support quality local journalism … become a digital subscriber to The Courier
For as little as £5.99 a month you can access all of our content, including Premium articles.
Subscribe