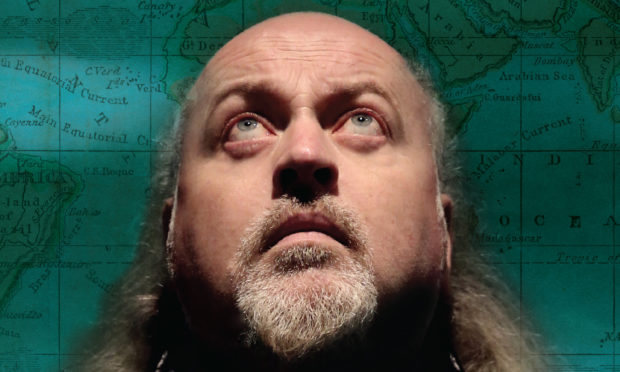 Bill Bailey is looking forward to playing in Dundee and Aberdeen. He likes visiting smaller towns, not just the big centres. And this show, Larks in Transit, has been everywhere.
Despite being given his nickname by a teacher who was taken by his rendition of the jazz classic Won't You Come Home Bill Bailey?, the multi-talented performer is forced to spend an awful lot of time away from his London abode.
The current tour, Larks In Transit, has been to the farthest reaches of the globe, but Bill (real name Mark) was determined that it wouldn't finish before it had reached Scotland.
"This is a well-travelled show now," he says. "It's already been around Europe, Asia, Australia and New Zealand, and then it had a little bit of a residency in the West End – but it doesn't feel 'done' until I've been to Scotland. I would say it was one of the main reasons for planning this leg of the tour.
"I don't know why it's taken so long to get there though, and I'm glad we're playing in Dundee and Aberdeen instead of concentrating on Glasgow and Edinburgh."
Now, with many performers it would be wise to dampen that flattery with the flannel of cynicism, but there are many reasons to believe that Bill Bailey's comments are more genuine than an attempt to get bums on seats.
Like most of our best-known comedy performers, his first experiences of playing in front of larger audiences was at the Edinburgh Fringe. Unlike most, he had early success there.
"It was an absolute rite of passage for me and I'd say for everyone else who played there. Most people will have been doing short spots in comedy clubs, but the Fringe is the first time they will have developed a full show. Between writing that show, finding a venue, and then funding the whole thing before even selling a ticket – you've really got to believe in what you're doing."

Putting together the hour-long show also showcased his skill as a musician – he's classically trained, but has a penchant for the heavier guitar-based stuff. Music of all genres quickly a signature of his shows.
"Even an hour is a lot of time to fill and it really helped in the early days. The Fringe really tests your mettle and it can be brutal. There are so many shows and so much competition. I've seen a lot of people crumble under the pressure.
"But of course it can be a wonderful and a career-changing experience. I might just be lucky, but it's given me many fond memories."
His first Fringe was in 1994, with Sean Lock in a show called Rock about a musician and his roadie, but two years later he really made a mark with the Perrier Award-nominated Cosmic Jam, which became his first big stand-up tour.
TV success followed, perhaps most famously in Black Books, where he was the long-suffering bookshop assistant Manny, starring alongside Dylan Moran as the curmudgeonly, wine-swilling Bernard.
With a more familiar face and a greater chance of full houses, he has returned to the Fringe many times, both as stand-up and actor in an all-comedian cast of the jury room drama 12 Angry Men.
No-one can accuse Bill of ignoring fans outside of the Central Belt, however, even if there was sometimes an ulterior motive.
The more remote the location, the more likely he is to be able to combine gigs with his lifelong passion for wildlife spotting.
"I've done two tours of really small venues across the Highlands and Islands. There are so many reasons for those being a brilliant experiences, but being able to head off between the gigs and spot some glorious Scottish wildlife was amazing. It can be quite difficult to organise taking the family to these incredible locations, so the idea was to put some dates in the diary – that would force me the issue and we could all go together."
Bill has also made many of his wildlife documentaries in that part of the country.
"We made our TV show about the white-tailed eagle on Mull. That first time taking the boat out to see them, it was just wonderful.  Seeing them in the skies over the islands is something else – because this is exactly where they're meant to be.
"But also, playing places like that allows you to get a unique perspective on them. Especially the kind of people that you come into contact with."
There were many instances where the difference in playing the Highlands and having a residence in London's West End was apparent, of course, but none more than the experience Bill had after a fishing trip when playing at a small hall in Stornoway.
"It was such a brilliant day, particularly because we caught quite a few fish! When we brought them back to the venue, the manager took them away. I expected him to refrigerate them for us but instead he prepared the fish, cooked it, and presented it to us before the show!
"That is definitely not going to happen in a West End theatre. I can imagine the reaction if I turned up at the Wyndham's Theatre saying, 'I caught these in the Thames earlier. Any chance of having them with a few chips and lemon wedges?'…."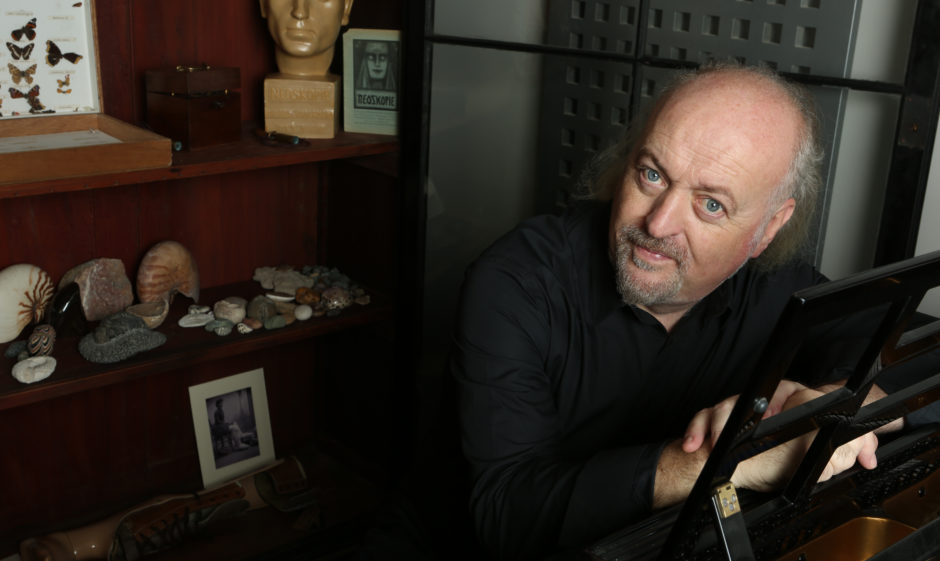 This tour will have larger audiences of course, but sometimes the smaller the audience the more memorable the gig is.
"After a show in Oban, someone told me that he had called the venue to check if there were any tickets left. The person on the other end of the phone excused themselves… The caller could hear a lot of shuffling and noise on the other end and when the person finally came back to the phone they said they had to put the seats out in the hall to count them and check! Now that's not the kind of thing that's going to happen in the Caird Hall, is it?
"The whole business of buying tickets for shows is so automated now, it's a bit impersonal. The fact that everyone was so down to earth and hands-on in these venues measure an absolute was an absolute joy."
Larks In Transit has been on the move for so long that Bill has picked up many stories along the way.
"The show started out as a story of travel, of where comedy has got me over the years. It's a bit of a continuation of the previous show I did, called Limboland. That one was perhaps the start of venturing more into personal recollection, certainly more than I have in any other shows."
When he says personal recollection, it's not a navel-pondering look back at his life or overly confessional. His family life is much too precious for that.
"You won't see me out at showbiz occasions – I'm a really private person. People don't know that much about my life outside of the screen or the stage and that's how I like it. I don't have my family on show because I don't believe in the celebrity life.
"Also, I only have so much time in a show and music is still such a big part of it that I have to give it a good amount of attention and time. It gives the show a real bit of light and shade as well."
An accomplished pianist and guitarist (among many other instruments), his musical journey isn't over.
The character he plays in Idris Elba's comedy In The Long Run has inspired him to take up the instrument – his name is Bagpipes.  Just don't expect him to pull out a set on this tour.
"I have been trying to learn. It's given me a huge amount of respect for pipers because it's a very difficult thing.  It's my great ambition to be able to get any kind of  tune out of them!"
Bill Bailey's Larks In Transit is at Dundee Caird Hall on Wednesday, May 29,  and Aberdeen AECC on Saturday, June 1.
Full details at www.BillBailey.co.uk