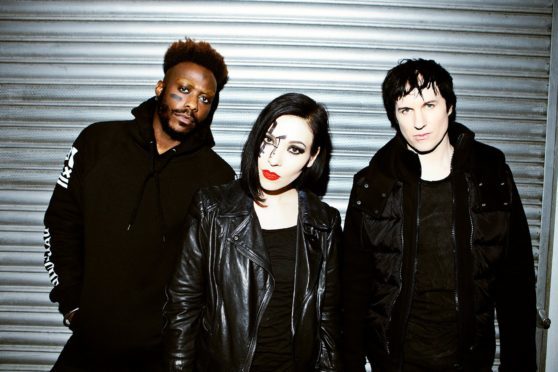 *** One of the year's most laid-back festivals returns to Perthshire this weekend.
A host of bands are heading to the shores of Lake of Mentieth for the ever-popular Doune the Rabbit Hole event, which includes headline sets from crustie veterans The Levellers, ambient house pioneers The Orb, German industrial legends Atari Teenage Riot and Northamptonshire-based psych rockers Temples, who'll be playing their only UK date this summer.
Starting tonight, Friday July 13, with performances from the likes of Glasgow-based multi-instrumentalist Richard Youngs and rapper/writer Akala, the three-day event has built a reputation as a family-friendly gathering since its debut near Doune in 2010.
The eclectic extravaganza features performances across three stages, and over the years it's welcomed the likes of Scottish indie legends The Vaselines, BMX Bandits and The Pastels, as well as Mercury Prize nominees Polar Bear.
Among the big names who're taking part this weekend are Big Country, The Beat featuring Ranking Roger, Aidan Moffat and RM Hubbert, We Were Promised Jetpacks, Peatbog Faeries, Carla Easton, Broken Records, This Is The Kit and Dreadzone.
For fans of dance music, the likes of Sarra Wild, Letitia Pleiades, Fierce Collective, Sofay and Junkyard Dog will be playing DJ sets across the weekend.
In a major coup for Doune the Rabbit Hole, Hope Street and Beautiful Day hit-makers The Levellers will be playing their only Scottish date at Cardross Estate as part of their 30th anniversary tour, with the appearance by Atari Teenage Riot nothing less than a UK exclusive for the boutique event ahead of the release of the band's sixth album.
Festival director Jamie Murray reckons the bumper bill reflects the very best of Scotland's independent/DIY music scene — combined with some of the hottest acts from overseas. "The line-up features everything from punk to reggae, ska, industrial/hardcore techno, hip hop, singer songwriters, indie folk and Scottish traditional sounds," he says.
"I'm overjoyed that we have Levellers playing their only Scottish date at DTRH. They were an act we'd dreamed of hosting when we started the festival almost ten years ago, so it's something of a coup for us.
"Atari Teenage Riot are coming all the way from Berlin for their only UK date too, and as always we've got a number of surprises planned. Not to mention a number of young, innovative artists making huge waves like Frankie Cosmos, Elephant Sessions and Soccer96."
Weekend tickets are £95, with day tickets £30/£45/£40 respectively. There's reduced prices for youths, with free admission for children aged 12 or under.
*** Post-punk legend Kirk Brandon makes a quickfire return to Courier Country on Thursday.
Just weeks after appearing at Dunfermline's PJ Molloy's with Spear Of Destiny, the London-born songsmith will be fronting his other band, Theatre Of Hate, at Church in Dundee.
Originally formed back in 1980, TOH released just one album, 1982's Top 20 hit Westworld, which was produced by The Clash's Mick Jones. They split the following year but regrouped in 1991, which led to the eventual release of a raft of long-shelved material.
In recent years they've returned to the studio and put out their first original songs in decades, with founder members Stan Stammers (bass) and John Lennard (sax) still featuring.
They'll be supported at Church by The Membranes, who're led by ex-Goldblade frontman and acclaimed rock writer John Robb. Tickets are £17 from www.ruthlessartistes.co.uk
*** Former Fence Records supremo The Pictish Trail returns to his old Fife stomping ground tomorrow.
Nowadays based on Isle of Eigg, Johnny Lynch spearheads a three-pronged bill at Kirkcaldy's Adam Smith Theatre that also features Irish troubadour Thomas McCarthy and American experimentalist Carl Stone.
Tickets for ex-Fence Collective member James Yorkston's latest Tae Sup Wi' A Fifer event are £15 from onfife.com
*** Perth's Green Room hosts its fourth Counter Culture Collective next Friday.
The musicians taking part are Minches, Dukes, The Purple Felts, Rana Marathon, Ruth Marie Cumming, Seamus A Leavey, Swaine and Cx3five+Barkryte. It's £5 at the door.
*** Edinburgh combo Main Street Blues are at the Lochgelly Centre tomorrow.
Blending acoustic and up-tempo electric blues, the band's influences are rhythm and blues / funk legends such as BB King, Freddie King, Sean Costello, Bill Perry, Warren Haynes and Robert Ward. Tickets £5 from onfife.com or the venue.
*** Number 57 in Dock Street has Bedrock tomorrow at 5.30pm, with Junkyard Dogs on Sunday at 7pm.
*** Covers outfit Cherry Bombz play Arbroath's Pageant tonight at 9pm and Clarks On Lindsay Street tomorrow (9.30pm). They're also at Brechin's Harley Davidson in the City Festival this weekend.