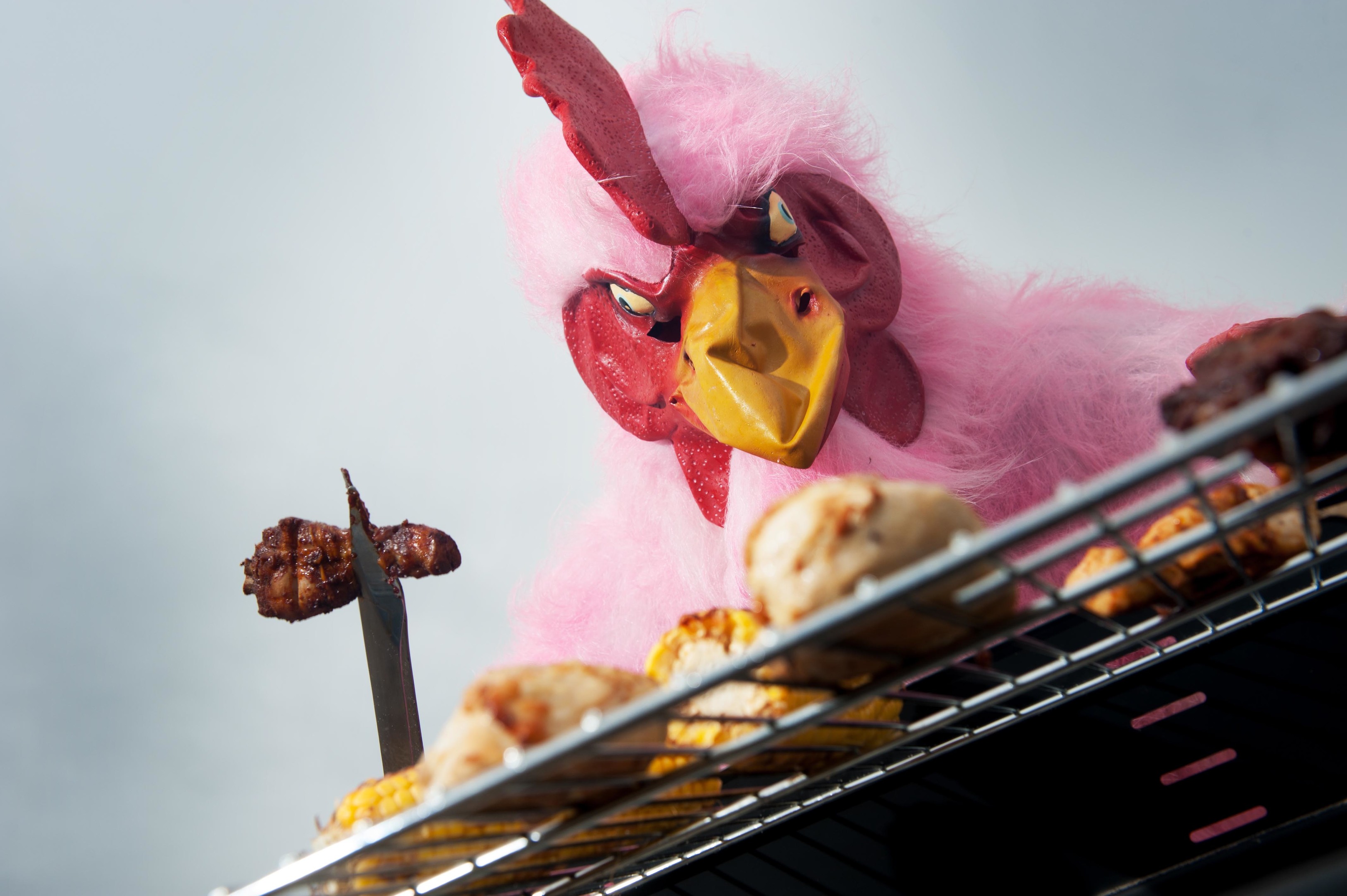 Be afraid, be very afraid: Pink Chicken is in town.
To highlight the importance of cooking chicken (and other meats) properly Food Standards Scotland (FSS) have launched their Pink Chicken campaign Designed to raise awareness that instances of campylobacter, the most common cause of food poisoning in Scotland, increase in summer thanks in part to more of us popping chicken on the barbie.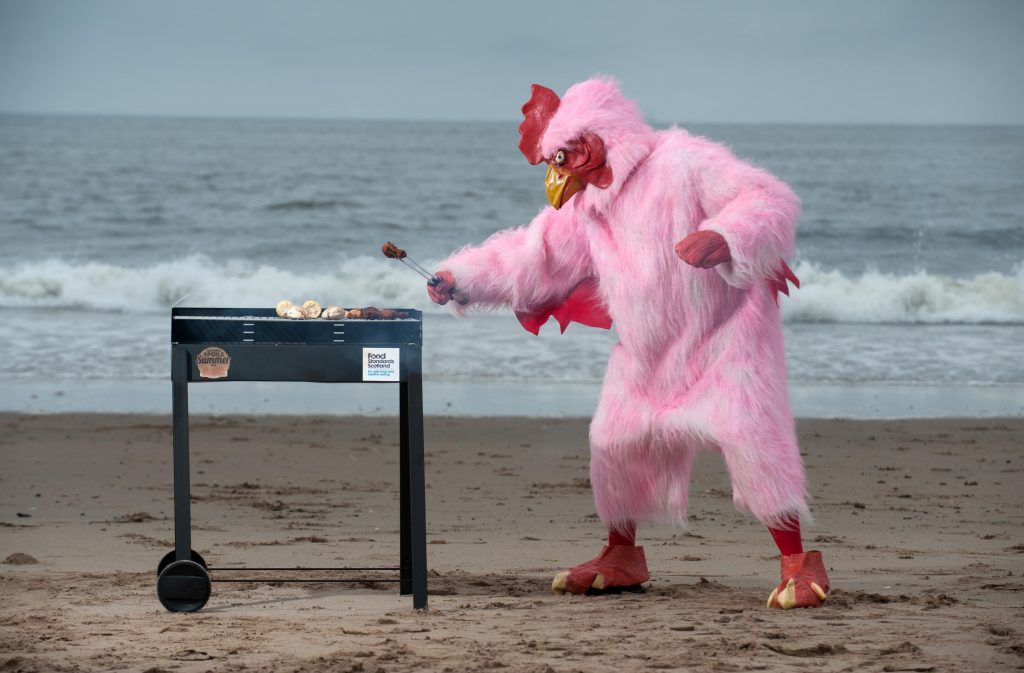 Geoff Ogle, chief executive of FSS explains: "Our Pink Chicken character is going about Scotland creating mayhem. stirring up villainous mayhem and causing illness."
Chicken is a source of campylobacter, which is the most common form of food poisoning in Scotland, responsible for more than 6,000 reported cases of illness each year.
"When barbecuing, the biggest risk of food poisoning is from poor hygiene and cooking practice when handling meat. All types of raw meat can be contaminated with harmful bacteria and therefore good hygiene and proper cooking is essential in preventing illness," Geoff says.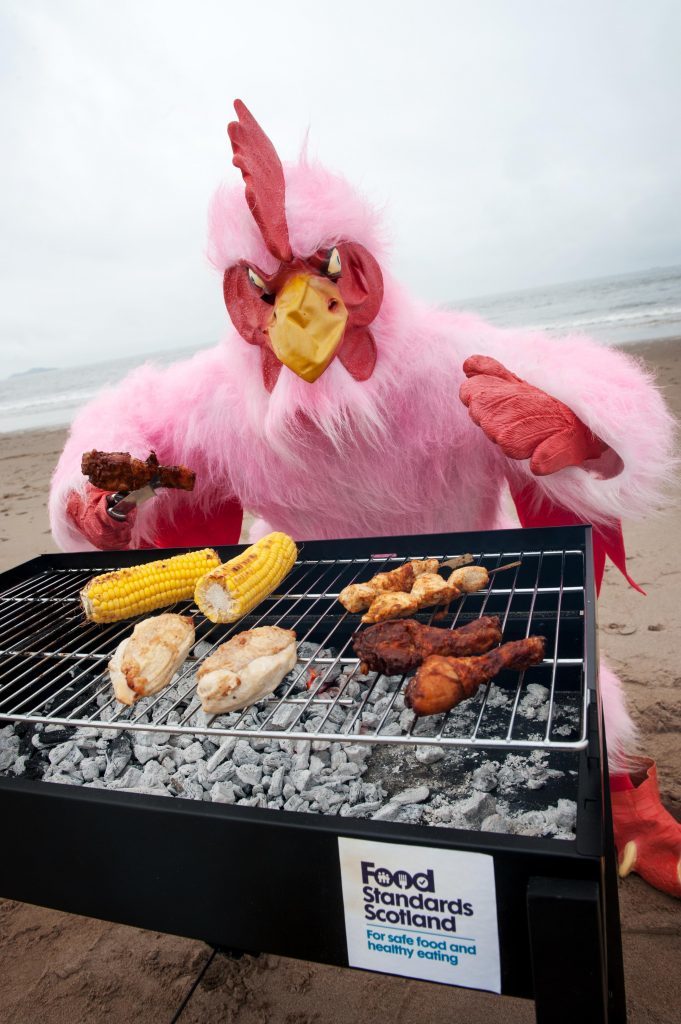 "While some meat, such as steaks and joints of beef or lamb, can be served rare as long as the outside has been properly cooked, it is really important to ensure that chicken, and minced meat products such as sausages and burgers, are cooked all the way through.
To ensure chicken is cooked thoroughly, always make sure: there's no pink meat, the juices run clear, and it's cooked to 75°C (using a meat thermometer gets rid of any guesswork).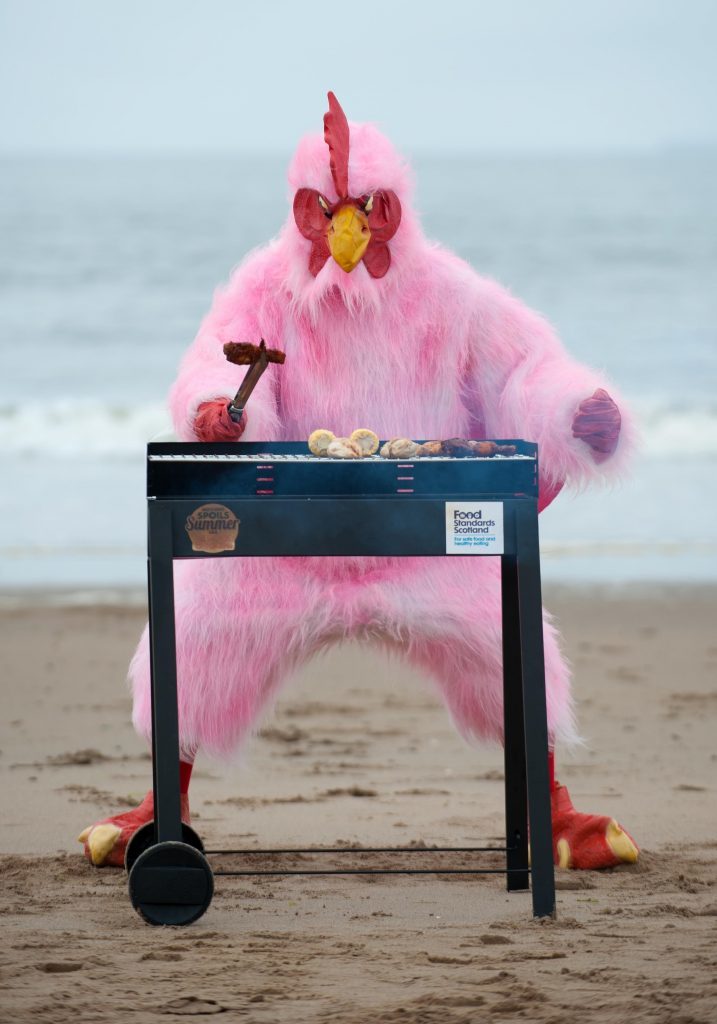 Different cuts of chicken will take different times to cook through – put larger pieces and bone-in cuts on the barbecue first to make sure they've enough time to cook. Before serving, always remember to check that there is no pink meat, and that it's steaming hot in the centre.
When you're cooking any kind of meat on the barbecue, make sure coals are glowing red with a powdery grey surface as this means they're hot enough.
"We're not trying to spoil people's enjoyment, but it's important they make sure they're not ruining summer for themselves and others by coming down with food poisoning which is easily preventable," says Geoff.
www.foodstandardsgov.scot
Outfox Pink Chicken
The 'Nothing spoils summer like pink chicken' video was filmed on Portobello Beach on a lucky sunny day in Edinburgh.
The pink chicken suit was originally white. It was dyed several times to create the correct shade of pink.
Pink Chicken has his own Twitter account @PinkChickenScot and hashtag #pinkchicken
The world's first digital, interactive BBQ was created as part of the food safety campaign. It aims to educate people on how to cook chicken safely on a barbecue.
Research has found that around half of barbecued food is eaten by people under the age of 34. FSS research has also shown that this group are generally less aware of or concerned about campylobacter.
Pink Chicken made a guest appearance at this year's Royal Highland Show and was a big hit with visitors old and young. FSS staff were on hand to protect the public from his mischief.