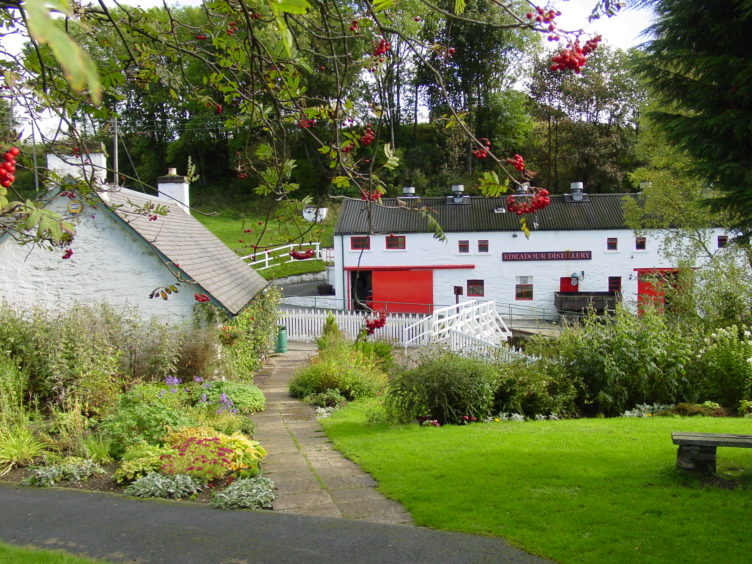 For decades, Edradour at Pitlochry advertised itself as 'Scotland's smallest distillery'. However, that title is now obsolete, for two reasons. Firstly, many new micro-distilleries have opened in recent times and, also, Edradour itself has recently doubled in size.
The old distillery was a true throwback to the way whisky was made in Victorian times. Malt arrived in one-ton sacks to be ground to grist. The mash tun was shallow and cast-iron, the hot draff shovelled out by two sweating employees into an adjacent farm cart.
The worts were cooled in Scotland's last Morton's refrigerator (a shallow steel tank of cold water with the worts running in pipes through it). Cake yeast was added to the worts in the small wooden washbacks and finally the stubby wash and spirit stills fed the alcohol vapour into spiral cooling pipes in an outside worm tub.
One would expect the new distillery, opened in February 2018 on the other bank of the Edradour Burn, would be ultra-modern with a big steel mash tun, heat exchangers, stainless steel washbacks and big stills with vertical condensers.
Not a bit of it. For all the building may be modern, the distillery itself is a total replica of the original one — cast-iron mash tun, small stills and worm tub, even a Morton's refrigerator.
The sole concession to current technology is the malt intake—an outside chute that tipper trucks can empty straight into, the grain then moved by auger to the holding hoppers that feed the malt mill.
Production at the old distillery still continues, as it will be many years before whisky from the new distillery will be ready for bottling.
One can see why Edradour rates highly on tourists' must-see list. It is a picture-postcard paradigm of what people feel a distillery should look like. Its brilliant white walls, doors painted a vivid red and gushing stream with white wooden bridges all add to that image. It also offers a good tour with an informative video and drams of Edradour 10-year-old and cream liqueur.
The café offers a wide range of Edradour expressions, plus the peaty Ballechin, and the distillery shop stocks a remarkable range of whiskies bearing the Signatory label, at prices ranging from around £30 to four figures.