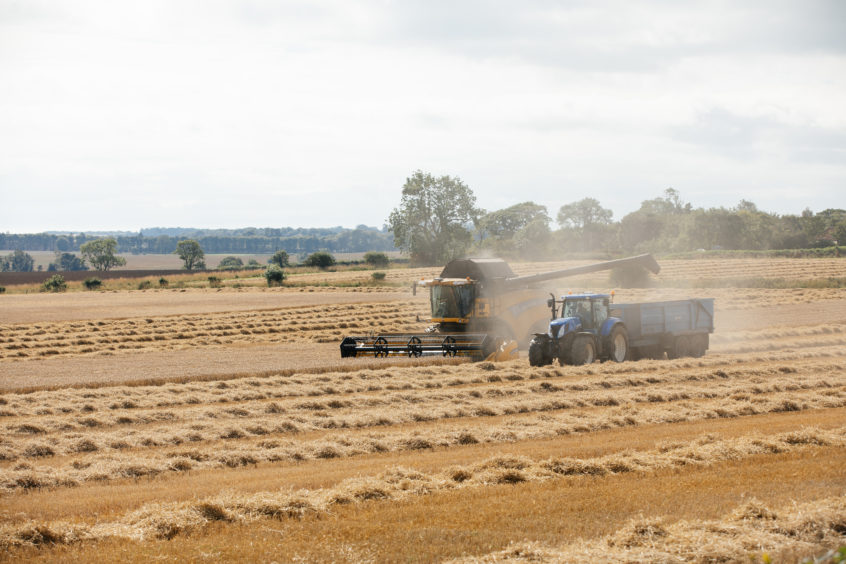 A baker for over 30 years, Andrew Whitley has 'changed the way we think about bread.
Following a short career as a producer in the BBC Russian Service, Andrew Whitley started an organic village bakery in Cumbria in the 1970s.
"It grew slowly until the explosion of 'speciality bread' in the early 1990s saw my little bakery become the first supplier of genuine sourdough bread to major supermarkets," says Andrew proudly.
Making the decision to leave in 2002 to concentrate on teaching bread making, Andrew wrote his book Bread, which led directly to co-founding the Real Bread Campaign.
"I moved to Scotland in 2009 and started to research historic wheat varieties, prompted by the realisation that Scotland was using some of its best land for growing wheat but not actually making bread with any of it, choosing to turn it into cheap booze or food for cars, not people," he says.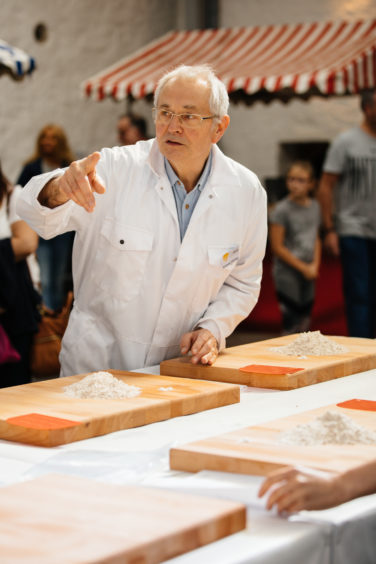 "With my late wife Veronica, I started Scotland The Bread as a community benefit society and charity in 2016, with the simple purpose of improving Scottish grain and bread for everyone."
Based at the Bowhouse food hub in St Monans, Fife, Scotland The Bread researches wheat and rye varieties to find those with most nutrients in them and these are grown organically by Balcaskie Estate.
"We mill the grain into flour and supply community bakers and individuals at the regular Bowhouse markets and through an online shop," Andrew explains.
"Our fundamental aim is to nurture diversity – in soils, cereals, stomachs and society.
"Modern varieties of grain are high yielding but can be deficient in important nutrients and highly vulnerable to pest and disease attack, especially in a changing climate.
"So we're encouraging farmers to grow less but better. Lower yields of more nutrient-dense crops mean that I need fewer slices of bread to feel well nourished – and that takes pressure off both my belt and my budget, as well as giving some breathing space to the natural world that has been hammered by intensive crop production," he continues.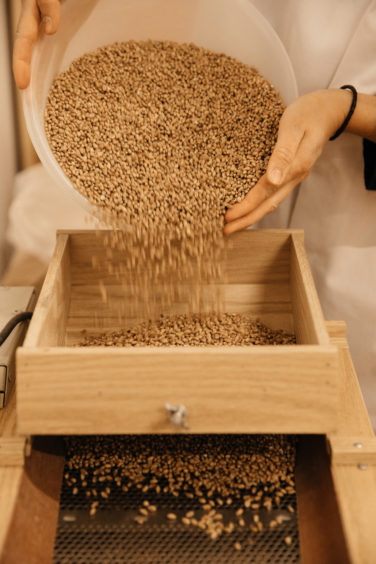 Andrew and the team began their project by looking for historic wheat varieties that would have supplied Scotland's bread in the 19th Century, before cheap foreign imports took business away from local farms and country mills.
"But we aren't a museum," he stresses.
"We are selecting from and adding to the original varieties with genetically diverse 'evolutionary' grains, mainly from Scandinavia.
"The aim is to increase the nutrients in the grain while also achieving reasonable yields and bread making quality.
"Our mill, at the Bowhouse food hub in St Monans, is the first of its kind in the UK: it's designed to conserve all the goodness in the grain by slow cool milling into wholemeal flour."
So what kind of breads does the team produce with the flour?
"Our wholemeal flour is suitable for most types of bread and works especially well for 'flat' breads such as bannocks, ciabatta, focaccia, pizza etc, where its relatively soft and extensible gluten comes into its own," says Andrew.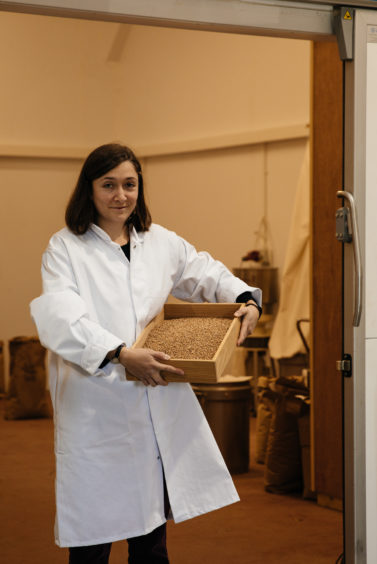 "That type of gluten is also inherently more digestible because it contains fewer of the very elastic proteins that are typical of 'strong' imported bread flours."
One of the oldest yet simplest, tastiest and most nutritious breads you can make, sourdough needs only flour, water, salt – and Andrew loves everything about it.
"It's the way ordinary people made bread for 15,000 years or more so we know it's easy," he says.
"Thanks to modern molecular biology we now know just why it's the best way to make bread – the natural yeasts and beneficial bacteria in sourdough make flour more digestible, produce compounds (short chain fatty acids) that are vital for gut health, lower the glycemic index of bread, generate natural anti-microbial substances, improve additive-free shelf life…I could go on," he smiles.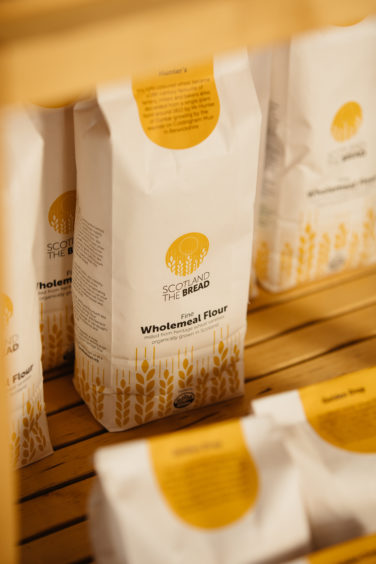 "But for sheer flavour, texture and satisfaction, real sourdough – not the dodgy imitations churned out by some industrial bakers – is the best. It's my daily bread."
A big part of his job is to work with other social enterprises and organisations such as Nourish Scotland to help bring about the vision of Scotland as a Good Food Nation in other words, a place in which all citizens are well nourished as a right.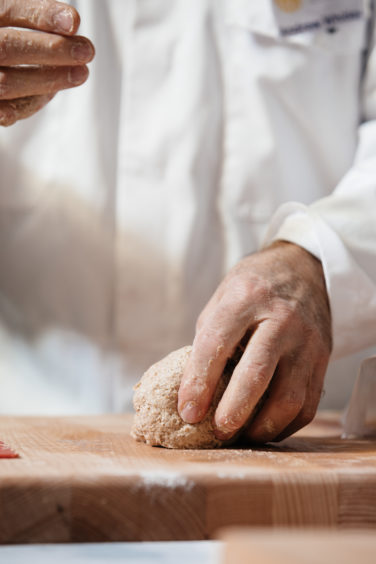 So what's a typical day for Andrew?
"No such thing," he says. "Anyone in a small, underfunded charity will know that most of the time, frustratingly, you are reacting to events and chasing your own tail trying to overcome seemingly insuperable obstacles.
"We are dealing with a natural product – grain – and are at the mercy of a climate in crisis. That's the biggest challenge to us all right now. Lack of funding to enable us to reach more people more quickly is always an issue, but it's also got positives: the fittest fish swim against the strongest currents," says Andrew.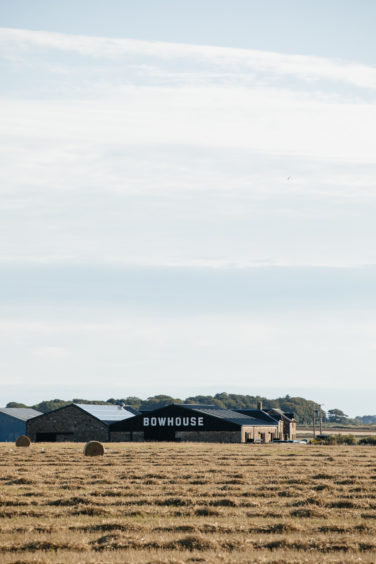 "I love the joy of working with like-minded and committed people such as Balcaskie Estate, the Scotland The Bread board of trustees and a host of volunteers, to get important information and better flour to where it's most needed.
"Our ambition is to create a 'Fife Fermenter' at Bowhouse, a grain, bread and ideas laboratory where research into more nutritious local grains helps farmers, millers, bakers, brewers, cooks and citizens to build a new food system based on health and fairness," he continues.
"Bread is the staff of life so what we're doing matters to everyone. Scotland uses some of its best land to grow a million tonnes or so of wheat every year, but that wheat doesn't end up in our bread.
"Please join us – as a shareholder, supporter, flour user or bread eater – in changing this unhealthy situation for the better, one loaf at a time."