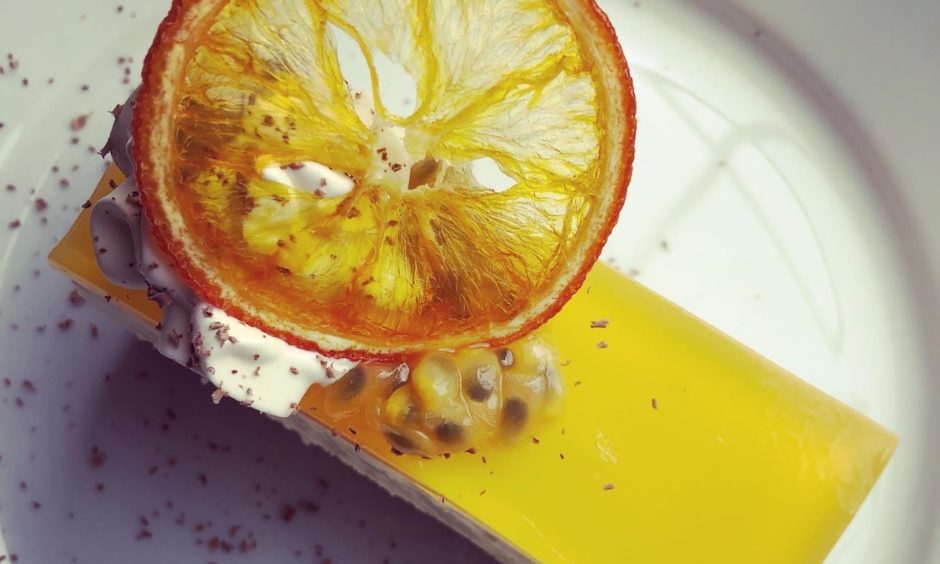 Catherine Devaney runs Harper & Lime catering company in Fife and writes regularly for The Courier's food magazine, The Menu. Here, she talks about how she has summer food covered, from barbecues to beach picnics
As a significant birthday – I'm not telling you which – creeps inexorably closer, I've come to realise there are more than a few things in life about which I prefer the idea to the reality.
Weather is one of them. In my mind I float elegantly through the garden in Boden-esque style, dispensing glasses of homemade lemonade garnished with sprigs of fresh mint (rather like the lady in the first John Lewis advert that made a lot of people cry, remember that one?); but in reality I'm sweating and tetchy, hunting for kids' sun hats under piles of winter gloves and hoisting extension cables into the garden to blow up a paddling pool that will ultimately prove disappointing and be abandoned by its sodden inhabitants after 20 minutes.
Although I know I'm being petulant. I truly know that I shouldn't complain; I am incredibly lucky to have an outdoor space (I just wish we could agree on a place to keep the extension cable to avoid hunting for it under heat wave conditions).
Beaches are another. There's a childhood photograph of me, looking less than amused, on a beach in Scarborough, apparently taken after the best part of an afternoon spent alternately demanding to have my shoes put back on and then taken off again.
I don't remember being there, but the sight of those brown Clarks buckle shoes on bare feet triggers a deeply uncomfortable flashback of gritty sand rubbing on shoe leather.
There was a short spell as an adult where I could sanitise the beach experience sufficiently to enjoy certain aspects, but this depended on a well-placed sun lounger and umbrella, a person to deliver refreshment and a total absence of interruption.
None of this is possible on the West Sands with my own personal sand-tunnellers turning the picnic blanket into a sandpit, a fine Scottish haar and a spilled flask of coffee.
The other classic British summer occupation which never fails to disappoint is the barbecue.  As we sweltered through an unseasonably hot May I allowed myself, against my better judgement, to be swept away on the fantasy of the summer barbecue season and dared to suggest that "we" could perhaps build a deck to put the barbecue on.
Some weeks later, the weather has turned and our new deck proceeds at glacial pace, hampered by various engineering problems beyond my realm of expertise or interest.
I truly believe there must be a fickle, grudge-bearing god of barbecues who sends a curse on all our houses whenever we have the hubris to suggest the organisation of such an event.  And as if barbecues weren't tricky enough, we now have the obstacle of the "socially distanced barbecue" to navigate.
There will be no hunkering inside should the great Scottish summer do the inevitable.  "Bring your own umbrella" raises the conundrum of how to hold a plate, a glass of wine, stay dry and two metres away from all breathing beings without entirely losing faith in the whole caper.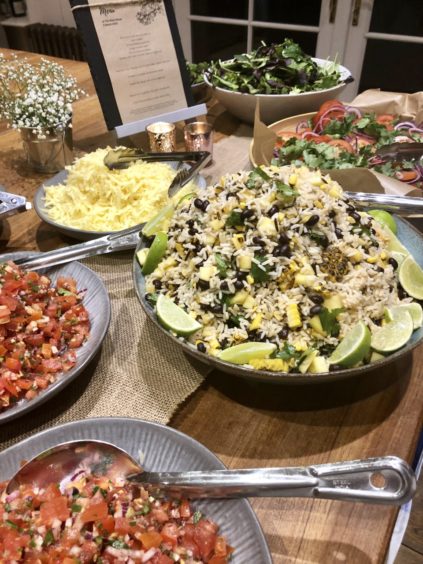 Despite everything, I have rather fond memories of the last barbecue I cooked. March 6 found me barbecuing in Elie. Usually its own reliable micro-climate, instead this was a rather dark and rainy Friday, but memorable as the last event I ran before lockdown.
Although we reached Lady Macbeth levels of hand-washing that night, I can't help feeling a certain nostalgia because we were blissfully unaware of the rigours of social distancing that lay ahead of us.
Deliciously flavoursome bavette steak – by far my favourite cut to barbecue – was grilled for just a few minutes on each side, sliced (still gorgeously pink in the middle) and finished with just a squeeze of lemon and a generous sprinkle of sea salt.  Marinaded Cajun chicken was next, and lined up next to the steak as part of a "Build Your Own Burrito" station.
The best barbecue accompaniments are some of the simplest to make, such as homemade guacamole and a charred corn rice salad. I keep my guacamole simple, preferring just the simple creaminess of blitzed avocado, the zing of fresh of lime juice, lime zest and salt to taste.
If  so inclined you could add some garlic, fresh coriander and/or fresh chillies (diced fresh tomatoes are optional too).
Charred corn on the cob is easy to make on the barbecue, either serve as it is, brushed with a little chilli butter, or slice off the kernels and toss through cooked rice with some fresh coriander, diced mango, black beans, lemon juice, olive oil, smoked paprika, cumin and salt.
Should we ever reach the stage when we're allowed to share food again (cue wistful sigh) you may find yourself appointed to bring the dessert.
I'm going to share my recipe for white chocolate and passion fruit cheesecake that will not fail to impress. It needs a bit of multi-tasking and you'll need to track down some sheets of gelatin (back of the store cupboard?!) but trust me it's worth it.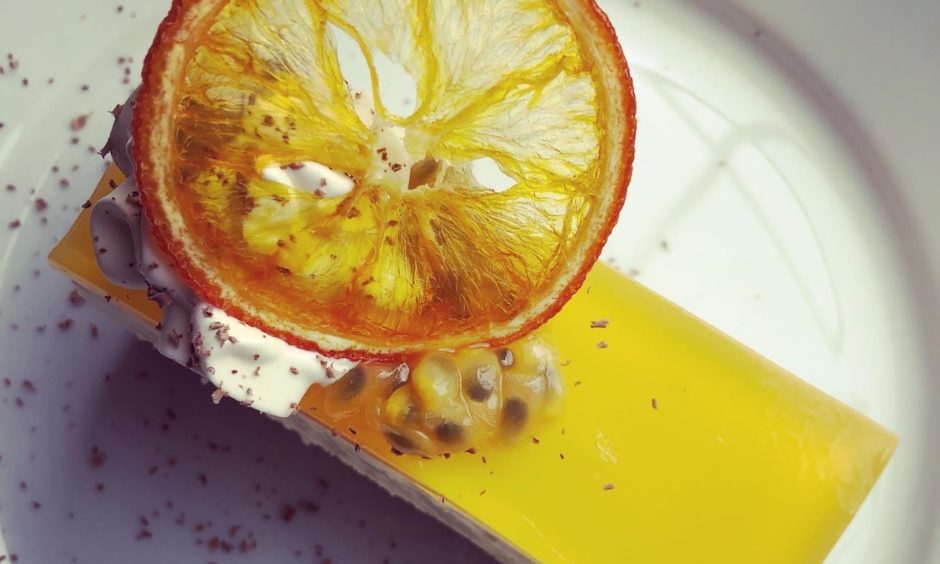 For the base, blitz one packet of ginger biscuits with 200g melted butter, press into the base of a cake ring and chill.
Melt 225g white chocolate and set aside to cool slightly. Next, whisk 125g egg yolks with 75g caster sugar in a pyrex bowl over a pan of gently simmering water. This requires patience, and a sore elbow, but you must soldier on until the mixture is pale, thick and the whisk leaves a ribbon trail.
Next, stir in 250g cream cheese and 250g mascarpone until soft. Set this aside and gently warm the juice of two limes in a small pot, then add 15g gelatin (which has first been softened in cold water). Pour the lime/gelatin mixture and the white chocolate into the egg/cream mixture and gently mix.
Lastly, semi-whip 275ml double cream and fold through the egg/cream mixture, adding the zest of two limes. Pour this over the chilled base and allow to set for at least four hours.
Now for the passion fruit topping that will add the wow factor. Bring 125g sugar and 500ml passion fruit juice to the boil, then add 5 sheets of gelatin (first softened in cold water) and whisk. Allow to cool, then pour over the set cheesecake, just enough to form a thin layer and put back in the fridge. Once the jelly has set, portion the cheesecake into slices and top with some passion fruit seeds, whipped cream and a grating of dark chocolate.
Should it rain, as it inevitably will, you can hide under a socially distanced umbrella and lose yourself in the ridiculous luxury of it, thankful only that the weather renders it unnecessary to apply sun cream to unwilling children.
---
Read more in this series…
Isolation Kitchen: Catherine Devaney chooses her five Desert Island ingredients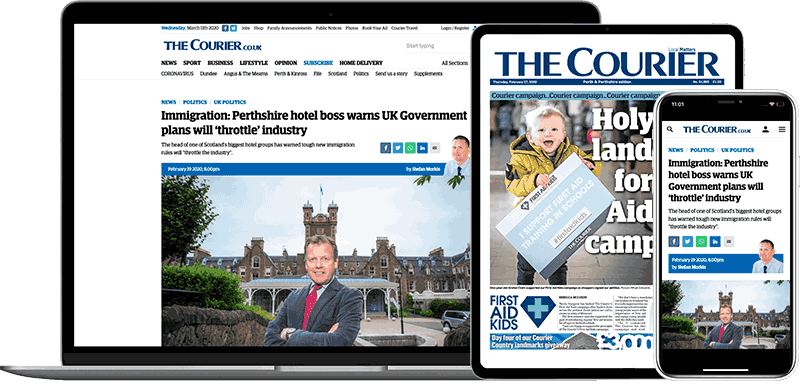 Help support quality local journalism … become a digital subscriber to The Courier
For as little as £5.99 a month you can access all of our content, including Premium articles.
Subscribe