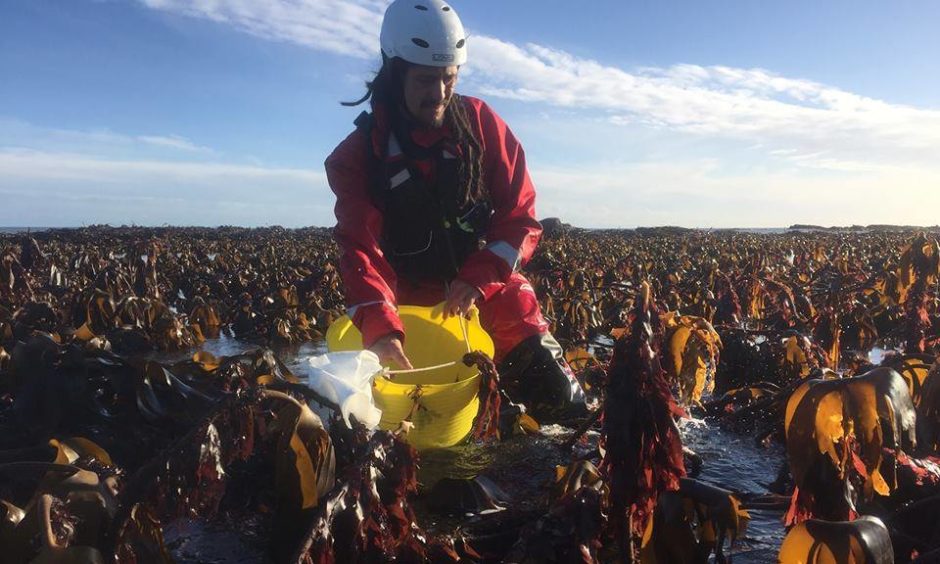 Seaweed foraging expert Jayson Byles of East Neuk Seaweed gives an insight into how to harvest and cook with Scotland's most abundant coastal ingredient.
As more and more of us look to the local larder and seasonal cooking, its no wonder foraging has become increasingly popular.
Seaweed can be found all year round, but it's typically better in size and nutrient levels in the summer and autumn months.
Jayson Byles of East Neuk Seaweed runs numerous workshops teaching the public how to identify and forage seaweed, work with the tides and weather patterns in their area, and gives inspiration on delicious dishes they can cook up, too.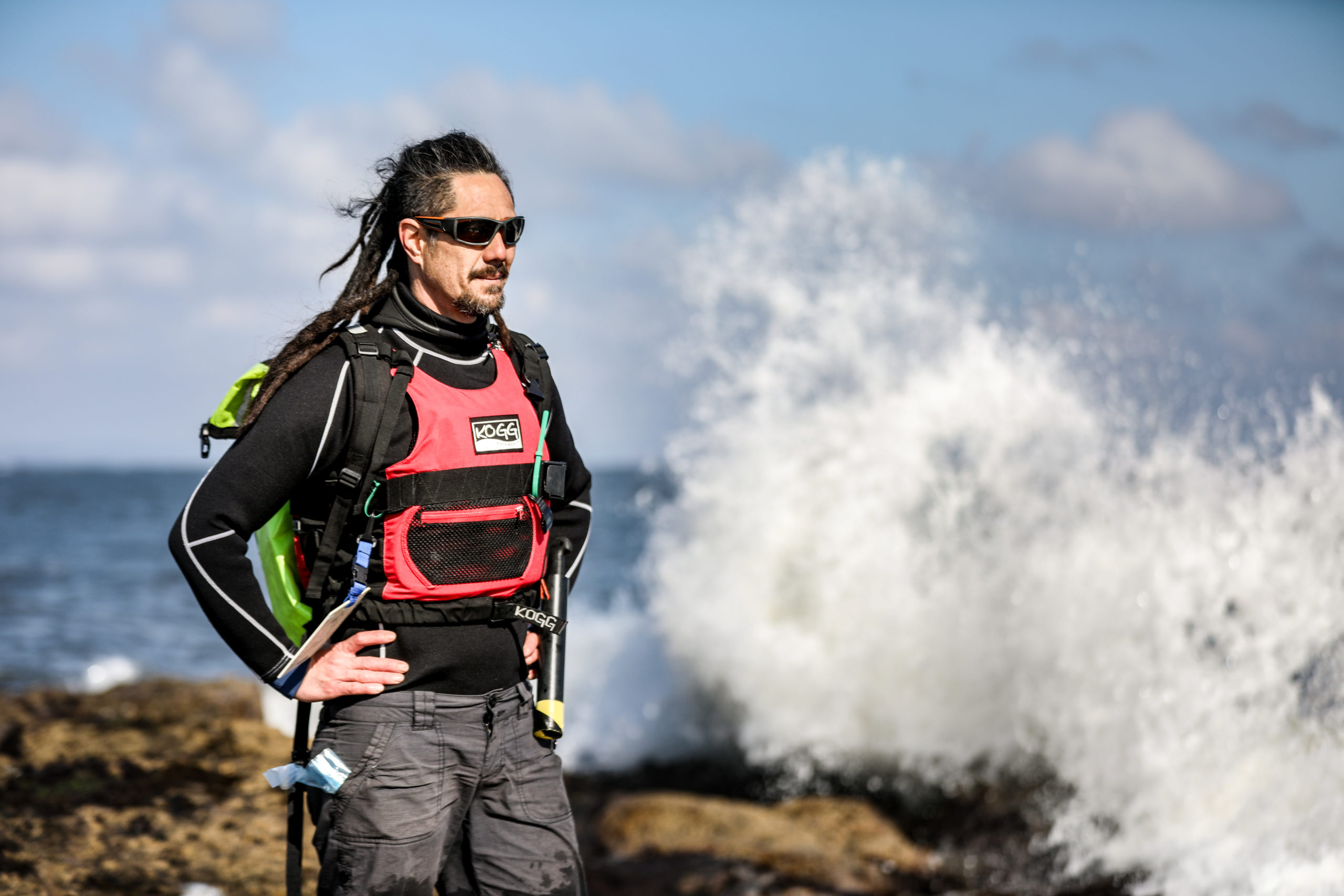 Originating from New Zealand, Jayson has called Scotland home for nearly a decade and started up his foraging business, integrating his Maori heritage with the local landscape and culture.
Always seeking and finding ways to connect him to the land and waters of Scotland, the forager was a professional chef for more than a decade, working in the industry throughout the 1990s and early 2000s.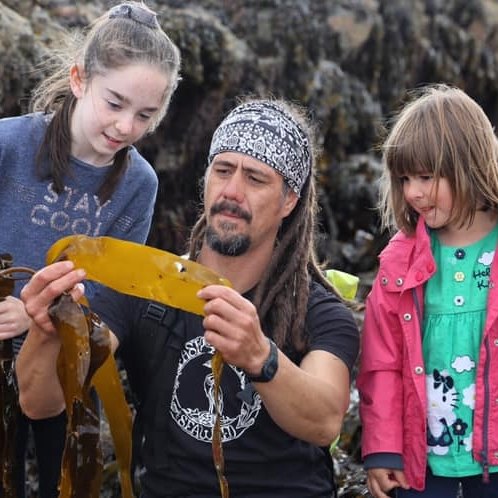 After being invited to manage a team of professional harvesters in Fife, three years later, Jayson launched his own business to help educate others about how they can themselves access the fertile terrain of the seashore.
Currently running a series of virtual events so the public can still learn from him while his workshops are on hold, Jayson has shared some of his top tips when it comes to harvesting seaweed, and how to do it carefully.
---
Harvesting Seaweed in July
---
July is a bit of a transitional time on our seashore and with the waters finally warming up, a lot of species are 'sporulating' (going to seed).
The zone exists anywhere the sea meets the land; from steep, rocky ledges, to long, sloping sandy beaches and extensive mudflats. An ever-changing environment which is flooded by the sea twice a day on high tides and exposed to the sun and the elements on low tides, continually being harassed by wind, sand and waves, the intertidal [shores] can be a harsh place to survive. Still, despite this, a fantastic array of life flourishes and in fact the intertidal zone is generally considered to be one of the most diverse habitats on the planet.
Sea Spaghetti (Himathalia Elongata) and Tangle Weed (Laminaria Digitata) have been in season since around mid-spring and have only a few weeks left to enjoy fresh, so now is the last chance to pick and dry some to have over winter.
Some key species like Sea Lettuce (Ulva Lactuca) and Grape Pip Weed (Mastocarpus Stellatus) are in prime condition and will endure until Autumn when favourites such as Dulse will come into their own.
---
How do you pick seaweed safely?
---
A lot of what I consider my role as an educator to be is about igniting a passion in people to keep themselves and the landscape thriving. The two elements are closely entwined.
The Intertidal Zone is magical and wild. It can also be dangerous, shifting and hostile to humans if not approached with care and foresight. Keeping yourself safe and informed is very important.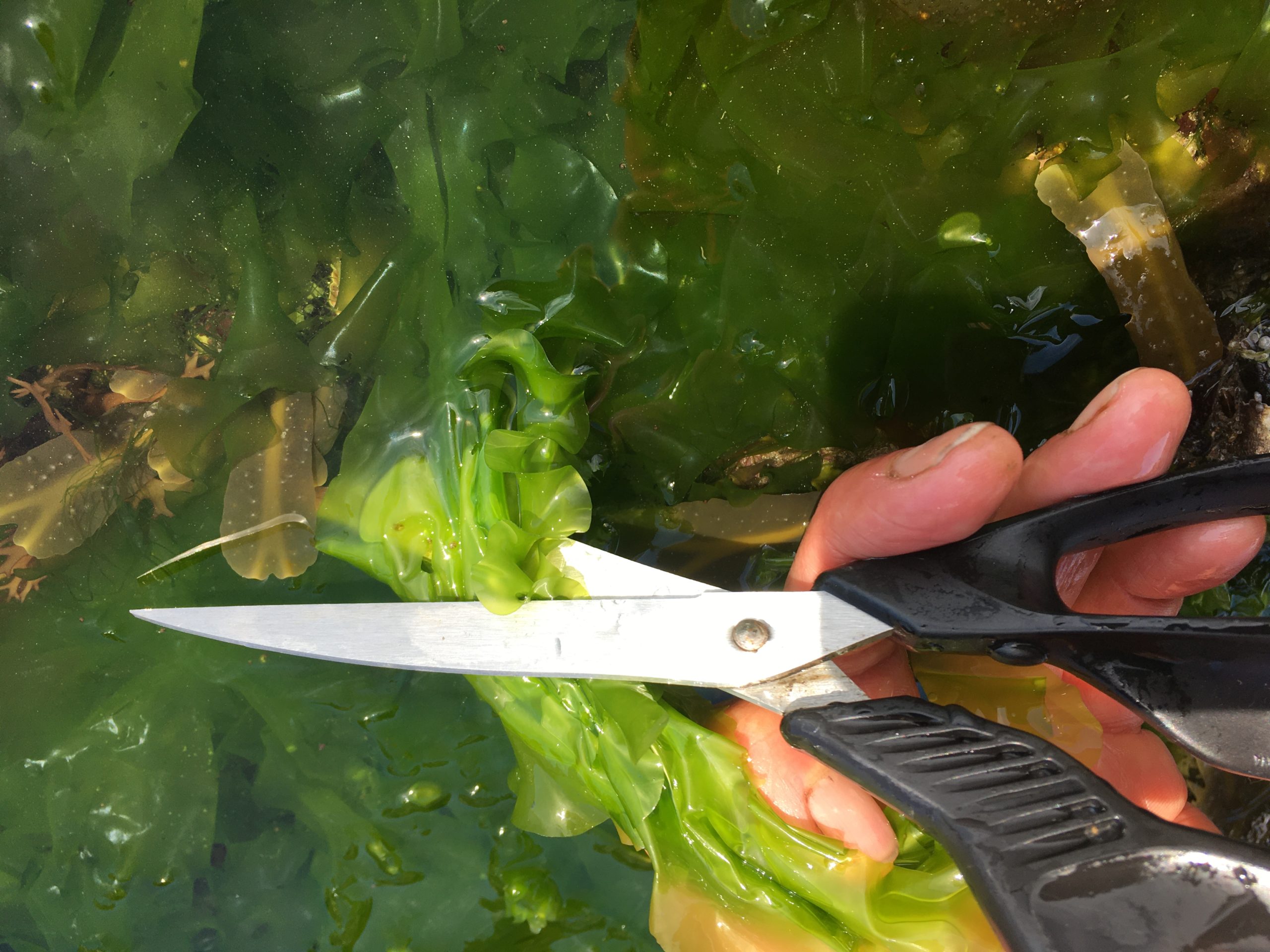 Lean towards moderation; foraging doesn't mean gathering everything you can see. The ecosystem will benefit from your restraint so just think about picking enough for a decent lunch (perhaps with a friend or two) and leaving plenty intact to regenerate for another day.
Remember we share this space with many creatures, a lot of which rely on seaweed for their lunch either directly or indirectly.
My ALLWET safety guide has all the tips you need to keep safe, but the main things to consider are to ensure someone knows your out on the rocks, you have considered the weather and tides, you have the right equipment with you, and the location is good and water clear.
ALLWET safety guide:
A – Ally: make sure you have a contact on dry land who knows your location and the time you're expected off the beach. Contact them when you are off the rocks safely.
L – Location: a rocky shore is best with a diverse coastline. Make sure you have good access, are familiar with the place and it is pollution-free.
L – Lunch: take snacks with you to keep your energy levels up. Also remember to only pick enough seaweed for a decent lunch, this will ensure you don't over-harvest.
W – Weather: pay attention to the forecast and dress for the weather. Don't go out for at least 24 hours after heavy rain, and don't go out in the rain, high winds or when there is poor viability – it will be very slippy.
E – Equipment: pack a helmet, wear sturdy footwear (you could also sport crampons), bright layered clothing and a back pack. Place your mobile phone in a dry bag (sealable plastic bag) and transport sharp scissors safely in a bag. A bucket or bag for your seaweed.
T- Tides: check tide times and avoid being close to the water line. Only forage during daylight hours and arrive at least an hour before low tide time and follow it out.
---
Sea Spaghetti – Himanthalia elongate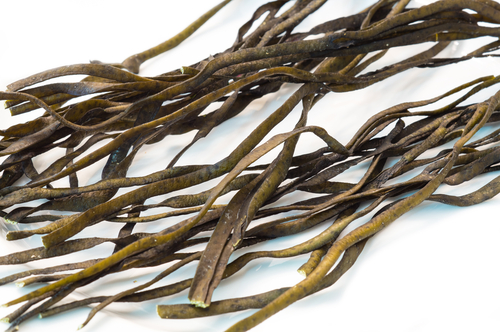 This long and slender species is easily recognised by the strap-like forked fronds which grow up to 1m long and 1cm wide.
Tough but smooth in texture, fronds grow from small buttons attached to rocks. Olive green in colour it can become mottled with brown spots when in the reproduction stage.
It can be found in small patches but will generally dominate whole areas and is predominately found in the lower zone growing on bedrock and boulders.
How do you harvest it sustainably?
Always leave the buttons intact and only take maximum a third of each plant, leaving straps to reproduce.
Be sure to rotate your harvest spots and don't take more than a third of plants from any one area. Buttons will form all year around around but straps start to develop in early spring.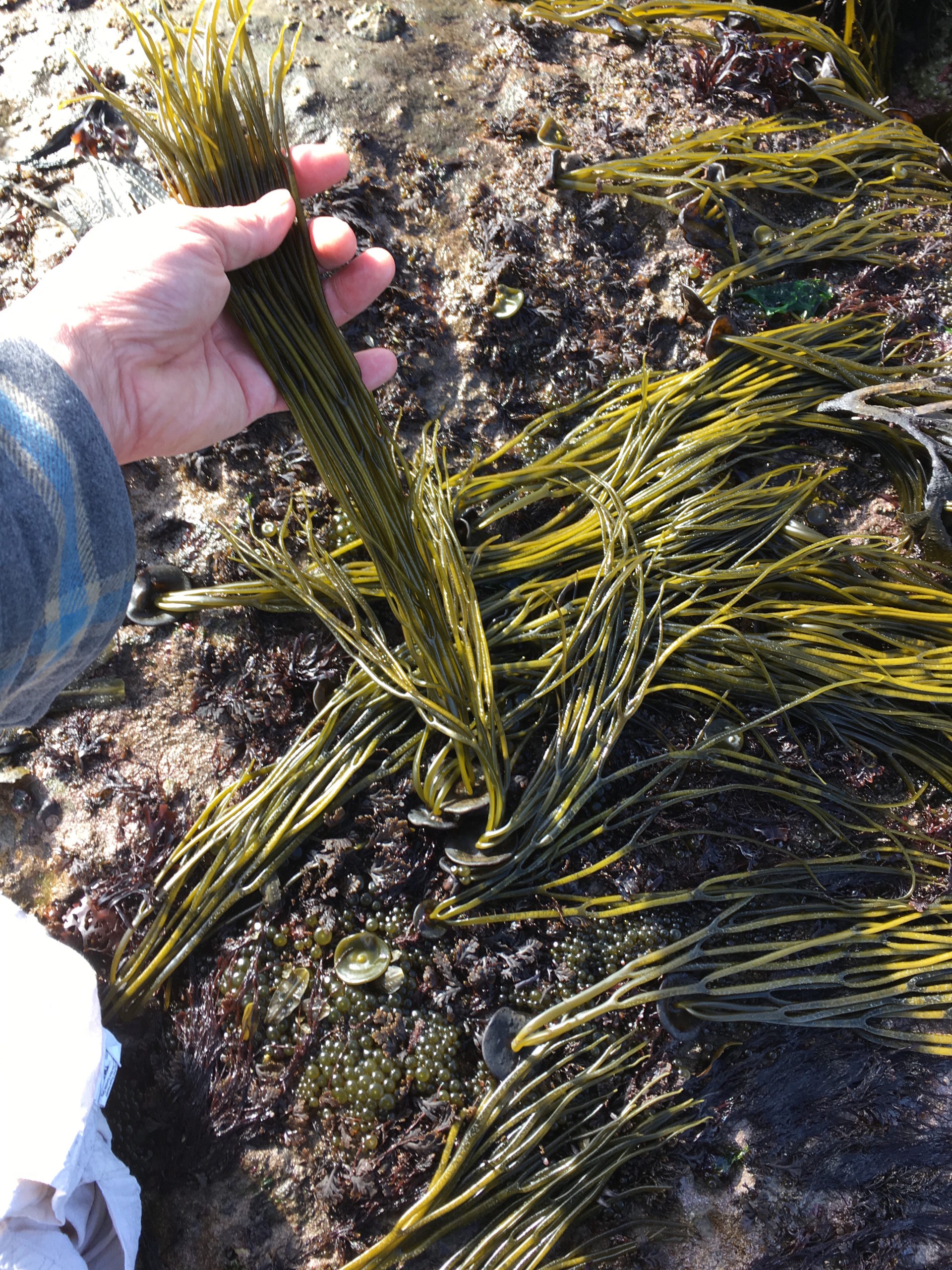 Allow the plant to grow to a good length before harvesting.
It is best eaten in late spring early summer but can still be eaten once sporulation has started in mid to late summer. Harvest moderately at the beginning of season to allow more growth for easier harvesting later.
How would you advise people eat it? What can we make with it?
Nutrient levels in seaweed will differ from season to season and from location to location.
Sea Spaghetti and Tangle Weed are high in soluble fibre and carbohydrates, and are also a rich source of protein and minerals, including calcium, iodine, magnesium, manganese and iron.
Seaweed fibres cleanse the digestive tract and assist with the metabolism of fats. Well balanced in nutrients with good levels of carbohydrates, it has a mild sweet taste with a firm crunchy texture and can be eaten raw, fresh or dried.
It is also very quick to cook and retains its crunch and is a healthy gluten-free alternative to pasta. Sea Spaghetti can also be chopped into salads, stir-fries, soups, stews or pickled, or served as a green vegetable. It goes particularly well with soy sauce, ginger, chilli and sesame oil etc.
When commercially harvesting we have nick named it 'Harvester's breakfast' because of the pleasant texture when eaten raw plus the fact that with the good amounts of carbs balanced with vitamins and nutrients a few mouthfuls is very sustaining.
---
Tangle Weed – Laminaria digitata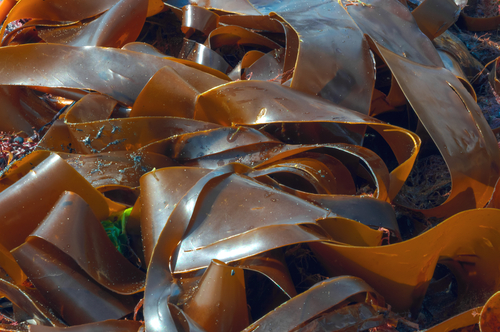 A thin plate, sheet-like species, it has a shiny golden-brown colour when young, turning darker with age.
Smooth and tough in texture you can distinguish it from similar kelps by the oval, smooth and bendy stipe.
It clings with claw-like holdouts to rocks in lower intertidal areas and in deep rock pools. It also tends to mark the beginning of the sub-tidal or 'laminarian zone' and it sometimes grows on the stipes of other kelp species.
Found in both sheltered and exposed areas, it is very common around Scotland.
How do you harvest it sustainably?
Mid-spring to Mid to late summer is the best time to harvest it. To do so, cut about six inches above the paddle, leaving the paddle to sporulate. Don't over harvest any one area and don't pull it from rocks.
Care must be taken in spring not to disturb Blue Rey Limpets that feed on the old blades during winter.
How would you advise people eat it? What can we make with it?
Tangle Weed has high levels of vitamin A and B and boats the highest iodine levels of all seaweed, so should be eaten in moderation. You should seek medical advice first if you have any thyroid conditions.
It can be torn into strips and used as pasta or kept in sheets, blanched and used for lasagne.
A subtle flavour but high in umami and a natural MSG, it is great in stocks, soups and stews, helping to enhance other flavours. It can be powdered and used as an egg alternative or can be made into kelp chips, or can be pickled.
---
Sea Lettuce – Ulva lactuca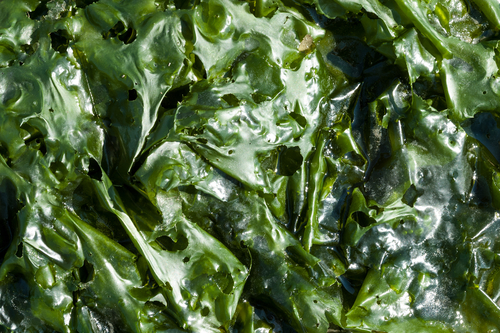 A familiar seaweed often found free floating, Sea Lettuce is a distinctive green which is pale when young, bright when mature and grows darker with age.
Its flat sheets with ruffled edges can grow over 40cm in length with varying widths and it often has holes of various sizes due to feeding shellfish.
This seaweed attaches itself to rocks on sheltered or partly exposed beaches and other seaweeds with very small hold fast and it has almost no stipe.
It can be found in most parts of the intertidal but predominantly and generally best in the mid to lower zones.
Be aware that ulva's can tolerate higher amounts of nitrogen than other seaweeds and can often be an indicator of pollution or of areas with more raw sewage. Large infestations of Ulva also can suffocate other seaweeds. Avoid taking it from stagnant pools, it is best harvested from areas with good water flow and a mixture of species.
How do you harvest it sustainably?
Cut the upper two thirds of each plant with sharp scissors. Its hold fast is perennial so care must be taken not to pull it off rocks. Remember to take no more than a third from each area.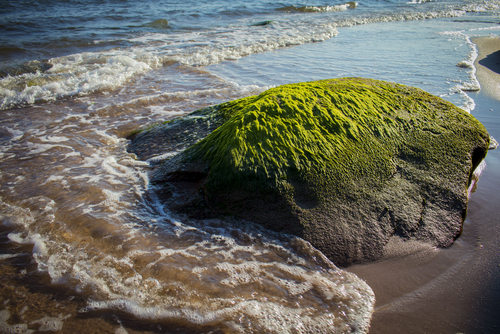 It can be found all year round but it is generally better in size and nutrient levels in summer and autumn.
How would you advise people eat it? What can we make with it?
Sea Lettuce is high in protein, iron, calcium, manganese, magnesium and vitamin C.
It retains its colour when cooked so adds a great vibrancy to any dish.
You can use it raw shredded in salads. It shrinks when cooked so is good for wraps or dumplings and is great with egg dishes. It also makes a nice seaweed butter.
High iron contents lends itself well to meat and fish dishes.
---
For more in this series…
---
Everything you need to know about foods to forage for in June