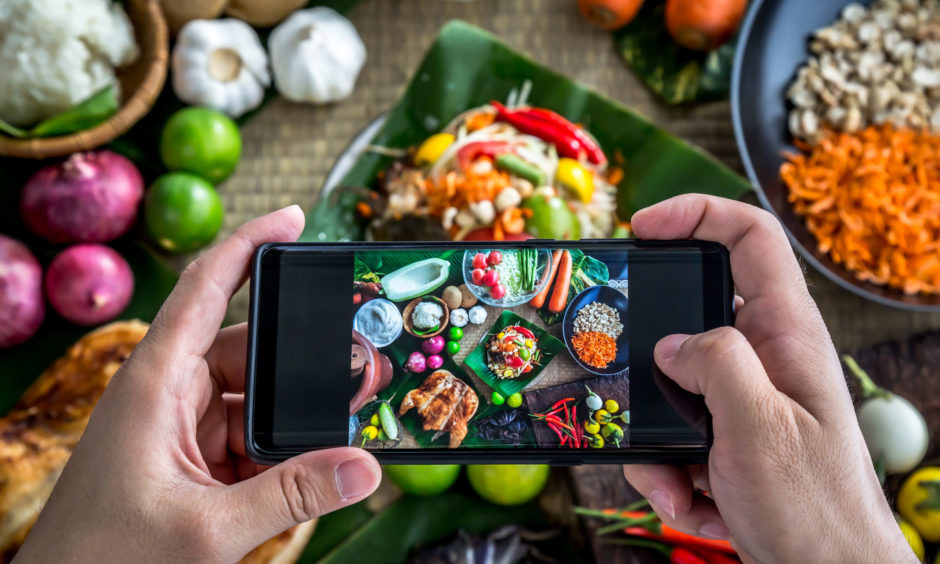 Dave Reilly is the Perthshire Foodie. Here, Julia Bryce finds out why he started his Instagram journey and what it feels like to have thousands of people judge your dinner.
What do you get when you combine a childhood filled with foodie experiences, social media and a passion for local producers?
Dave Reilly's Instagram page.
Working full-time, Dave's food and photography hobby has turned somewhat into a side hustle, posting pictures and videos on his social media account daily to feed his 11K followers' appetite, which continues to grow.
Establishing the Perthshire Foodie page four years ago this October, Dave, who lives in Auchterarder, said around 10K of his followers only joined him on his journey in the past year.
Regarding it as, "just a hobby", the food enthusiast spends hours every week creating and posting content which is primarily focused around showcasing the best of local and Scottish produce.
He said: "It's just a hobby to be honest showcasing the food that I eat basically. When I started the account it was just a place for me to share images of my food without bombarding my personal Facebook page. I didn't really know much about Instagram when I first started and it wasn't until 2019 when it really started growing a lot.
"I got into cooking and discovered how much great produce Scotland has and it has just sort of evolved naturally from that. I started getting in touch with local producers and realised just now many there were around Perthshire. I didn't start out with an agenda to create an Instagram page dedicated to Scottish produce, it has just kind of grown into that."
It was always in his genes
His love of food didn't develop overnight, in fact, Dave has been surrounded by great home cooking from a young age and says his grandparents were a huge influence in his experiences with food.
Traveling to the south of France most summers to see his grandparents, Dave and his family would regularly visit their patisserie in Arles, and be treated to feasts of fresh seafood cooked by his gran back at their home.
"My mum is French so half of my family are French. My grandparents actually owned his own patisserie in the south of France. Growing up we'd go and spend five weeks with them right beside the coast throughout summer. Food has always been a really big part of that and we'd have big family gatherings outside with paella dishes and lots of seafood. My mum has always been really into cooking and I've always grown up with it and making things from fresh.
"I think I only went to McDonald's twice a year – I'm sure I'd wanted to have gone more than that, but it was just the way we were brought up, to eat home cooking. I've always had an interest in it and as I was getting older I started paying more attention to what my grandparents were cooking and tried to learn a bit more.
"My grandad passed away 10 years ago, but my love for cooking really stems from him and my gran. When I started the Instagram page and as it got more and more good feedback, I started doing some more research into other styles of cooking. I've always had an interest in French cooking and I try and bring back some of the food ideas I see when travelling but use Scottish produce and incorporate it into the dishes instead."
Instagram vs blogging
Dave waited until he hit his first 1K followers before setting up a blog. Believing at that time that blogging was falling out of fashion, he decided to create his own hybrid blog/Instagram style where he could jot his thoughts down.
He said: "I'd looked into doing a blog and had said when I got 1K followers I'd look at starting one. I kind of felt blogs were falling out of fashion a bit and rather than having the Instagram page directing people to a blog which a lot less people read now, I thought 'why don't I just do a hybrid thing and do blog content within the Instagram page'. I started doing that at the start of last year and that's when my account went from a couple of thousand to over 10K in the space of a year.
"When I was travelling around the Pacific north west in Seattle, Vancouver and Portland I did a daily post. It drove my wife mad as I'd be doing them at different times and posting them. A lot of it is getting the balance between doing the page and ensuring it's not interfering too much with experiences because I do enjoy eating out. Towards the end of my trip I was getting lots of nice messages about it and people said it was really helpful."
Reviews, producer features and… sausage rolls?
Gaining hundreds of likes on every post he put online, Dave primarily focuses on highlighting his favourite local producers and sharing his thoughts in the form of short reviews on his page as his main content.
Understanding what works has taken years of posting and building an online community, however, he says, some pictures he doesn't think will perform well actually outdo many of the others, including a recent sausage rolls image.
"A lot of the meals I cook tend to do really well. I have also been posting restaurants in areas I've visited – like North Berwick for example. I'll tell people where is good for coffee and that sort of thing.
My account went from a couple of thousand to over 10K in the space of a year.
"At the beginning it was avocado toast and that sort of thing – it was guaranteed to get lots of likes. Sometimes things will surprise me. I shared sausage rolls which took like two minutes to make and people loved it. Sometimes stuff will do better than expected. Generally it tends to be homemade food, or showing people how to make things, and travel advice – that is really popular. "
Opportunities
But with great content comes great opportunity, something Dave has been exploring more recently when he was asked to be a cheese judge at the Royal Highland Show which was supposed to take place earlier this year and was cancelled due to Covid-19.
"I've started getting in touch with producers like coffee roasters and going along and filming them and getting a bit of a story. I have contacted lots of other producers including Strathearn Cheese Co. where I learned all about the process of making cheese. It is something I'm genuinely interested in and I can share their story. As a result they put my name forward as a judge at the Royal Highland Show which got picked up. I got letters asking me to get involved. I go to farmers' markets now and get chatting to everyone – I've met a lot of people thanks to my page.
"When we travel we definitely use Instagram to find the best places. When we went to Vancouver I got a message from a woman who told me about a market which we'd have never gone to and when I was in the Netherlands I used it to find places. I get a lot of messages to help people find good places to eat. It has also been a great opportunity to help local businesses, especially this year with lockdown and Covid-19. It is so difficult for them to promote what they are doing, so I think my page is really useful for them."
What makes the perfect picture?
Based on quality pictures, the trick to perfecting the ultimate food picture is ensuring you have the best lighting – natural lighting more specifically.
And nowadays you don't even need to invest in fancy expensive cameras as most mobile phone cameras will do the trick, too.
"Lighting is the most important thing and ideally you want natural light. Whenever I get invited to restaurants I always ask for a seat by the window as it makes such a difference. When it comes to the darker winter months, the just don't look as good. Natural lighting is always a winner.
"I use my mobile when I go out and about – I don't think my wife would tolerate me dragging a full DSLR out. The camera I use is 10 years old and I bought a 35mm prime lens that definitely does the job. I'd say invest in lenses rather than change your camera."
Part of the TikTok craze before it was cool…
Another claim to fame for Dave is not just the fact he chopped his finger off when making pizza in his new pizza oven he got for his birthday, but he was actually featured on TikTok, long before it became a UK phenomenon throughout lockdown earlier this year.
"A few years ago TikTok contacted me to do some videos. That was before TikTok exploded. I did videos for them and got 250K views over eight videos. I didn't really know what it was or really get it which I still don't really. It is quite funny how popular it has now become when I was producing content on it years ago. I really like Instagram and it is a very positive community. I wouldn't start a blog, I'd maybe start doing some freelance writing for the papers and magazines, but I think it is just a case of growing it. Followers are still going up so I'll see what opportunities come from that. It has been great to meet all the people I have so far and it has been such a positive experience.
"I ended up in Ninewells hospital getting reconstructive surgery on my finger because I got a pizza oven for my birthday and ended up chopping the tip of my finger off.
"There's also the time my friend and I were trying to combine Irn-Bru and Scotch bonnet chillies to make our own hot sauce and we ended up pouring pints of milk all over my friend's face as he got  Scotch bonnet in it. There's all sorts of things that have happened as a result of it."