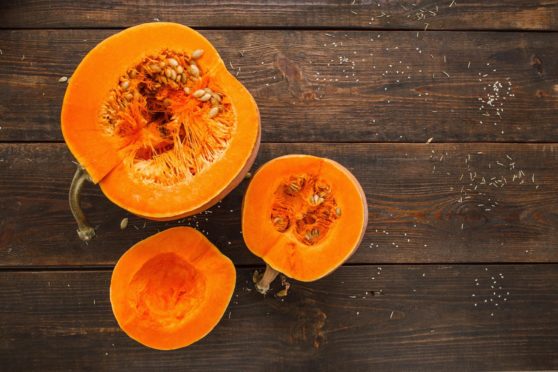 The pumpkin season in the UK begins in October and we celebrate by picking and carving pumpkins to mark Halloween.
Instead of wasting the delicious flesh, use it in this creamy risotto recipe which is perfect for a crisp autumn evening.
I have taken a traditional risotto and added some frizze lettuce for that extra crunch. If you are struggling to find frizze lettuce, you can use kale instead.
Add a touch of cumin to your pumpkin seasoning for extra flavour.
---
Roast pumpkin risotto
(Serves 4)
Ingredients:
350g pumpkin flesh, peeled and deseeded
175g Arborio rice
1 shallot, peeled and finely chopped
1 clove of garlic, peeled and finely chopped
25g butter
100ml white wine
700ml vegetable stock
50g mascarpone cheese
75g Parmesan cheese
Vegetable oil for frying
1 head of frizze lettuce
1 lemon, juiced
1 tbsp finely chopped chives
1 bottle pumpkin oil
Virgin olive oil
Method:
Prep time: 15 minutes
Cooking time: 45 minutes. 
Pre-heat the oven to 200C and a deep fryer to 180C.
Cut the pumpkin into 1-inch pieces, place onto an oven tray and drizzle with olive oil and season. Cover with foil and bake in the oven for 30 minutes or until soft (you can check with a knife.) When cooked, remove from the oven and place into a blender and blitz to a purée. Remove from the blender and place in a bowl.
In a heavy-based saucepan over a medium heat add the butter, shallots and garlic then simmer for two minutes. Add the rice and stir well, then add the white wine and half of the vegetable stock, bring to the boil and simmer gently.
As the rice absorbs the liquid, keep adding more stock until the rice is just cooked. Add the purée and mix well, at this point it should be like rice pudding in consistency. Add the Parmesan and mascarpone and stir, finally adding the chopped chives and season well to taste.
Deep-fry the sage leaves in hot oil for 15 seconds, remove and place onto kitchen paper to drain.
Pick the frizze lettuce using the central part, as these leaves are less bitter, then wash and dry them.
Dress the frizze leaves in a little olive oil and the lemon juice to taste, placing the remainder of the lemon juice in the risotto. Spoon the risotto on to the plate, top with the dressed salad leaves into the centre and sage leaves on the top to serve.
---
Read more in this series…
Chef's Table: Aberfeldy chef uses Anster cheese to make an old favourite
Chef's table: Angus chef's rhubarb and ginger compote is perfect for the season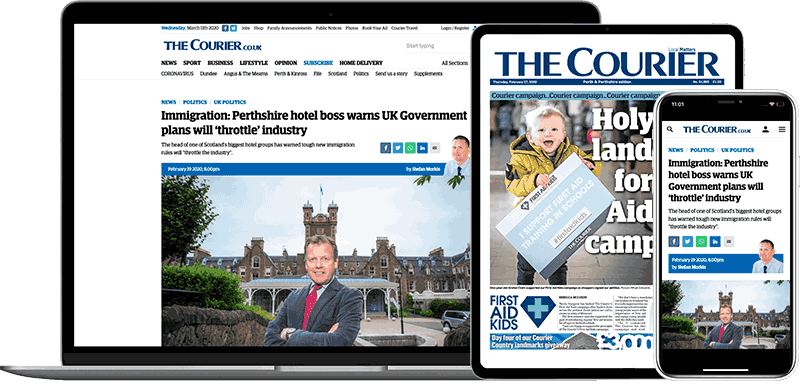 Help support quality local journalism … become a digital subscriber to The Courier
For as little as £5.99 a month you can access all of our content, including Premium articles.
Subscribe