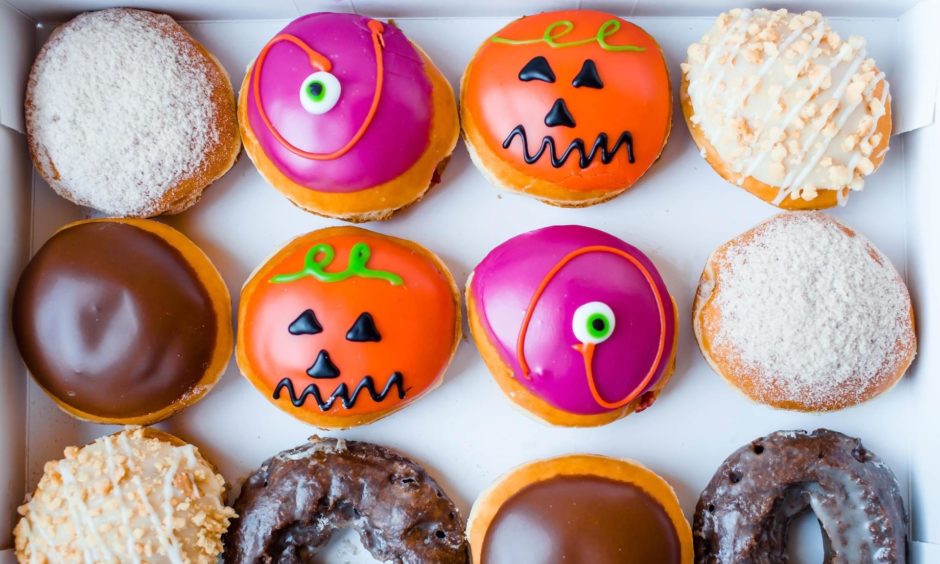 There's plenty to sink your teeth into this Halloween, as we round up just some of the terrifyingly-tasty options from local cafes, restaurants and food services.
For the first time in what seems like forever, Halloween is on a Saturday, meaning we can take advantage of having a full day of activities and stuffing our faces with some ghoulish grub.
With coronavirus restrictions in force, it's going to look a bit different this year, but thanks to some local Tayside and Fife businesses, we're spoiled for choice when it comes to helping ourselves to tantalisingly tasty treats.
Whether you want a fine dining experience, some baked goods, sweetie boxes or ice cream, take a look at our selection below of just a handful of local food and drink offerings.
---
Taunting treats
One of Dundee's newest eateries on the street (literally), Heather Street Food, will have a jar of treats behind the counter for any kids who already had their jokes prepared for guising. If you're popping down for some of their delicious donuts or a bamboozingly-good bagel, why not give them your best food-related pun or dust off the old Gangnam-Style dance moves?
---
Devilish delights
Broughty Ferry's Sweetpea Cafe will be hosting a Halloween extravaganza on Saturday – if you pop along you'll be treated to some ghoulish grub and any children who go into the cafe dressed up and show off a trick or tell a joke will be giving some free goodies. More details are available on their social media pages.
---
Spidey snack
Jessie's Kitchen in Broughty Ferry has been whipping up some Halloween-inspired goodies all week, including "gingerdead men", pumpkin scones and this Beasty Billionaire – a take on the classic Millionaire's shortbread. Pop in to the store any time this week to get your hands on these mouthwatering treats.
---
Petrifying pies
The WeeCook Kitchen in Carnoustie has some great happenings this Halloween, including a competition to win some pies (closes later today), a Freaky PiE Day FRiDAY special, as well as some pie door drops happening throughout Dundee, and another competition to win a Halloween Hot Pie on the day itself. For the full list of what's on offer, visit their Facebook page here.
---
Bloodcurdling bounty
Bowmans Coffee House in Monifieth, Dundee, has created the ultimate treat box for all the kids who can't go trick or treating this year and it's filled to the brim with goodies galore. Last orders for these are today, so get 'em before they're gone via the coffee shop's social media channels or through the number in the post below.
---
Creepy cones
We can always rely on St Andrews-based ice cream shop Jannettas to be there for us with their delicious ice cream, all year round and Halloween is no exception. The family-owned business is dishing out their limited edition black cones for any ice creams ordered this week, while stock lasts. So head down there for an especially sweet spooky treat.
---
Scary sweets
Another treat box, but this time it's from Kitschnbake in Newport-on-Tay, just across the water from Dundee. The last day for postal orders was unfortunately yesterday but they may have some still available to buy in the cafe itself over the next few days. Yumminess aside, we can't stop looking at the brightly-coloured goodies!
---
Mystifying mummies
Perth-based Simon Howie Butchers has lots of Halloween fare this season, including their "jumbooos" sausages range, available in Tescos across the country until October 31. They've also recently released this recipe for Spooky Mummy Sausages that will be perfect for a snack on the day.
Get in the Halloween spirit with our Spooky Mummy Sausages recipe – perfect for all the family! 🎃👻🧛‍♂️

Wrap strips of puff pastry around our limited-edition Halloween JumboOOs for an eerily fun treat that's sure to delight! https://t.co/WM33P7EmMI #SimonHowie #Halloween

— Simon Howie Butchers (@Simon_Howie) October 26, 2020
---
Beastly bakes
Fisher and Donaldson have also jumped on the Halloween theme this week and are serving up these "gingerdead men" in all of their bakeries, throughout Fife and Dundee. We bet they taste dead good!
---
Read more about Halloween…
A foodie's guide to Halloween: The activities you can do to make the day fun while following current rules